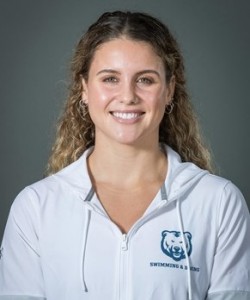 Bermudian swimmer Madelyn Moore — who competes for the University of Northern Colorado — won two medals on the final night of the Western Athletic Conference [WAC] Championships in Utah this weekend.
Moore, who already won the gold medal in the 50 freestyle, won the gold in the 100 freestyle and then anchored a dramatic come from behind victory in the 400 freestyle relay, with her team in 3rd position until she hit the pool, with Moore passing the next two swimmers to claim the gold.
WAC covers multiple U.S. states, with athletes from schools located Arizona, California, New Mexico, Utah, Washington, Illinois and Texas taking part on their various events.
The school's report said, "If Madelyn Moore was headed home Sunday, she was going to go all out in the pool on Saturday. Chasing her own record in the 100 free, Moore narrowly missed by just .03 seconds but hit the wall first at 49.35, grabbing her second individual gold of the championships and hitting another NCAA B cut time."
"The night, and the meet, came to a dramatic conclusion with the 400 free relay. Ali Jackson, Saana Liikonen, Petra Kis and Madelyn Moore were the four Ebeling sent out for the Bears' final race of the meet.
"Northern Colorado was in third when Moore hit the water for the anchor leg. If anyone in the Human Performance Center thought Moore wouldn't run New Mexico State and Grand Canyon down, they proved to be dead wrong. Moore came home in 48.49 and solidified a second gold medal for the Bears.

Read More About