An association set up to promote the welfare of former and serving soldiers is to celebrate its first anniversary with a recruitment drive.
Major Preston Gill, a serving Royal Bermuda Regiment officer and the Royal Bermuda Regiment Association president, said the organisation had attracted about 160 members since is was launched in February last year, but had set a target of 500 for 2021.
Maj. Gill added: "The RBRA has been strongly supported by the RBR and serving soldiers, who account for 47 per cent of the current membership.
"But, despite this strong start, we're looking to engage with more former soldiers."
Roderick Spencer, Peter Aldrich, Major Preston Gill, Bill Davidson, and Gavin Rayner at last February's launch of the Royal Bermuda Regiment Association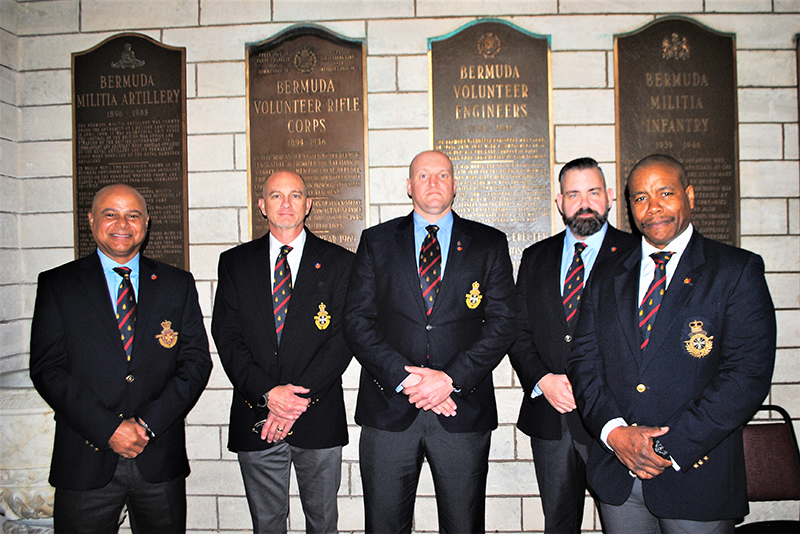 Peter Aldrich, a former Sergeant, now a business consultant, said that it was estimated more than 13,000 men and women had served in the Regiment since 1967 – about 20 per cent of the population.
He added: "That's an impressive number and makes Regiment veterans one of the largest groups on the island that we are aware of – it's a big family and we want to bring them back together again."
The RBRA was founded to promote the welfare and traditions of the RBR and its predecessor units and to continue the camaraderie forged by members and former members of the Regiment.
It is not an official part of the RBR, but was formed with the approval of senior officers and the Defence Board.
Membership in the RBRA is also open to members and former members of allied units, Bermuda Cadet organisations and the predecessor regiments, as well as the new Bermuda Coast Guard.
The RBRA has set up a Bermuda College scholarship fund has plans to expand the existing RBR discount scheme.
The group helped organise $30,000 worth of phone credits from Digicel and One Communications for embodied soldiers at the height of the Covid-19 crisis and also teamed up with pharmacy chain Phoenix, which donated 200 Easter eggs for soldiers as a morale booster.
Fuel firm Rubis gave 200 $20 fuel cards to embodied soldiers and other businesses, such as wholesaler Butterfield & Vallis, stepped up to deliver food and refreshments to troops on duty.
Former Colour Sergeant Roderick Spencer, the RBRA second vice president and chief information officer at Butterfield & Vallis, as well as an entrepreneur, said: "Our membership continues to grow and we want to reach veterans direct to thank them for their service and ask them to join their former colleagues."
Former Regimental Sergeant Major Gavin Rayner, who retired in 2015 and is RBRA treasurer and RSM, added he had seen firsthand the continued service of RBR personnel at coronavirus test and vaccination centres.
He added: "They're doing an outstanding job assisting people, particularly seniors, many of whom have said they were in the Regiment or one of its predecessors.
"As a community, we need these connection points and to build on them."
For more information, or to join the RBRA, visit regimentassociation.com, e-mail regimentassociation@gmail.com or phone 535 5858.

Read More About
Category: All