The CPCU Society Bermuda Chapter will be hosting a free webinar entitled 'Is Your Company Ready To Handle Data Breach?' on Monday [April 19] in order to bring awareness to cyber security.
A spokesperson said, "Hackers know our mentality: it won't happen to us, we don't need to spend time preparing, we don't have the information they want. Unfortunately, organizations hold the keys to the vault containing the new currency: information.
"Hackers know this and have the tools to penetrate a company's systems and seek to cause havoc. Once inside, hackers will take client and employee information to drain bank accounts, put people in collection, release sensitive medical information, seek to exploit an organization, hold it hostage, and destroy its reputation.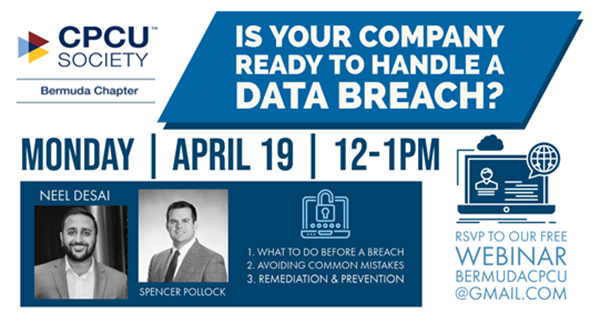 "This panel will bring together industry leaders that specialize in cyber crisis response, cybersecurity, cyber insurance, and cyber law to provide in-depth and real-world experience regarding ransomware attacks and data breaches.
"Further, the panelists will give the audience insight into how brokers, agents, underwriters, adjusters, and insurers can educate their clients and insureds about cyber risk management strategy to best prevent and mitigate the catastrophic financial, legal, and reputational harms before, during, and after a cyber-attack.
"Key takeaways from the presentation:
"What to do before a breach occurs;
"Avoiding common mistakes when responding to a breach; and
"Remediation steps after a breach to prevent future breaches."
The webinar's presenters will include Spencer S. Pollock and Neel Desai.
The spokesperson said, "Mr. Spencer S. Pollock, Esq., CIPP/US, CIPM, Partner & Cybersecurity Practice Lead at Niles, Barton & Wilmer, LLP.
"Mr. Pollock is an award-winning cybersecurity attorney, public media figure and leads the cybersecurity law practice at Niles, Barton & Wilmer, LLP. Mr. Pollock has extensive experience consulting, advising, and assisting clients in preparing and responding to cyber-attacks and data breaches, handling regulatory investigations, and ensuring organizations comply with all applicable state, federal, and international cyber laws.
"Mr. Pollock's experience includes speaking and presenting nationally about cybersecurity and cyber law for a wide variety of associations and trade groups. Finally, Mr. Pollock is an experienced trial and civil defense attorney who had served as first chair on over fifty jury and three hundred bench trials.
"Mr. Neel Desai, Esq, AVP, Cyber and Technology Liability at Hiscox
"Mr. Desai is responsible for cyber-related claims and litigation. He has vast experience counseling affected cyber policyholders on all stages throughout the lifecycle of a privacy matter, from the discovery of a suspected breach, through the investigation and breach notification process, and the conclusion of third party claims, including class action litigation, Payment Card Industry assessments, and regulatory investigations.
"Finally, Mr. Desai assists internal stakeholders and product managers in drafting cyber insurance contracts and developing cyber programs, including creating vendor panels, forms, and templates."

Read More About
Category: All, Business, technology