The Bermuda Police Service [BPS] is holding a press conference this morning [April 14] to provide an update on the investigation into the murder of Jordan Outerbridge. We will have additional coverage later on and in the meantime the live video is below.
Update: Mr Outerbridge — who is pictured below with his family in an image provided by the police — was fatally shot at around 10:30pm on Tuesday April 6th in the Tribe Road #2 area in Warwick.
The police, who previously said that Mr. Outerbridge was not affiliated with any gang or gang activity, said today that they do not believe that Mr. Outerbridge was the "intended target."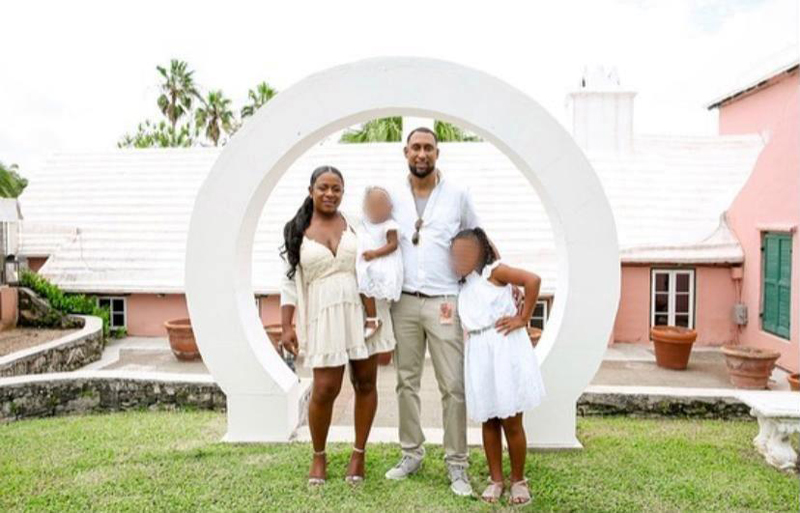 His wife spoke today making an emotional appeal for people to help bring her husband's killer[s] to justice. She said, "I just really want justice for my husband because he did not deserve this."
She said she wants answers for their 18 month old daughter for when she "wants to know what happened to her dad" as well her 10 year old daughter. ""I can't stop thinking about our 18 month old daughter that would never see or even understand how much her father loved her."
"We need this closure, even though this is not a chapter in my life that I want to close. If you know something, say something," Mrs Outerbridge said.
Update: The live broadcast has concluded and the 11-minute replay is below
Update: The police said, "What we are particularly appealing to the public for is that if there's anyone who was in or traveling along Ord Road at that material time, particularly around 10.09pm that night, and then at 10.30pm that night, and saw two persons on a motorcycle fitting the description that I just described, the rider being shorter than the passenger and the passenger wearing a royal blue rain-type jacket, please make contact with us; that is of vital importance.
"We also want to thank the public for their assistance thus far. We have received several calls from members of the public who live in that area who have given us information that has assisted us in this inquiry, and we appreciate the assistance that you've given.
"The investigation is progressing, and we're also appealing for persons who live along Ord Road who have CCTV footage also to please make contact with us."
The police have previously said, "If you have any information, as insignificant as you might think it is, please make contact the Serious Crime Unit directly on 247-1739 or, call the Confidential Crime Stoppers hotline on, 800-TIPS [8477]."
Read More About