The Duke of Edinburgh's Award [DofE] in Bermuda offered condolences following the passing of Prince Philip, who died earlier today at age 99.
A spokesperson said, "It is with great sadness that The Duke of Edinburgh's Award, Bermuda acknowledges the death of our Founder HRH The Duke of Edinburgh KG, KT.
"Sixty-five years ago, His Royal Highness established The Duke of Edinburgh's Award in the UK. Since then, it has been delivered in more than 130 countries and territories, equipping and empowering millions of young people to build the skills, confidence and resilience they need to support their communities and be ready for the world."
1998 Gold Award participants at Government House with HRH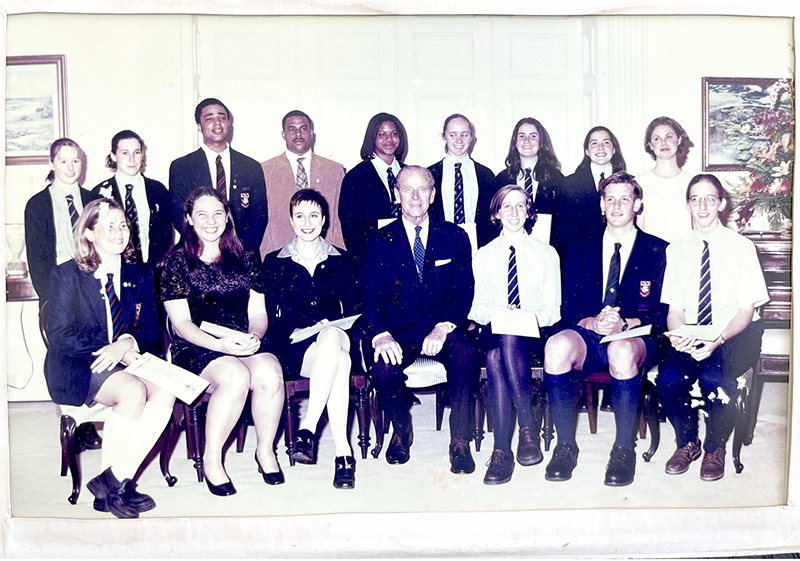 Jovanna Douglas, Bermuda Award Chair says: "On behalf of the Award Council, staff, volunteers, alumni and participants in Bermuda, we would like to send our sincere condolences to Her Majesty the Queen, our Patron, Prince Edward, Earl of Wessex and to the members of the Royal Family at this sad time.
"We are proud to say that the Award has been running in Bermuda for over fifty years and has had over 10,000 locals who have participated in the programme. The Award encourages young people to learn new skills, get physically active, volunteer within their communities and discover a sense of adventure outside the classroom. The Duke of Edinburgh's legacy will live on through the programme as participants across the world continue to engage in positive cultural, artistic and physical activities that they will take with them for the rest of their lives."
Kenneth Bartram, Bermuda Foundation Chairman & Gold Award Holder says: "I would like to say that I am sorry to hear of the loss of HRH Prince Phillip and although he may be gone from our sight, he would be fondly and gratefully remembered by so many around the world for his vision to endorse such a legacy programme as the Duke of Edinburgh's Award.
"This programme has touched so many young people's lives locally and around the world and built true comradery while challenging its' participants to build new skills; physically challenge themselves; provide genuine service to others; and explore new ventures while building local and international lifelong friendships and lessons.
"May the legacy live on and may the family find peace and strength during their time of bereavement."
John May, Secretary General of The Duke of Edinburgh's International Award Foundation says: 'The International Award family mourns the loss of our inspirational Founder. Prince Philip's belief in the infinite potential of young people, coupled with his championing of non-formal education and learning, positioned him as a leader and thinker of truly global stature.
"Through the personal leadership and involvement of Prince Philp, the Award that bears his name has transformed the lives of millions of young people since it started in 1956 and has impacted countless more in local communities. As young people face exceptional challenge and change in the wake of the current pandemic, this "do-it-yourself growing-up kit", as he described it, is even more relevant today than ever.
"His Royal Highness's passion for, and commitment to, the work of the Award and the development of young people continued until the last. His determination, energy and enthusiasm will be greatly missed.'
"From its founding, The Duke has been committed to ensuring the Award is accessible to young people of all backgrounds. Around the world, the Award has provided opportunities to at risk and marginalised young individuals, including post-conflict communities [Cote d`Ivoire; Uganda]; disability groups [Indonesia]; indigenous peoples [Belize, Australia] and young offenders [Ghana, South Africa].
"The Bermuda Programme was officially launched with the Governor as Patron in 1967. The first participants became involved either as individuals or through the Boy Scouts, Rangers or a Youth Ministry. In 1969, the first Bronze and Silver Awards were presented. In 1973 Bermuda's first 'homegrown' Gold Award participants received their awards at Buckingham Palace.
John Jenson, Tommy Burns, Norman Podgson, Jonelle Minors and Peter Marsh. Not pictured who also received Awards: Peter Shrubb and Christopher Crick.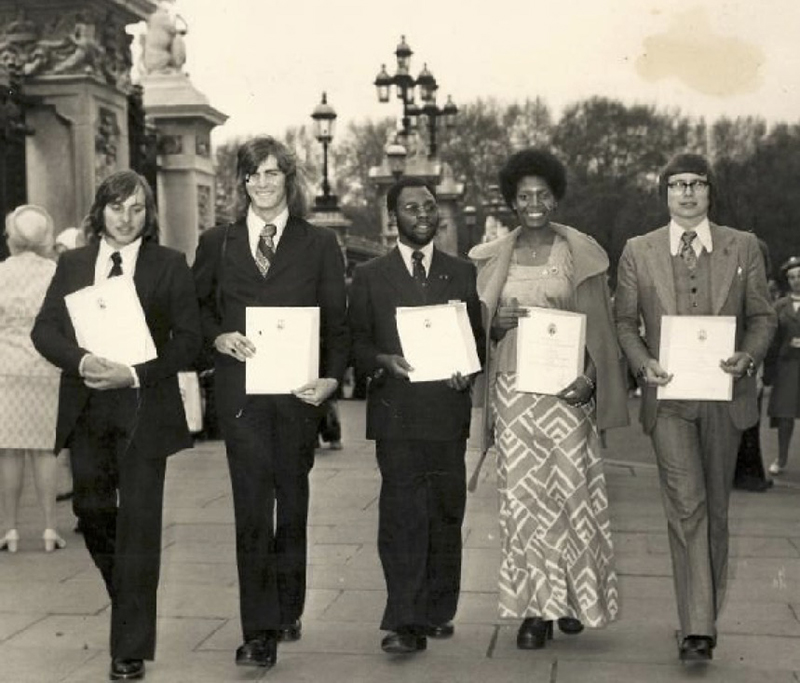 Peter Marsh, Gold Alumni and Volunteer, stated, "It was a great experience to go to Buckingham Palace, to meet the Duke of Edinburgh, Prince Philip, with my friends and receive our Gold award from HRH. The Award was a big part of my life and it is feels good to be able to continue to be a part of the D of E all these years later. It is a sad time for everyone, but the Award program is a great way to remember HRH. May he rest in peace."
"In 1997, Lawrence Trimingham was appointed Chairman, taking over from founding Chairman, Alan Brown. In 1998, Lawrence set up the first Award Council, which now has the responsibility for overseeing the Award in Bermuda. Today, the Award's day to day operations are run by two full time Directors responsible for Programme and Development. The Award programme is overseen by an Award Council comprising of a Chair and Deputy Chair and representatives from schools, businesses, participants and other stakeholders. From humble beginnings in 1967 the Award has grown to an annual participation of over 230 young people per year.
"Every year, more than a million young people participate in the Award worldwide, supported by around 200,000 volunteers. Whilst it is known by a number of different names globally – from The President's Award in South Africa, to The International Award for Young People in India, the framework remains the same.
May continues: 'As we mark the extraordinary life of The Duke of Edinburgh, we are resolutely committed to ensuring His Royal Highness's vision for the Award continues to grow and reach even more young people worldwide in the years to come, under the Chairmanship of HRH The Earl of Wessex.'
"At this time, the International Award family encourages anyone who would like to share a message of condolence, or memories of the Award and what it means to them to visit here."
Read More About