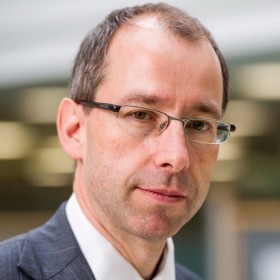 The Bermuda Chamber of Commerce announced the keynote speaker for this year's AGM Luncheon will be Richard Threlfall, KPMG's Head of Infrastructure and Global Head of KPMG IMPACT.
A spokesperson said, "The Bermuda Chamber of Commerce is proud to be once again working with KPMG in Bermuda for the AGM 20/21, to be held on April 14th 2021.
"Headlining our lunchtime presentation will be Mr. Richard Threlfall, KPMG's Head of Infrastructure and Global Head of KPMG IMPACT, covering sustainability, climate change, economic and social development. This year's format will be virtual via Zoom and is open to both members and non-members."
In making the announcement, Kendaree Burgess, CEO of the Chamber of Commerce said, "We are especially thrilled to have Richard speak to us – his deep knowledge is very relevant for us locally and is globally impactful.
"We look forward to hearing from him. Economic, social and governance [ESG] is a high priority for board members and certainly this will have a major impact on Bermuda."
Steve Woodward, Managing Director and Sector Lead, KPMG Private Enterprise stated, "ESG issues are a high priority for organisations. The world has changed. Consumers and employees have increasingly different expectations, and business leaders are under pressure to prove that their organisations are acting responsibly and acting sustainably.
"Under the umbrella of KPMG IMPACT, our firm is looking to make a positive impact towards the ESG agenda and sustainability by creating an inclusive workplace, empowering our community, helping to preserve natural resources in the jurisdictions in which we live and work, and helping businesses build a sustainable future that can drive growth and profitability. The pandemic has put a spotlight on sustainability, especially here in Bermuda.
"We have been resilient, but we need to be mindful of the future. We look forward to insights that Richard will share to see what global organisations and other jurisdictions are doing across the ESG spectrum, where they are focused and how it can impact Bermuda."
"Members should log on here to access tickets. The event is $25 for members. Non-members may attend for a $40 fee."
Read More About