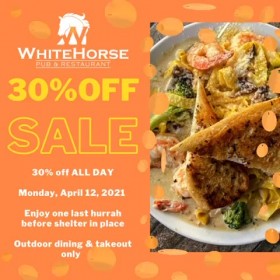 With the stay at home order set to take effect tomorrow [April 13], White Horse Pub & Restaurant in St George's is offering a 30% discount on outdoor dining and takeout today [April 12].
A spokesperson said, "White Horse Pub & Restaurant in St George's will be having an all day 30% off special as a last hurrah before the seven day lock down for outdoor dining and takeout only.
"In the spirit of understanding the emotional impact of lockdown, owner Dennie O'Connor and his team felt compelled to do something uplifting for the public.
"If you love great food, fun drinks, and music, come on by. Dennie O'Connor is saddened to here of the shelter in place announcement but understands the importance behind it.
"He is heartbroken knowing that potentially more restaurants will close permanently due to this blow as they can't keep up with high overhead costs. The restaurant industry has tried its best. But unfortunately only some establishments could weather one storm. This second shelter in place will hurt many.
"He thanks and appreciate the continued support of the public and looks forward to seeing them today and upon reopening next week."

Read More About