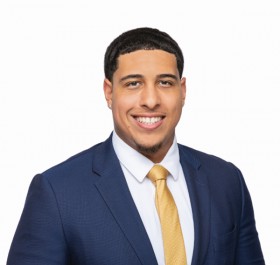 Leonard Williams has been named one of Destinations International's 2021 30 Under 30 recipients.
A spokesperson said, "Bermuda Tourism Authority [BTA] is thrilled to announce that Leonard Williams has been named one of Destinations International's 2021 30 Under 30 recipients.
"Williams, Experience Satisfaction Coordinator, has been employed with the BTA since 2016. The 26-year-old has a degree in Business Communications and recently completed the Fundamentals of Destination Management & Marketing Course through Destinations International in collaboration with George Washington University.
"In his current role within the BTA's Experience Development Division, Williams helps develop and support on-island experiences as well as analyzing survey data from BTA-supported events, while ensuring visitor satisfaction and return on experience to drive the development of future tourism programmes."
Newly appointed BTA Chief Executive Officer, Charles H. Jeffers II said, "I was gratified to learn of Leonard's selection to this year's Destination International 30 Under 30 Class. Earning international accolades so early in his career is an indicator of the world-class drive and potential Leonard contributes to our team. My vision for the organization is to ensure voices at all stages of their career are heard and valued. I join the BTA team members in congratulating Leonard on his professional achievements."
Destinations International is committed to investing and preparing the leaders of tomorrow and developing future industry leaders that represent a diverse set of backgrounds and perspectives. Each year, 30 individuals under the age of 30, are selected to gain valuable industry networking opportunities and increased thought leadership throughout the year. The honorees originate from a variety of destination organizations of all sizes and countries.
"The 30 Under 30 program remains critical to our organization's vision and mission," said Don Welsh, president and CEO of Destinations International. "As our industry moves toward recovery, we are especially excited to announce these young professionals as they are the future of the travel and tourism industry."
"The Destinations International Foundation believes in building up the leaders of tomorrow, said John Lambeth, President of Civitas and Destinations International Foundation Chair.
"We are proud of our 30 Under 30 Program and for the foundation donors who make programs like these possible for our industry. We look forward to engaging with them through professional development and networking opportunities throughout the year and in the years to come."
"We are so proud to honor this year's class in light of the tremendous challenges our industry has experienced," said Mike Gamble, President and CEO of SearchWide Global. "As we work collectively to rebuild and re-energize, this diverse group of rising leaders will remain essential to the future of destination marketing and management."
"The 2021 30 Under 30 Class Includes:
Imran, Ansari, Vice President, Discover Long Island
Jasmine Armstrong, Hotel Relations Manager, Visit Philadelphia
Derek Byrne, Social Media Manager, Visit KC
Rodrigo Carreon, Visitor Services & Marketing Coordinator, Visit Lake Norman
Emily Deckert, Sales & Marketing Manager, Explore Waterloo Region
Colleen Dorney, Director of Outreach & Operations, Dutchess Tourism, Inc.
Zane Harrington, Communications Manager, VisitDallas
DeShawn Hewgley, Visitor Services Manager, Nashville Convention & Visitors Corp
Mariah Hickman, Marketing Manager, New Orleans & Co.
Lauren Huffer, Partnership Services Manager, VISIT DENVER
Alicia Leamer, Visitor Information Services Manager, Travel Juneau
Jason Letwin, Research and Performance Manager, Explore Edmonton
Silei Li Manager, Advertising, Atlanta Convention & Visitors Bureau
Shannon Lowery, Content & Social Media Manager, Visit Savannah
Bree Nidds, Vice President of Sales, Discover Lehigh Valley
Manuel Pimentel, Multimedia Coordinator, Discover Puerto Rico
Zeke Ramsell, Manager, Convention Sales, SF Travel
Mara Rodas, Sales Coordinator, Destination Toronto
Lacee Rudd, Public Relations Manager, Visit Panama City Beach
Jé-Vonna Sampson, Manager, Borough Relations, NYC & Company
Maria Santos, Manager, Global Marketing Programs, Brand USA
Mary Sayewich, Manager, Project Services, Ottawa Tourism
Elizabeth Shanaman, VP Research & Market Analysis, Visit York County
Caleb Sullivan, Sales and Marketing Manager, Jackson County Tourism Development Authority
Nate Swick, Communications Manager, Visit Indy
Chase Wharton, Business Development Manager, Visit Tri-Cities
Chelsea Whitman, Meeting Sales Manager, Visit Anaheim
Leonard Williams, Experience Satisfaction Coordinator, Bermuda Tourism Authority
Jeffrey Yau, Senior International Tourism Sales Manager, Philadelphia Convention & Visitors Bureau
Emily Zertuche, Vice President of Marketing, Visit Corpus Christi
"Now in its 11th year, the 30 Under 30 program is supported by founding program partner, SearchWide Global and sponsored by Fired Up! Culture, MMGY Global, Northstar Meetings Group and Pandora. For more information on the 30 Under 30 Program and the 2021 30 Under 30 class, please visit here."

Read More About