The Ministry received 706 test results and four were positive, so there are now 242 active cases, of which 12 people are in hospital with three in ICU.
A Government spokesperson said, "The Ministry of Health received 706 test results since the last update, and four were positive for Covid-19, giving a test positivity rate of 0.6%. One of the new cases is classified as local transmission with known contact as they are associated with a known case.
"The additional three new cases are classified as under investigation. These cases are among residents with no currently identified link to other known cases or history of travel in the past 14 days.
"Additionally, since the last update, there were 12 recoveries and no deaths.
"There are 242 active cases, of which:
230 are under public health monitoring and
12 are in hospital with three in intensive care;
"Since March 2020, Bermuda has recorded 2455 confirmed cases of coronavirus, out of which a total of 2182 have recovered, and sadly 31 Covid related deaths.
"For information regarding age distributions, please refer to https://www.gov.bm/coronavirus-Covid19-update .
"The source of all cases is as follows:
298 are Imported
1920 are classified as local transmission of which:

1533 are Local transmission with known contact/source and
387 are Local transmission with an unknown contact/source

237 are Under Investigation
"As investigations proceed, transmission categories may change.
"The seven-day average of our real-time reproduction number is 0.53. Bermuda's current WHO country status remains Community Transmission.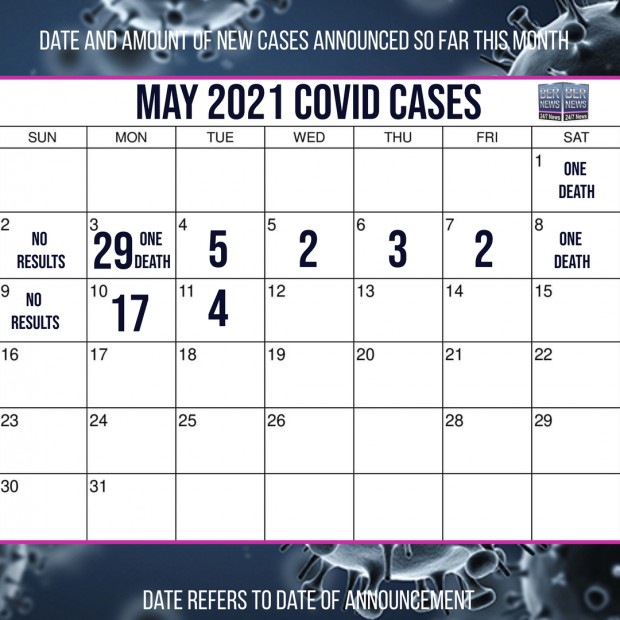 "There are a lot of people doing an enormous amount of work to keep this island safe, and things are getting much better," said Kim Wilson, Minister of Health. "However, our progress to Phase 3 on our roadmap to re-opening depends on everyone acting responsibly."
"Get tested for the coronavirus so that you know your status, and please speak with your doctor so that you can take advantage of the free walk-in vaccinations being offered. Anyone wishing to get vaccinated can go to Bermuda College, which is open Monday to Friday, 9 am – 1 pm for walk-ins.
"The Bermuda Hospitals Board vaccine centre is open daily between 8 am – 8 pm for persons with appointments. There are mobile vaccination centres available three times a week in various locations around the island.
"This Thursday,  13 May, the mobile vaccination programme will be at T N Tatem, Middle Road, Warwick, from 10 am to 2 pm. For more information, please call the Hotline at 444-2498 and select option #2, or email vaccine@gov.bm."
"Each of us has a role to play in stopping the spread of the coronavirus. Follow Public Health guidelines, wear a mask, practice good hand hygiene, maintain physical distance. And download the WeHealth Bermuda app. Do the research, talk with your doctor and make an informed decision about getting the Covid-19 vaccine.
"The next Government of Bermuda Covid-19 press conference will be on Thursday, 13 May at 5:30pm."

You can find more information on the links below and also on our dedicated website BermudaCovid.com, which is the most comprehensive resource and historic record available of Bermuda's handling of the pandemic.
Read More About