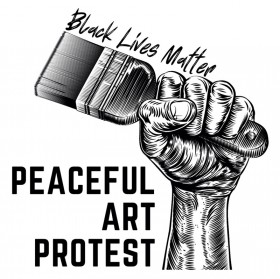 Masterworks Museum, in a joint effort with 'Black Lives Matter, Bermuda' and the 'Peaceful Art Protest', are inviting the public to "join us as we come together to mark the anniversary of the Black Lives Matter Bermuda March."
A spokesperson said, "This special exhibition will showcase the artwork created in June 2020, alongside some new works from local artists, inspired by their reflection upon the event, and the movement, over the last year.
"The 2021 Peaceful Art Protest has as its goal to stand as a reminder to continue to move our society forward and remain accountable to the statements and changes we pledged in support of Black Lives in Bermuda in 2020."
Founder of the Peaceful Art Protest, Rachel Swinburne, is looking forward to again enabling art for the greater good, continuing the Peaceful Art Protest into its second iteration, stating, "We are excited to bring the next iteration of the Peaceful Art Protest 2021 to life, with the opening set for June 7th to mark the one-year anniversary of the Black Lives Matter Bermuda March 2020.
"The collaboration between Masterworks and Black Lives Matter Bermuda, along with the artists who contributed artworks last year, will be complemented by a host of new submissions, offering a powerful narrative of the BLM movement at a local level.
"At the pinnacle of this show, is an interactive installation aimed to foster discussion around race and privileges. We invite visitors to reflect and contribute their thoughts through conversation, written notes and drawings."
A spokesperson added, "While the exhibition will be open to the public on June 4th, there will be an official opening, on the anniversary of the march, June 7th, led by 'BLM Bermuda'."
Speaking to the upcoming event, BLM Bermuda said, "On June 7th, Bermuda protested George Floyd's murder and the institutions that have enabled such injustices to occur for centuries. A year later, we reflect upon the progress made since that day and call for more action and awareness to combat systems that disproportionately neglect black and brown people. Let this exhibition be another powerful contribution to this fight for racial equity."
A spokesperson added, "An addition to the Peaceful Art Protest this year, there will also be a public installation running alongside the exhibition. The public is encouraged to visit Masterworks Museum when the show opens and contribute to this participatory installation. At the close of the exhibition, this special public piece will be shared with the Black Lives Matter Bermuda Team.
"The Peaceful Art Protest exhibition will run June 4th – June 29th, 2021, at the Masterworks Museum, with the official opening marking the anniversary of the march, June 7th, 2021. Submissions for new artwork are still being accepted and will be accepted until May 18th, 2021."
"If you have any questions, you can email jasmine@masterworksbermuda.org or visit www.rickfariesgallery.com."

Read More About
Category: All, Entertainment, News