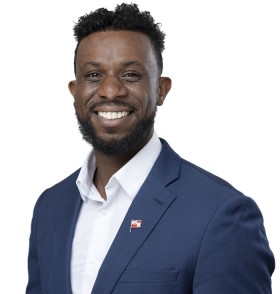 The Bermuda Civil Aviation Authority [BCAA] has expanded its team with the addition of Kyle James as Business Development Manager.
A spokesperson said, "Kyle will be responsible for planning and executing business initiatives to help grow the number of aircraft placed on the Bermuda Aircraft Registry in new and existing global markets.
"Kyle will be part of the team that guides our clients from introduction to registration. With over 8 years of experience in a business development role, Kyle has supported both public and private sector firms in a range of industries.
"Kyle's past experience includes working with Bermuda Business Development Agency [BDA] and the Bermuda Tourism Authority [BTA], where he was responsible for developing new business relations and direct investment that positively contributed to Bermuda's economy and promoted the country as a whole. Kyle cultivated success in these sectors by attracting new business, jobs, revenue and activity to Bermuda."
Director General of BCAA, Thomas Dunstan, commented, "We were extremely impressed by Kyle's background, experience and his drive to positively contribute to Bermuda's economy.
"With over 850 aircraft registered in Bermuda, we currently have the world's largest offshore aircraft registry. Our goal is to continue to sustainably grow the aircraft registry across Asia-Pacific and other key markets. We are always delighted to welcome local talent to our team and we are confident that Kyle will make a great addition and a significant contribution to our overall vision and future goals."
"Kyle completed his Master's at Griffin's University in Australia and also studied a semester abroad in Japan while attaining his Bachelor's Degree in Business Administration. He is fluent in Mandarin and is involved in many local charities," a spokesperson added,
Mr. James comments on his appointment, "I look forward to my new role in the aviation industry, which will allow me to continue to promote Bermuda on a global scale and to learn more about the industry as a whole from the talented team at BCAA. Given the current climate, it's an exciting time to be involved in aviation, and I am looking forward to continuing to grow the world's largest offshore registry."

Read More About