A two-year research project led by the Bermuda Institute of Ocean Sciences [BIOS] aimed at increasing understanding of highly migratory and mobile predatory fishes, including sharks, in Bermuda's deep-sea waters was one of 31 projects chosen this month to receive funding through the Darwin Plus program.
The program, also known as the Overseas Territories Environment and Climate Fund, is administered through the U.K. Government's Department for Environment, Food and Rural Affairs and provides funding for the "conservation of unique and globally significant environments found in U.K. Overseas Territories."
On June 5, the U.K. Government announced, as part of World Environment Day, that it would invest £8 million [approximately $10 million BMD] over the next three years to address the global biodiversity crisis.
The Bermuda-based project, which brings together partners from the scientific research, non-profit conservation, and U.S. university education sectors, as well as the Bermuda Government, received a competitive research grant of £316,829 [approximately $446,000 BMD] for the two-year study, anticipated to begin later this summer.
"As part of the Bermuda Ocean Prosperity Programme [BOPP], Bermuda is in the process of developing a marine spatial plan that aims to boost the 'Blue Economy' and will include the creation of a network of protected areas covering 20 percent of the island's exclusive economic zone," said Timothy Noyes, a research specialist at the Bermuda Institute of Ocean Sciences [BIOS] and the project's principal investigator.
BTW Sharkwater Shark Arena. A Caribbean reef shark investigates the Beneath the Waves dive team. Photo by Diego Camejo / Beneath the Waves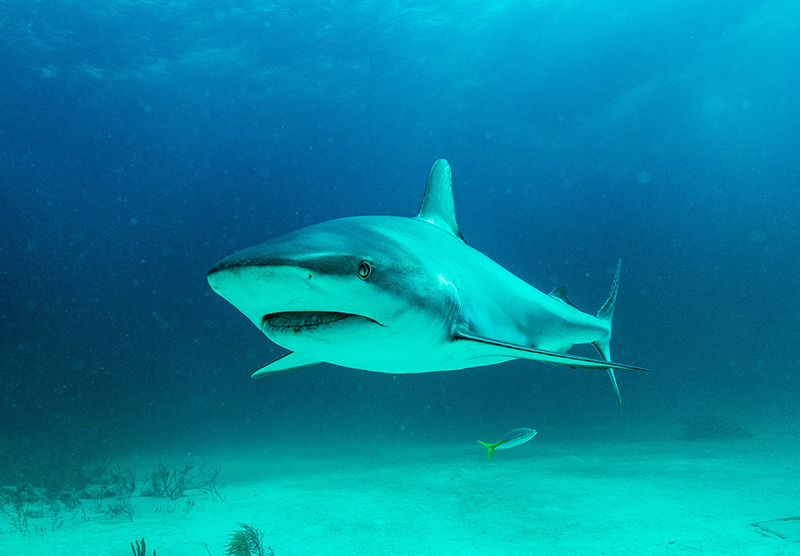 "While data are available to inform this initiative in shallow waters, there is much less information for areas deeper than 1,000 feet," or 350 meters, he said.
This project will provide broadscale baseline measurements of deep-sea biodiversity around Bermuda from depths of 100 to 6500 feet [30 to 2,000 meters].
"The project is also led by Dr. Austin Gallagher, chief scientist at Beneath the Waves [BTW], a non-profit research institute that uses cutting-edge science to advance scientific discovery and catalyze ocean policy. BTW's approach focuses on the conservation of biodiversity and highly migratory species throughout the Atlantic, Caribbean, and Pacific Oceans.
"The deep-sea is our Earth's largest ecosystem, and our planet's final frontier for research and discovery. However, deep-sea environments still remain largely unexplored, poorly understood, and have few conservation measures in place," Gallagher said.
"Through our research in the Lucayan Archipelago in the Bahamas, we know that critical migratory species and predatory fishes, like sharks, are extensively found in deep-sea areas. Bringing our innovative research methodology to this project, we seek to further understand how these species use the deep-sea, and provide scientific support for the Bermuda Government's strategic biodiversity conservation priorities."
The investigation will use a combination of approaches to accomplish this goal, including baited underwater camera [BRUV] systems to attract fish to study locations, which helps scientists minimize disturbances while making observations of fish population biodiversity.
Dr. Brennan Phillips, project partner and assistant professor in ocean engineering at the University of Rhode Island, specializes in the development and application of novel instrumentation for oceanographic research. His experience and expertise will allow the team to test low-cost, low-light imaging options for deep-water research.
Another tool that will be employed at the study sites is the collection of organisms' hereditary material, via environmental DNA [eDNA]. Organisms continually release DNA into their surrounding environment, and common sources from fish include waste material, discarded scales, mucus, and reproductive cells.
By taking water samples from the area around the underwater cameras, scientists can extract genetic material and sequence it to identify each fish species present in the area at the time of the sample. This allows them to obtain more accurate estimates of biodiversity.
BTW deep-sea drop camera. Beneath the Waves deploys their specialized deep-sea drop-camera rig, which will be used in biodiversity surveys of Bermuda's deep-sea habitat. Photo by Wilson Haynes / Beneath the Waves.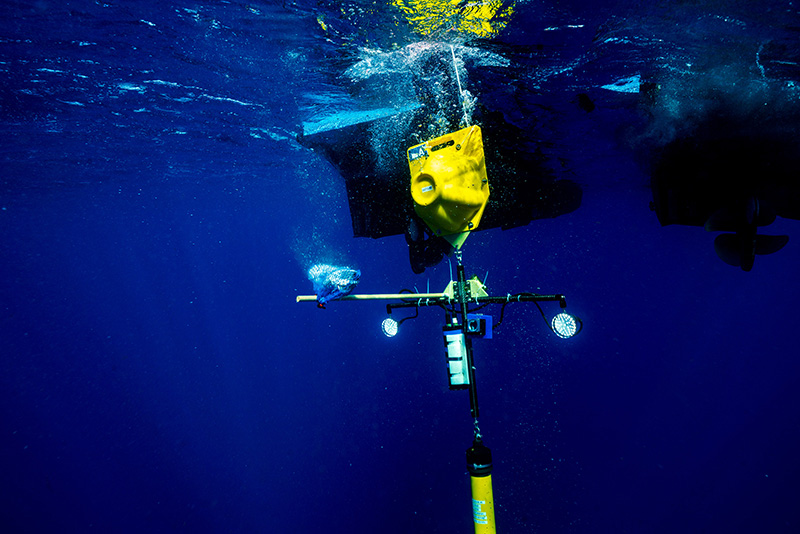 "The data collected will be relayed to the Bermuda Government Department of Environment and Natural Resources [DENR] through project partner Dr. Joanna Pitt, a marine resources officer, who is also a member of the BOPP Science Committee.
Pitt will help to integrate these data into the BOPP Marine Spatial Planning initiative and DENR's Shark Management Action Plan, and will also lead the development of a Deepwater Fisheries Management Plan.
"Bermuda does not have a lot of fishing activity in deeper waters, but a better understanding of which species are present in these habitats will be very useful," Pitt said. "An important aspect of sustainable fishing is minimizing impacts on 'non-target' species, like sharks, that we are trying to conserve. Gathering information on the distributions of both fishery target species and species of conservation interest is a critical first step towards this."
Kaitlin Noyes, Director of education and community engagement at BIOS, will develop digital education resources for incorporation into the Institute's Ocean Academy curriculum, which serves Bermuda's students, teachers, and mentors. Shayna Brody, project partner and director of media and communications at the Waitt Institute, a founding partner of BOPP, will assist in the project's outreach efforts.
"The deep sea is difficult to study and experience, yet is full of potential for scientific discovery," Brody said. "Bermuda has a wealth of diverse marine environments, many of which remain relatively unexplored. By sharing this groundbreaking research with the wider community, we can all better appreciate how the deep-sea benefits those of us at the surface."
The Bermuda Institute of Ocean Sciences is an independent U.S. not-for-profit marine research and educational organization with 501[c][3] status and a Bermuda Registered Charity [#116]. For more information visit www.bios.edu.
Read More About
Category: All, Environment, News