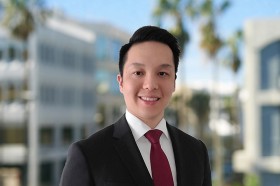 Deloitte Bermuda has hired Kelvin Lam as a partner, with Mr Lam to lead the actuarial practice for Bermuda and the Caribbean Region.
A spokesperson said, "Deloitte Bermuda is thrilled to welcome their new partner, Kelvin Lam, to newly relaunch our Actuarial & Insurance Solutions Practice, effective June 1, 2021.
"Kelvin joins Bermuda from the Deloitte Toronto office and will lead the actuarial practice for Bermuda and the Caribbean Region, bringing a breadth of knowledge and industry experience to share with our clients. Kelvin is a qualified actuary and a member of the Canadian Institute of Actuaries, Society of Actuaries, and the American Academy of Actuaries.
"Kelvin specializes in the reinsurance and insurance industry, serving numerous clients across North America. His extensive experience includes advising clients on actuarial valuation, financial reporting, asset liability management [ALM], capital management, and regulatory compliance.
"Kelvin also provides actuarial Mergers & Acquisitions [M&A] due diligence support, manages external and internal audit services, and delivers model and system implementations for his clients. Currently, Kelvin is focused on helping his clients navigate IFRS 17 and supporting both the implementation and audit of this new global reporting standard under multiple regulatory jurisdictions."
John Johnston, Chief Executive Officer, Deloitte Caribbean and Bermuda region, said: "Kelvin's arrival marks the official launch of Deloitte Bermuda's newly rebranded Actuarial & Insurance Solutions [AIS], formerly the Actuarial, Risk and Analytics business offering. With Kelvin's help, we have repositioned ourselves to further align with our client needs.
"The rebranded AIS services will provide the same outstanding value that we offer our clients; however, they will now be packaged and presented in a more impactful way that speaks to the demands of our local market. The AIS service offerings will further enhance our position as one of the leading actuarial practices, not only in Bermuda but across the globe."

Read More About