Noting her "significant contributions" to the Bermuda arts, Masterworks Museum of Bermuda Art has officially opened their "Dame Jennifer Smith Legacy Courtyard," saying the Courtyard has been named after her to "continuously remember her tremendous support in the creation of the Museum."
Dame Jennifer Smith pictured in the "Dame Jennifer Smith Legacy Courtyard"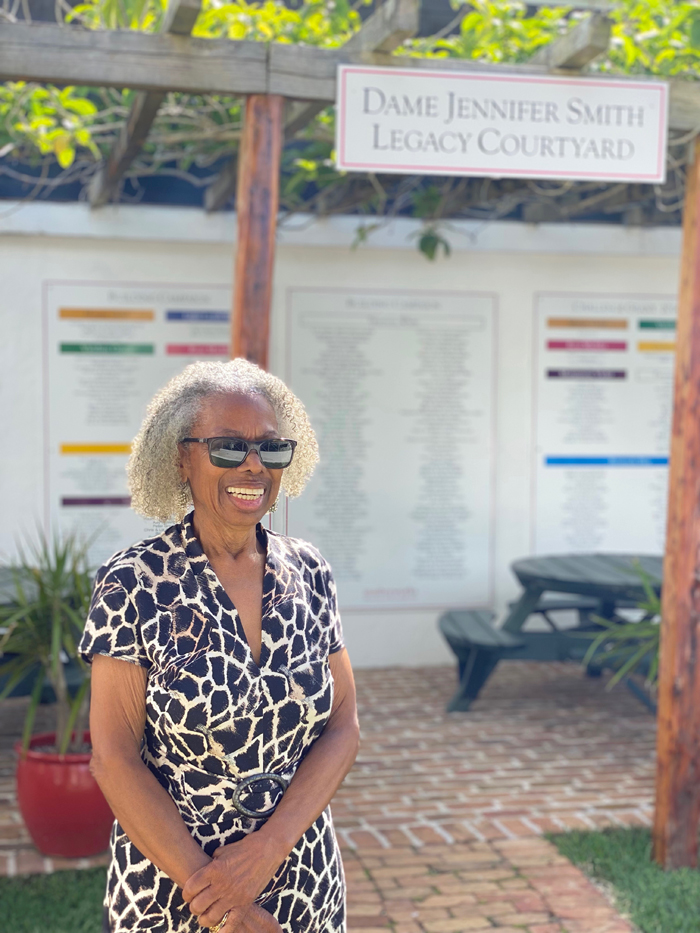 Founder of Masterworks Museum, Tom Butterfield said, "Naming the Dame Jennifer Smith Legacy Courtyard is most appropriate due to her long-standing commitment to Masterworks. It started with the two of us meeting over lunch at the Captains Lounge in August 1987 when she was then Shadow Minister of Education.
"As Founder it was evident that her support would be important given our focus on educational benefits, providing our island with a permanent space to learn about culture, art, heritage and history. Bermuda is forever indebted to Dame Jennifer Smith and we thank her."
Risa Hunter, Executive Director adds, "Dame Jennifer leaves a legacy by helping to shape the Museum we see today and we are immensely grateful to her service as an arts patron and ambassador for our island's education."
Dame Jennifer stated, "Masterworks is dear to me as an artist. The outdoor courtyard has long served as a hub for young apprising artists to meet and exchange ideas and recreation while engaging in their art education.
"Masterworks is a pivotal stakeholder in the preservation and celebration of Bermudian culture, and I am appreciative to Masterworks for the honour of having their beloved courtyard named after me."
"Masterworks Museum encourages the public to visit the Museum this summer to enjoy the Dame Jennifer Smith Legacy Courtyard as well as their many exhibitions," a spokesperson added. "Visit www.masterworksbermuda.org to learn about their exhibitions, programmes and more."

Read More About
Category: All, Entertainment, News