The Paget Parish Council recently presented gift certificates worth $1,000 to Paget Primary, St. Paul's Preschool, and Gilbert Institute "to provide autonomy for teachers and Principals to purchase the specific items that would most benefit the students."
A spokesperson said, "For a number of years, Paget Parish Council has made it a priority to keep connected with schools located within the parish boundaries, namely Paget Primary, St. Paul's Preschool and Gilbert Institute.
Council Member Davida Morris, Teachers Laurie Trott and Carla Mendes and Head Teacher, Nancy Manuel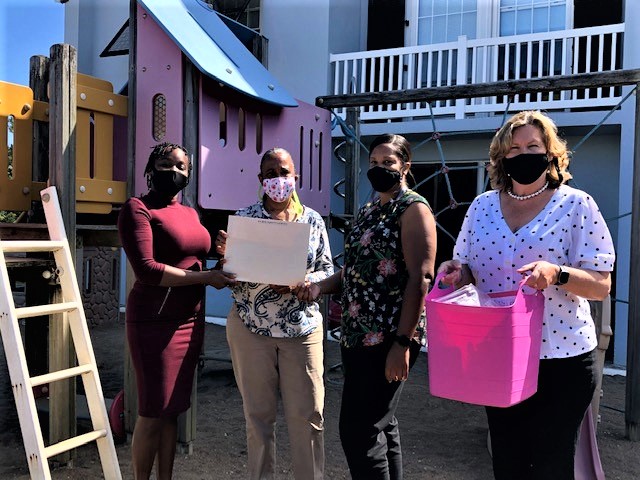 "For the past few years, each student received a monthly nutritious snack, as part of the successful Fresh Fruit Friday initiative, which was organised by the Council's Care and Wellness Committee and designed to encourage healthy eating.
"In 2020, due to the pandemic, the fresh fruit programme had to be suspended, but as the island moved through the various phases towards the new normal, Paget Council worked to find another way to partner with and support parish schools.
"As the Council listened and gained input from Principals, several themes became clear; the pandemic had fostered many emotionally and financially challenging situations.
"All shared that inspirational educational materials and healthy snack items for students in need would motivate and meet the social and emotional learning needs necessary for academic success. In addition, Covid-19 health guidelines mandated that learning tools had to be fully sanitized and swapped out, which put a strain on the held resources.
Back Row: Council Member Jonathan Rego and Teacher, Ayesha Brown; Front Row: Deputy Boy Kaya Robinson and Deputy Girl Jaori Tucker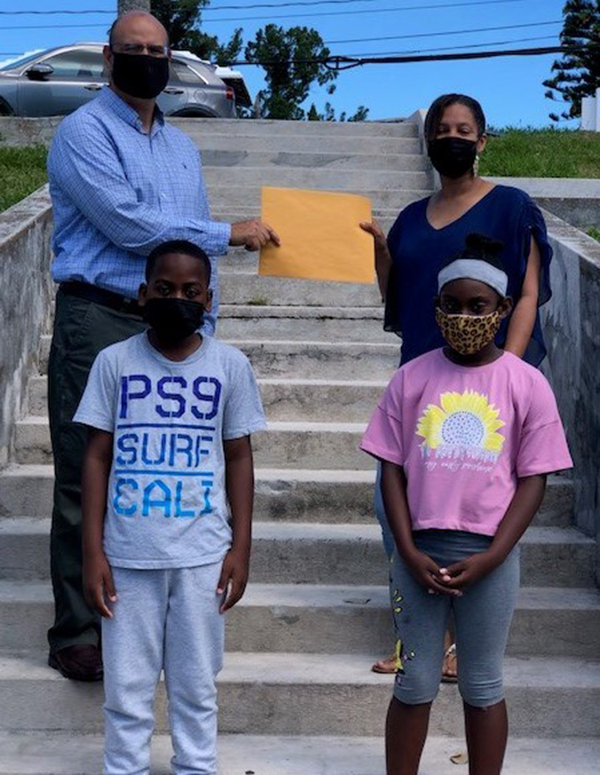 "Paget Parish Council was pleased to provide each school with gift certificates to the tune of $1,000, to provide autonomy for teachers and Principals to purchase the specific items that would most benefit the students."
Sonia Haley, Principal of Paget Primary, said, "Thank you so much to Paget Parish Council for your donation and continued partnership with the Paget Primary family. It will be a tremendous benefit to our students and provide much support and encouragement during these very challenging times."
Jana Pitcher, Principal of Gilbert Institute, said, "We sincerely thank Paget Parish for their generous donation. We will use it to obtain special motivational learning essentials and materials, to help boost student morale, address well-being needs and congratulate students for the tremendous efforts they've made again this year."
Nancy Manuel, Head Teacher of St. Paul's Pre-School, said, "The staff and I are thankful to the Paget Parish Council for their generous support of St. Paul's Preschool. This donation will go a long way in providing manipulatives, books, puzzles and toys to enrich student learning and ensure we have enough for every student."
Back Row: Council Member, Anne Hyde, and Gilbert Principal, Jana Pitcher; Middle Row: Head Boy, Jacob Furtado, and Head Girl, Jazmine Borden-Everett; Front Row, Aaliyah Philpott and Nathan Robinson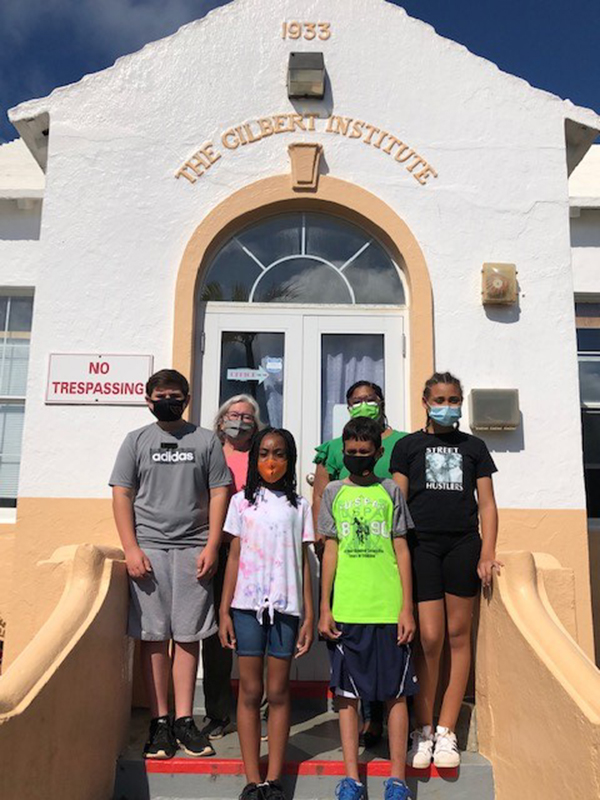 Paget Council Chair Bill Pitman and Chair of the Care and Wellness Committee Olga Scott said, "We are pleased to continue to provide community-based support for our Parish schools.
"We appreciate the opportunity to collaborate with our parish partners, who are on the front lines every day dedicating their efforts to ensuring our youth are educated and supported. We congratulate the students for their resiliency and wish them a wonderful summer ahead."
The spokesperson said, "The Paget Parish Council is fortunate to be able to do beneficial work and provide support for Parish residents through the management of and revenues gained from the Red Hole dock berths and boatyard.
"Legislated in 1954 as the Paget Waterlot Act, this property, which was generously left in trust to the Council by the late Mr. Onley and Mrs. Cornelia Jones to provide waterfront access to Paget residents, forms the funding basis that allows the Council to do beneficial work in the Parish.
"The Paget Parish Council is a Government appointed body comprised of 12 members who are Paget residents and serve the community for the benefit of all residents of Paget. The nine Parish Councils fall under the Ministry of Community Affairs and Sports, and follow the mandate as set out in the Parish Council Act 1971.
"Residents who have questions are invited to contact the Council via PagetCouncil.com or email paget.parish@outlook.com."

Read More About