The Governor, Premier David Burt, Minister Dr Ernest Peets, Deputy Premier Walter Roban, Opposition Leader Cole Simons, and the Mayor of Hamilton congratulated Flora Duffy after she won Bermuda's first ever gold Olympic medal.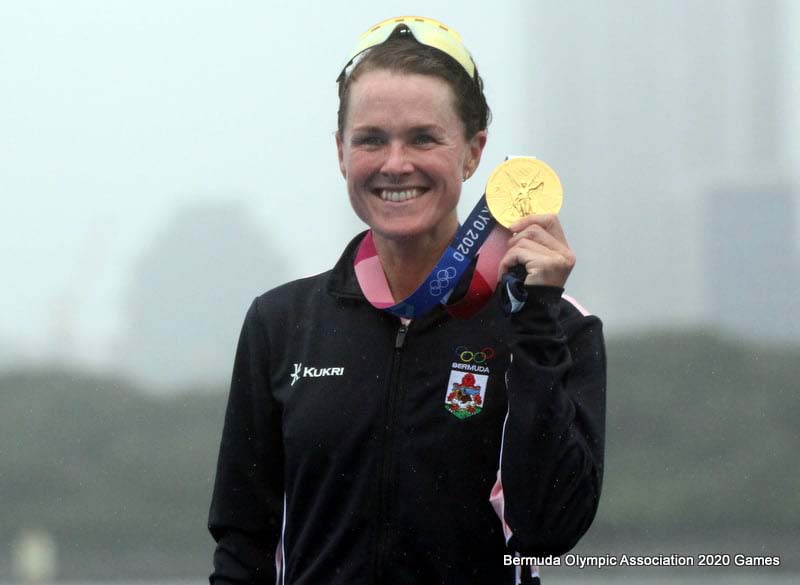 City of Hamilton
A spokesperson said, "The City of Hamilton is thrilled to celebrate Flora Duffy's Olympic gold medal win at the Tokyo Olympic Games yesterday."
Mayor Charles Gosling said, "Like many Bermudians, my family and I watched with pride as Flora stormed to victory to win the Women's Triathlon last night. To watch her break away on the run was an absolutely euphoric moment.
"This monumental win marked an astounding moment of 'firsts' for Flora and indeed Bermuda – it is the first time Bermuda has won a Gold medal at the Olympics, the first time a Bermudian female has won a medal at the Olympics and it also makes Bermuda the least populated nation in Olympic history to ever win a gold medal at the Summer Olympics.
"To send her our congratulations does not even begin to express our thanks for representing Bermuda so exceptionally and for all her hard work and dedication to the sport. She is a role model to us all – a hero to our young, aspiring athletes – and I know she will be recognized as such upon her return to Bermuda."
Government House
A Government House spokesperson said, "Governor Lalgie joins all of Bermuda in congratulating Flora Duffy in her historic achievement in winning an Olympic Gold medal for Bermuda in the Women's Triathlon at Japan 2020. Flora becomes the second Bermudian to win an Olympic medal, and the first to win Olympic Gold, with Clarence Hill having won a bronze medal in Boxing during the 1976 Olympics in Montreal."
Premier David Burt
"Flora did it!" ~ Premier David Burt expressed the elation of all Bermuda at the news of Flora Duffy's gold medal performance in Tokyo.
The Premier said, "Words almost cannot do justice to such an incredible effort from an incredible athlete. This remarkable achievement is a true testament to Flora's unwavering commitment and genuine perseverance in training and preparation. Bermuda is bursting with pride and admiration for this humble champion."
Minister of Youth, Culture and Sport Dr. Ernest Peets
The Minister of Youth, Culture and Sport Dr. Ernest Peets said, "Bermuda's sporting community is United in saluting this amazing Olympic victory. Every athlete must be inspired by what we saw in Tokyo today. Flora Duffy is a sporting giant and Bermuda could not be more proud of her and her success."
Deputy Premier Walter Roban
And the Deputy Premier Walter Roban added, "It is beyond words to finally witness Bermuda winning gold at the Olympics. Flora has made us all proud."
The Premier said that all of Bermuda looks forward to celebrating Flora's historical win as a Country upon her return home.
Opposition Leader Cole Simons
Opposition Leader Cole Simons said, "What a proud moment for Bermuda's own Flora Duffy on finishing first in the women's triathlon this evening at the 2021 Tokyo Olympic Games and gaining Bermuda's first ever gold medal.
"Watching Flora's outstanding race, I know I can speak on behalf of all Bermudians that we are bursting with pride….. Indeed we ran along side of you, step by step, even as you lapped others! What a performance!
"Flora Duffy, you will continue to inspire upcoming local and international athletes both now and for generations to come. Congratulations once again to you, your parents, your family, your friends, here and around the world. As a nation we stand to give you a rousing standing ovation and thank you for your consistent commitment to excellence. Flora Duffy, Bermuda's gold medal Olympic champion!"

Read More About