Flora Duffy will be competing in the Olympics on Monday [July 26], and the Bermudian triathlete is widely considered to be a medal contender at these Games.
Ms Duffy — who has won multiple world championships — will race at 6.30pm [Bermuda time] on Monday and if you want to get into the spirit and showcase your support, a selection of Facebook cover graphics — via our network site BermudaCovers.com — featuring Flora Duffy are below.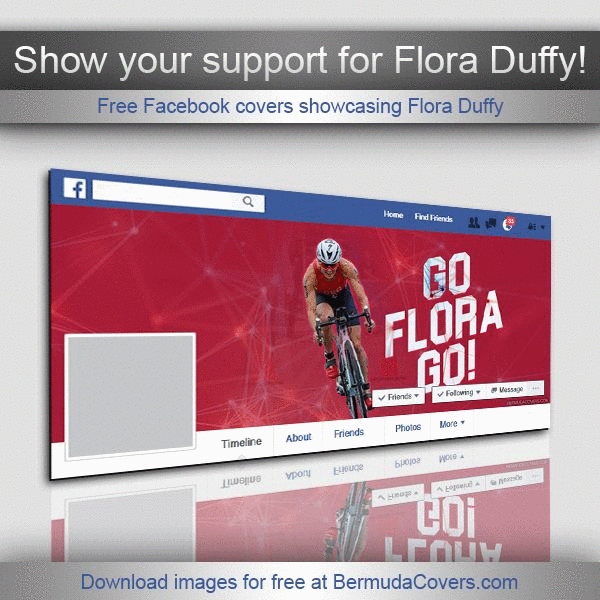 Ms Duffy is part of a two person team at these Olympics, with rower Dara Alizadeh already doing the island proud, advancing from the heats, to the repechage round and onto to the quarter finals, where he finished 5th.
In addition to fielding a medal contender in Ms Duffy, the island — which is the smallest nation in the world to win a Summer Olympic medal courtesy of Clarence Hill's bronze medal in boxing at the 1976 Games — Bermuda will also be in contention for a medal at the Paralympic Games next month, with Jessica Lewis expected to be highly competitive in the 100m.
This is believed to be the first year that Bermuda is in serious medal contention at both the Olympics and Paralympics and the women's triathlon race is expected to be heavily watched in Bermuda, as we watch and cheer on one of our own on the world stage. If you are not on Facebook, you can still get into the spirit electronically, with phone wallpapers featuring Ms Duffy as well as Mr Alizedeh available here.
Facebook covers, open full size, then right click 'save as' to download:










Read More About
Category: All, News, Sports, technology