HSBC Bermuda will serve as the lead sponsor of the 2021 Cup Match Classic, it was announced today.
A spokesperson said, "As host of the 2021 Cup Match Classic, St. George's Cricket Club's President Neil Paynter, today announced the return of HSBC Bermuda [HSBC] as lead sponsor of the event."
Mr. Paynter shared: "We have had a long and successful history with HSBC and Cup Match and are excited to be able to partner again with the bank this year. The Club are particularly grateful for all that the bank's sponsorship enables us to be able to provide to the local community.
"It is a fantastic event and on behalf of the Club I extend my sincere thanks to HSBC for once again sponsoring us as we strive to bring the Cup back 'home' to St. George's."
Vashun Blanchette – Somerset Cricket Club President, Tanya Bule – Head of Wealth and Personal Banking at HSBC and Neil Paynter – St.George's Cricket Club President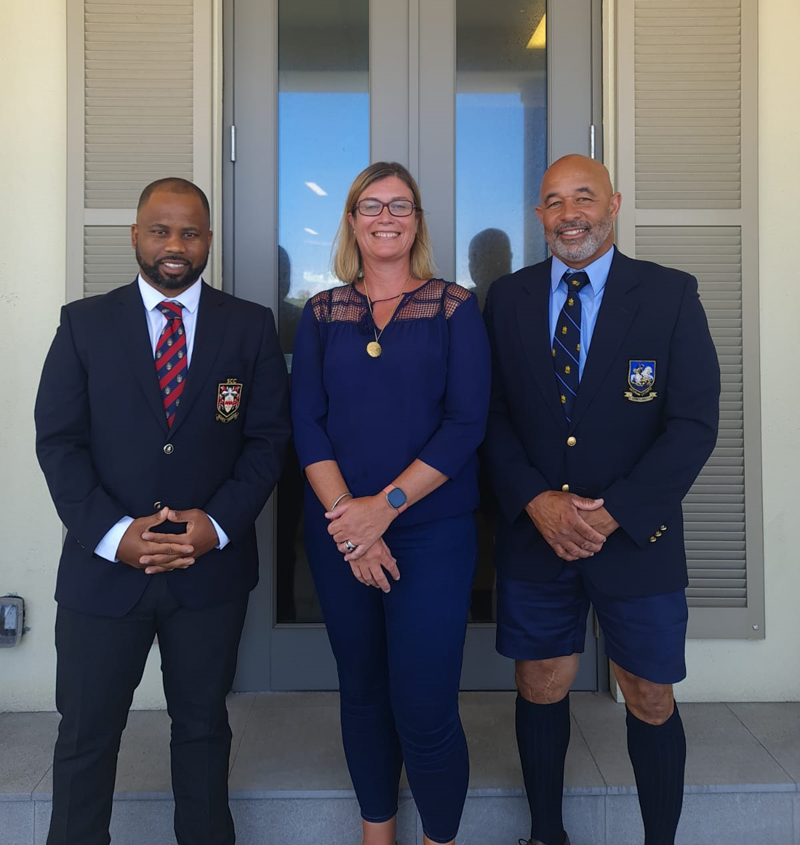 Steve Banner, HSBC Bermuda CEO said, "This will be HSBC's 14th year as the lead sponsor of this exciting competition. At HSBC we are delighted to be able to once again support the respective efforts of the St. George's and Somerset Cricket Clubs.
"At HSBC we are proud to support the Island's largest sporting event and we look forward to celebrating its return with colleagues, customers and the whole community."
Head of Wealth and Personal Banking – Tanya Bule shared: "In the lead up to the two day event our employees will be busy with a number of community focused, Cup Match related activities.

A spokesperson said, "Once again Bermuda residents will see the return of the Cup Match Annual Motorcade which will include HSBC employees travelling the length of the Island starting from both St George's and Somerset and providing giveaways to the public along the journey.
"The free gifts will include the ever popular HSBC car flags, in team colors. The Motorcade will take place from 12 noon – 2 pm on Monday 26 July, 2021 from Somerset to Hamilton and 12 noon – 2 pm from St. Georges to Hamilton, on Tuesday 27 July, 2021. The Harbourview branch will host more giveaways on Wednesday July 28th, 2021. For more information please see www.hsbc.bm for the schedule of branch activities.
In closing Tanya Bule said: "No matter whether you plan to be at the game or spend your holiday elsewhere, on behalf of all us at HSBC, I wish you and your families the very best Emancipation Day and Mary Prince Day holidays and Cup Match event – and as always, 'May the Best Team Win!'

Read More About