Over 850 Covid vaccines have been discarded this year for various reasons including the vials being cracked, expired, stopper denigrated in them, particles seen in them and more.
This was included in a reply to a Parliamentary Question in the House of Assembly today [July 2], with Minister of Health Kim Wilson providing the information in response to a question from Shadow Minister for National Security & Health Michael Dunkley.
One of the questions asked for the data for the "weekly number of Covid-19 vaccines discarded for any reason from the commencement of vaccinations to the week ending June 12th, 2021."
Screenshot from the response to the Parliamentary Questions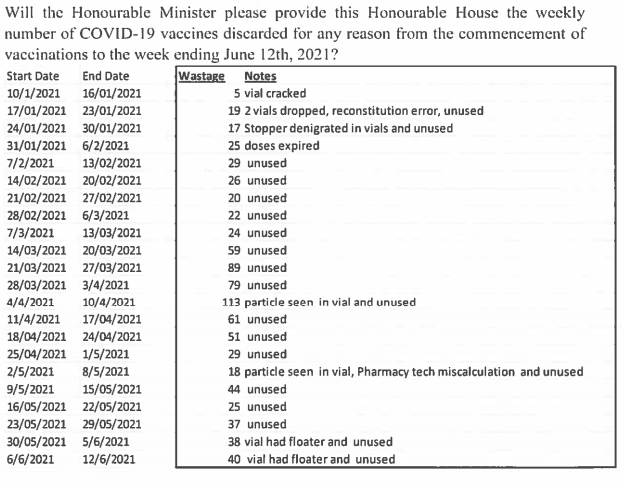 Vaccination statistics show that from January 2021 to June 12, 2021  – the date to which the data above correlates — Bermuda had administered total of 76,526 vaccinations.
The full response by Minister of Health Kim Wilson follows below [PDF here]:

You can find more information on the links below and also on our dedicated website BermudaCovid.com, which is the most comprehensive resource and historic record available of Bermuda's handling of the pandemic.
Read More About