Bermuda's Flora Duffy has claimed yet another world title, this time winning the 2021 World Triathlon Championships today [Aug 21], making her the first triathlete in history to be crowned both the World and Olympic Champion in the same year.
She competed in the women's World Triathlon Championship Series Grand Final in Edmonton today, earning the bronze medal in the event and enough points to add another world title to her already extremely impressive resume.
The organisation tweeted, "Olympic Triathlon Champion Flora Duffy held bronze today and is our 2021 World Triathlon Champion, confirming her third world title."
Screenshot from the broadcast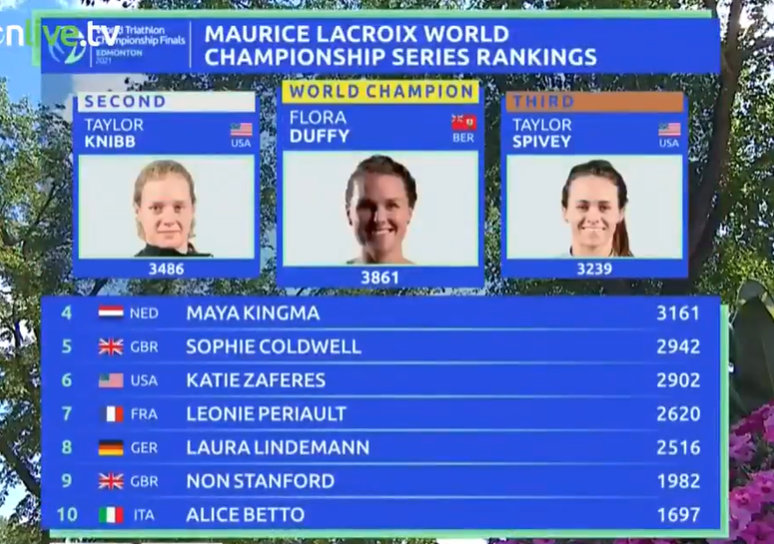 They had previously noted a third win by Ms Duffy would be a record-equaling third women's world title within their organisation and make her the first triathlete in history to win Olympic gold and the World Championships in the same year.
Today's world championship win by the Bermudian triathlete marks her 10th — and that is not a typo — her 10th world championship win as she has won them across multiple organizations.
She is already a 5 time five-time winner of the Xterra World Championships, making her the only triathlete in history — male or female — to win the event five times, and she is the only person to win three triathlon world titles in the same year, capturing the 2016 World Triathlon championship race, the Xterra world championships, and the ITU Cross world championships in 2016.
Numerous international media reports and commentators have noted that Ms Duffy is one of the best triathletes of all time, and with her 10th world championship win today following after her Olympic Gold Medal she has more than proved that point.

Read More About