Pride Bermuda will be hosting a virtual Tag Day, with the youth drug prevention charity encouraging the public to "make financial contributions to continue to provide students with the support they need."
A spokesperson said, "Bermuda's Charitable sector has faced many hard times in the last few years, even more so with the Covid-19 pandemic. "We are living in challenging times, and like many organizations, Pride Bermuda continues to pivot and evolve to meet student needs amidst the constant changes;" shares Truell Landy, Executive Director of Pride Bermuda.
"Pride Bermuda [Parent Resource Institute for Drug Education] one of Bermuda's longest serving charities, has shifted our Annual Tag Day, from an in-person event over a single day, to a virtual experience.
"For the month of September, we encourage the public to make financial contributions to Pride Bermuda so that we can continue to provide students with the support they need to successfully navigate these challenging times.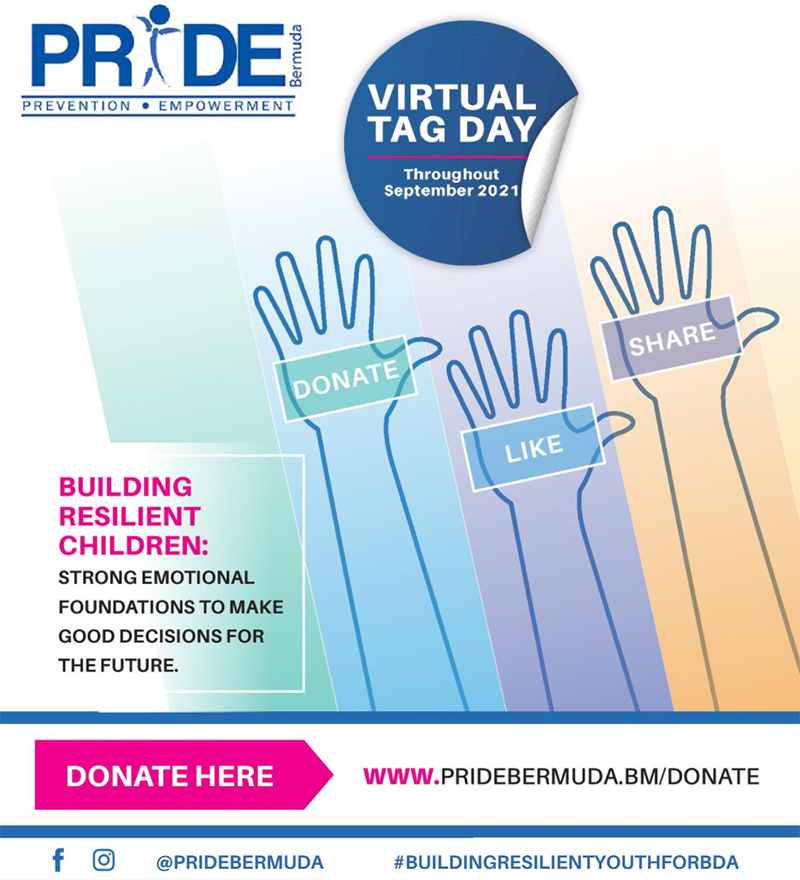 "For nearly 35 years, we have been leading the charge against youth substance use and abuse. In the last 12 years, PRIDE Bermuda has shifted focus, to use a skills enhancement approach to prevention;
"The ongoing prevalence of high-risk behaviours like substance use, violence and challenging classroom behaviours amongst our youth, revealed a need for more effective youth engagement through programme, like Botvin LifeSkills Training and PATHS [Promoting Alternative Thinking Strategies].
"We have found that these programmes give children as young as 5 years old, the knowledge to manage their feelings during stressful situations, improve their relationships with others, and increase their critical thinking skills to make better decisions. This means that they are less prone to developing a problem with substance abuse and other high-risk behaviours, by learning to manage difficult emotions and experiences;" says Samantha Smith, Pride Programme Supervisor.
"Pride Bermuda's programmes are currently running at 12 sites with over 400 primary and middle school aged students. They are run in public and private schools, as well as within other community organizations such as North Village Community Club and Big Brothers, Big Sisters of Bermuda. Ms. Smith shares; "Pride continues to seek opportunities to partner with additional schools and community organizations for the 2021/2022 school year."
"Our aim is to raise $10,000 to support the growth and implementation of our programmes. Ms. Smith shares: "Currently, we have 32 facilitators registered. Some are tied to their school, others are flexible. With our programmes, we are looking to build strong, resilient children, who become strong, resilient adults, having the knowledge and skills to manage the challenges of life and avoid addiction."
"To donate, visit here. Or via Direct Deposit to BNTB: 20006060052740100.
"Once you donate, share your sticker on your social media accounts and tag your friends. Prizes will be given to the largest individual donation, and person who has the most tagged friends who make donations. Sponsored by the Bermuda Championship.
"Follow and Tag Pride Bermuda on our social media accounts: Facebook and Instagram."
Read More About
Category: All