PwC Bermuda today [Aug 16] announced the recipients of their annual scholarship awards, with Tamia Place earning the Peter Mitchell Scholarship, while Nadir Young earned the PwC ABIC Award Scholarship.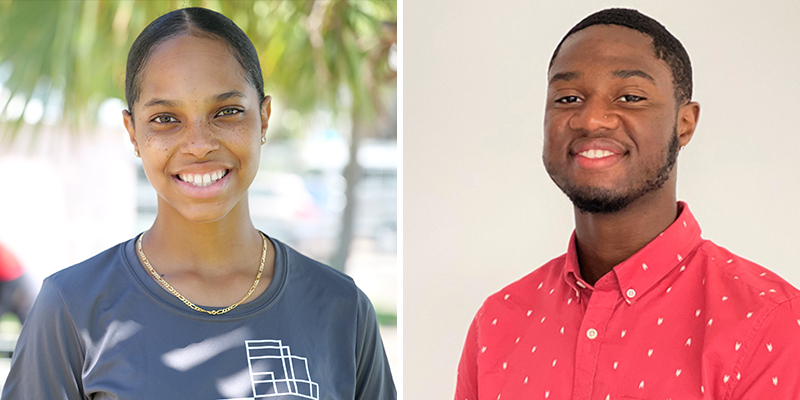 A spokesperson said, "PwC Bermuda today announced the recipients of its annual scholarship awards. The 2021 scholarship winners are as follows:
"Tamia Place [Georgia State University, USA], winner of the Peter Mitchell Scholarship worth $20,000 annually.
"Nadir Young [Acadia University, Canada], winner of the PwC ABIC Award Scholarship worth $15,000 annually for two years.
Damian Cooper, partner and leader of the HeadStart programme, said, "We congratulate Tamia and Nadir for being our 2021 awardees. They have each distinguished themselves through their academic achievements and commitment to empowering communities. Both students share our values of collaboration, teamwork and innovation.
"Our Peter Mitchell Scholarship and PwC ABIC Award Scholarship are a fundamental part of PwC's HeadStart programme, which provides academic financial assistance and career opportunities to Bermudian university students pursuing accounting or international business at the graduate or undergraduate level. The programme provides mentorship and training to young Bermudians to springboard their careers in the financial services industry."
Tamia Place is pursuing a double major in Accounting and Risk Management and Insurance at Georgia State University. She is currently interning at PwC as part of HeadStart. She volunteers with several organisations in Atlanta, Georgia and Bermuda that work with students and the elderly, including Lorraine Rest Home.
"As a PwC intern, I have had the opportunity to gain valuable experience in my field," she said. "I love that we not only focus on our clients but also on giving back to the community through the firm's corporate responsibility programme. After graduation I plan to return to Bermuda as a Certified Public Accountant and join PwC, a firm that values solving important problems and making a difference."
Nadir Young is pursuing a Bachelor of Business Administration with a focus in Accounting at Acadia University, and has been interning in the international business sector this summer. He plans to join PwC's HeadStart programme next year, and is involved in the Big Brothers Big Sisters of Bermuda organisation.
"When you have a community, you have a family," he said "That is the value that Big Brothers Big Sisters taught me. This is the idea of paying it forward; your community guides you towards success, then you invest back into the community and raise the next generation.
"Winning this scholarship means the opportunity to pursue my career aspirations. I want to obtain my CPA designation and return to work in Bermuda and continue to give back to the community."
The company noted, "Since the HeadStart programme's inception, PwC has hired over 90 Bermudian graduates, provides over $75,000 in scholarships annually and 15 summer internships and co-op opportunities each year. The programme covers 100% of CPA exam costs and study leave for students. Learn more about PwC's HeadStart internship and scholarship programmes here."

Read More About