Bermuda International Long Term Insurers and Reinsurers [BILTIR]  announced that Board member Natasha Scotland Courcy is their new Vice-Chair, and that Andrew Sooboodoo has joined the Board.
The Board appointments were confirmed at BILTIR's annual 2021 Bermuda International Life and Annuity Conference, which was held as a virtual event on September 23rd.
Natasha Scotland Courcy and Andrew Sooboodoo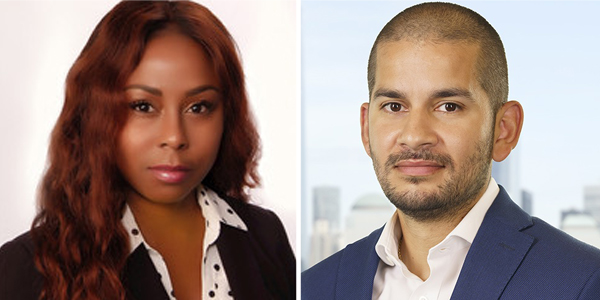 "These two appointments further strengthen BILTIR's board of directors. I have had the pleasure of working with both Natasha and Andrew for the past several years and can attest to the high calibre of their expertise, work ethic and integrity. I look forward to our continued collaboration in support of BILTIR and its members," said Sylvia Oliveira, Chair of BILTIR and CEO of Wilton Re Bermuda.
Ms Scotland Courcy, who is Senior Vice-President, General Counsel, and Chief Operating Officer at Bermuda-based fixed annuity reinsurance company Athene Life Re Ltd., has been a BILTIR Board member since 2020.
She has more than 14 years of experience in the reinsurance industry and has been with Athene Life Re Ltd since 2012. Prior to joining Athene, Ms Scotland Courcy worked as the Assistant General Counsel at Flagstone Reinsurance Holdings.
"I am grateful to take up the role of Vice-Chair at BILTIR," said Ms Scotland Courcy. "I look forward to contributing to the leadership and strategic direction of BILTIR in its advocacy for Bermuda's thriving life and annuity industry."
Mr. Sooboodoo is Chief Risk Officer at Fortitude Re with responsibility for oversight of all risk across the company. He has worked in Bermuda, the United Kingdom and the United States, and he is a Fellow of the Institute of Actuaries. He currently leads BILTIR's Interest Rate Working Group.
"I am thrilled to join the BILTIR Board and to work with the other directors to bring about meaningful change not only within the life [re]insurance industry, but within the community in Bermuda as well." said Mr. Sooboodoo.
BILTIR represents 63 long-term insurance, reinsurance and servicing companies in Bermuda who provide life and annuity products and employ more than 600 people on the island.
Read More About