Chatmore British International School recently held their inaugural graduation ceremony, with the school also celebrating four senior students who received passing IGCSE grades in Math, English, Biology, History, Economics, and Global Perspectives.
A spokesperson said, "On Saturday 13 June 2021 just days after the restrictions on group gatherings were relaxed to 50 people, outdoors in the garden on the 4-acre campus of the Chatmore British International School, Bermuda the school celebrated its inaugural graduation ceremony.
"Though very small, the event did not lack any of the traditional pomp and ceremony that embrace most high school graduations. For Graduates Sam Bean and Max Whalley and their families it was a momentous occasion that was enjoyed by family and friends in person and remotely – both in Bermuda and internationally.
"The Processional was led by Chatmore's 2021-2022 Student Leaders proudly carrying the COBIS and Bermuda Flag followed by the Senior Leadership Team, School Founder, School Financial Controller, Board Chair, and Graduates.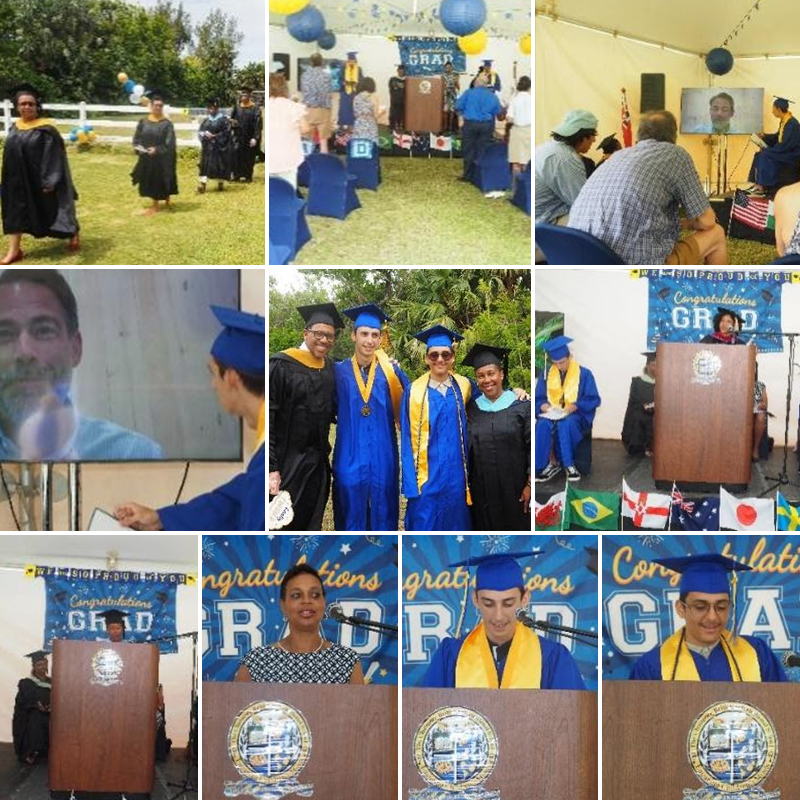 "The international guest speaker Mr. Thomas Steele-Maley a globally recognized designer and advisor working to transform learning systems using artificial Intelligence and robotics joined us remotely and shared a message with the graduates, student leaders and the school, inspiring everyone to think about what it means to be human and take risks and try many things as we consider the future of innovation and human learning.
"In their speeches both graduates shared how grateful they were to be part of the Chatmore School family. In his Salutatorian address, Max identified his Outward Bound experiences as significant in changing his perspective on learning and life; while Valedictorian Sam, noted that when he came to Chatmore five years ago and they said "he was joining a family", he did not understand what that meant but in hindsight, he now knows exactly what being part of "the Chatmore Family" means and that the school has not seen the last of him.
"After being awarded the 2nd place prize for the 2021 KPMG Investment Challenge, at graduation, both graduates were awarded financial gifts from that prize toward their College Education, and both will remain connected to the school as "investment mentors" for other students via a graduation gift to them both from a local donor who challenged them to grow the investment and use it to bring financial benefit to the school.
"While the world continues to recover from the global pandemic the graduates will commence their undergraduate education locally at the Bermuda College. Sam is commencing his studies toward a degree in Urban Development, and Max is still undecided but is pursuing courses in business studies.
"In recent days, the school received another reason to celebrate their student's achievement as 4 Senior students received passing IGCSE grades in Math, English, Biology, History, Economics, and Global Perspectives."

Read More About