The annual Knight's Charity Golf Tournament is scheduled for December 11th, 2021 at Belmont Hills Golf Club, with Special Olympics Bermuda named as the charitable beneficiary of the event.
A spokesperson said, "On behalf of Richard Knight's, we are most pleased that Special Olympics Bermuda have accepted to be our charitable beneficiary in 2021.
"We appreciate the hard work of Ms. Karen Woollery of Special Olympics Bermuda and her team and we want to show support through a donation from the proceeds of our tournament.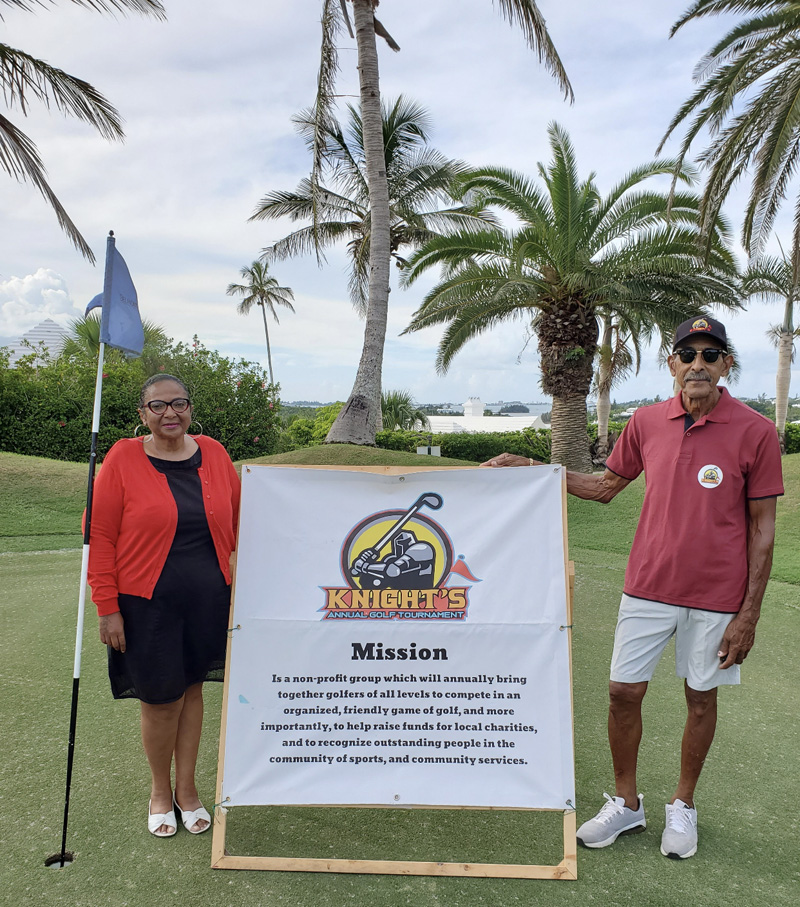 "The Knight's Charity Golf Tournament has become a popular fixture on the local tournament schedule; a two ball better ball team event attracts a number of good professional and amateur golfers.
"This year's tournament is extra special as it commemorates Richard Knight's 75th birthday, which features a gala prize-giving reception at the Coco Reef Hotel. Limited separate tickets for that event will be available to non golfers.
"Our excitement is ever growing, as there is now interest from overseas participants who are now planning a weekend getaway to celebrate with us in Bermuda.
"Tournament organizers are soliciting sponsors and donation of prizes.
"Interested persons or companies can contact:
"Richard Knight at rknight152@gmail.com or 1[441] 517-2923
"or Michael Furbert at 1[441] 335-7977
"or Kim Swan at kimswan@kimswangolf.com or 1[441] 533-8321"
Karen Woollery said, "Many thanks to you and your golf tournament committee for choosing Special Olympics Bermuda as your charity of choice this year.
"Special Olympics Bermuda, Registered Charity # 972, was formed with a mission to provide year-round sports training and athletic competition opportunities in a variety of Olympic-style sports for children and adults with intellectual disabilities.
"Through this, our athletes have opportunities to develop their physical fitness, demonstrate courage, experience joy and participate in the sharing of gifts, skills and friendship with their families, other Special Olympic athletes and the community.
"In 2019, 13 Special Olympics Bermuda athletes, had the opportunity to travel to Abu Dhabi, United Arab Emirates to participate in the Special Olympics World Summer Games. Bermuda successfully won 19 medals at the event.
"In 2023, Special Olympics Bermuda anticipates traveling with a contingent of 15-20 athletes for the quadrennial Special Olympics World Summer Games to be held in Berlin, Germany. Leading up to the Summer Games, our athletes will engage in local training and competition, community engagement, social events and fundraising as well as smaller contingents participating in overseas competition.
"Although Special Olympics started out as a sports program, we have evolved and grown with a goal to ensure our athletes are fully embraced by the community through full inclusion that includes health care, education and meaningful employment. We have started an athlete leadership program that teaches our athletes to be advocates and to address areas in the community which do not give them equal opportunity.
"Athletes continuously demonstrate a strong commitment to reaching their goals through training and gaining exposure in local sporting events. Participating in an event like the World Games would not be possible without support from the coaches, volunteers, the community and sponsors. Special Olympics Bermuda continually fundraises to ensure our athletes are trained and prepared well-ahead of the games.
"Although some time away, it is important we also fundraise and seek sponsorships and donations to ensure that we are able to get our determined athletes to the Games."

Read More About