[Updating: At 6:00pm there was a shooting at Robin Hood Pub on Richmond Road, with multiple shots fired. Four people sustained gunshot wounds.]
Police are responding to an incident in the Richmond Road area with unofficial information suggesting there was a very serious shooting at the Robin Hood bar, with multiple people shot. Further confirmed details are limited at this time, however we will update as able, with the police expected to issue a statement shortly.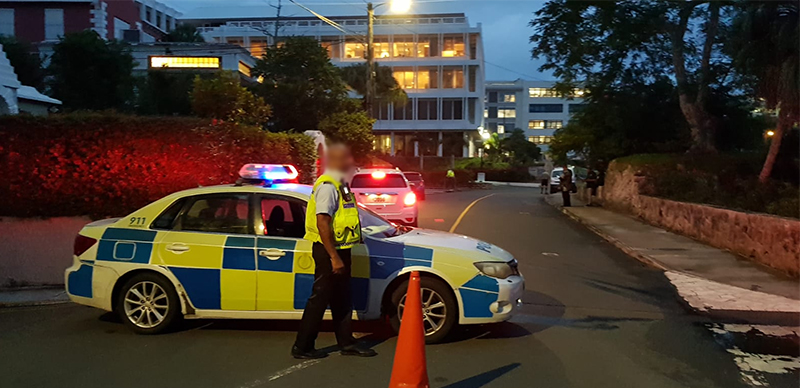 Update 6.58pm: Unofficial information indicated there was a shooting, with multiple people shot. Police can be seen in high numbers all around Robin Hood.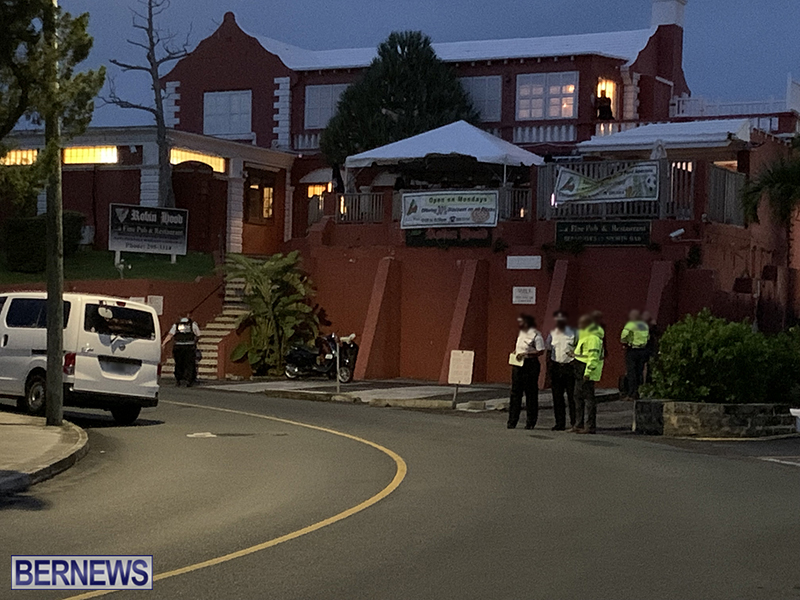 Update 7.07pm:The police provided an update, they confirmed they received calls from people at Robin Hood and there were a "number of injuries."
Update 8.29pm: Shadow Security Minister Michael Dunkley said, "It is with great concern that the OBA learns of the shooting this evening. Our thoughts and prayers to those injured.
"Any gun violence rocks our community;but one in a popular public place raises the concern even more. It is simply unacceptable! Anyone with information should contact the BPS as we must all do whatever we can to stop this violence and have justice served."
Update: 10.42pm: A police spokesperson said, "Around 6:00 p.m. today, Tuesday 26th October, 2021, Police and EMS staff responded to reports of a firearms incident at the Robin Hood Pub and Restaurant on Richmond Road, Pembroke.
"Reports are that unknown individuals entered the premises and discharged several shots in the direction of a group of men who were in the establishment.
"Four persons sustained gunshot wounds. Three of the injured parties were transported to King Edward VII Memorial Hospital via ambulance, while the fourth victim was taken to hospital in a private vehicle.
"This matter is being treated as a critical incident with Assistant Commissioner Daniels as the Gold Commander and a team of detectives is being led by Detective Chief Inspector Peter Stableford of the Serious Crime Division.
"There were several individuals inside the pub and restaurant at the time of the incident and the investigators are interested in speaking with anyone with information no matter how insignificant they may think it to be."
Acting Commissioner of Police Darrin Simons condemned this senseless act of violence, "This heinous act carried out by individuals who it would seem have no regard for life or even the safety and wellbeing of others for that matter, has left our community shaken.
"This is not who we are as Bermudians. The public can expect to see increased policing around reassurance patrols in direct response to this incident. This is being addressed at the highest level in terms of our response and commitment of resources around that. There were rumours circulating that a police officer was killed in this attack. I can categorically state, there is no truth to these claims."
"Meantime, we are again appealing for anyone with any information at all on this incident, to please call 211, the main police number, 295-0011 or Crime Stoppers on 800-8477."
Update 11.17pm: The Minister of National Security Renee Ming said, "I condemn the shootings at the Robin Hood Bar and Restaurant in the strongest terms. This heinous act put so many people in harm's way.
"My thoughts and prayers are extended to the victims and to their families as I call for calm across the island.
"I implore those of you who may know something to say something. I encourage you to make contact with the Bermuda Police Service on 211 or 800-8477. We need your help to ensure those responsible are brought to justice."
Premier David Burt added, "As a community we have been through so much so I truly feel for the victims of this terrible occurrence and their families. I echo the sentiments of the Minister of National Security and urge witnesses to cooperate with the Police in their investigation."
Update Oct 27, 10.05am: Acting Governor, Ms Alison Crocket said, "Government House is shocked and saddened by the news of last night's shooting at Robin Hood.
"Our thoughts and prayers go out to the family and friends of the victims and all those who have been affected by this appalling act of violence and we urge members of the community to come forward with any information that they may have regarding this incident."
Read More About