[Updated] The Government will rename the National Sports Centre's South Field Stadium to the Flora Duffy Stadium this afternoon [Oct 18], and we will have additional coverage later on, the live video below should begin at around 2.00pm and you can view all our coverage of the Flora Duffy Day holiday by clicking here.
Update: The live broadcast has concluded and the 17-minute replay is below
We will have a full photo gallery later on, in the meantime the images below show Flora Duffy and her family and new sign at the Flora Duffy South Field Stadium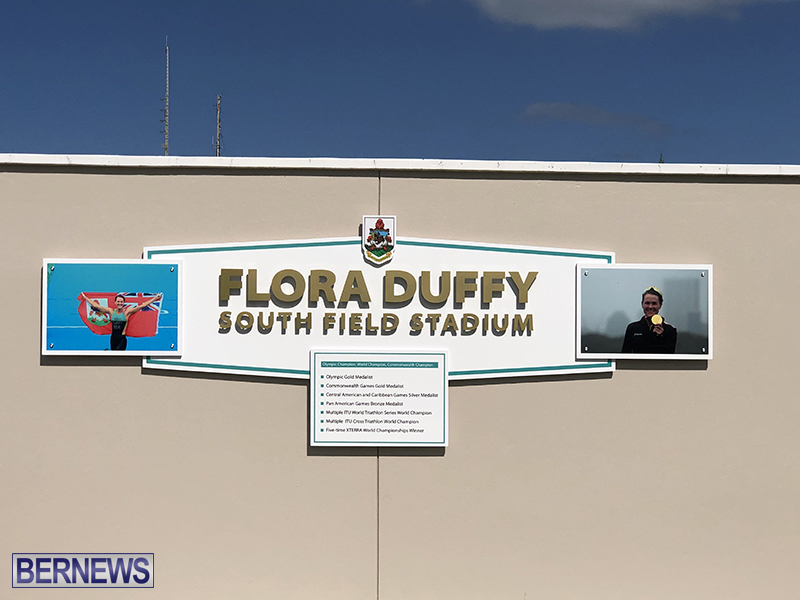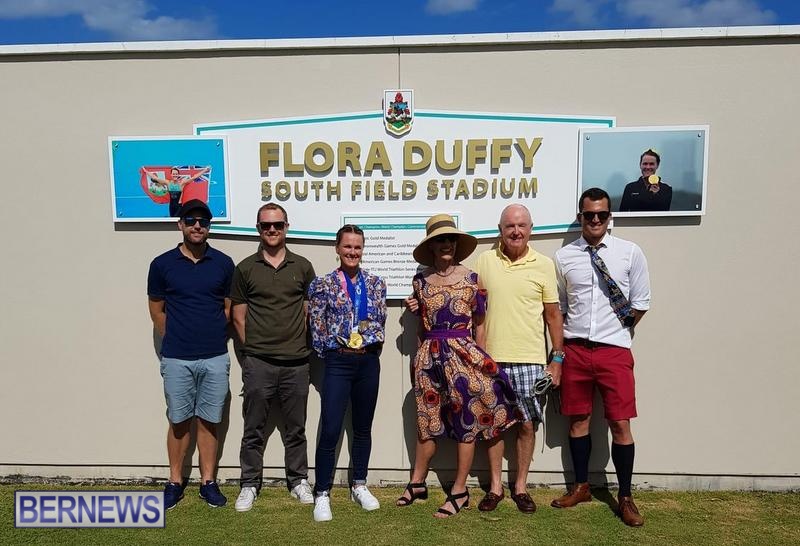 Update 4.55pm: Minister Dr. Peets remarks:
Good afternoon Governor Lalgie Premier David Burt, NSC Deputy Chair Katura Horton Perinchief, BOA Chair Judy Simons special invited guests, and viewers watching online.

It gives me great pleasure to join you all at the National Sports Centre to honour Ms Flora Duffy – the most accomplished Bermudian athlete of our time. It's been said that sports are considered the essence of hard work and dedication. For an athlete to get to the pinnacle of their sport, even the most gifted athletes, they have to give it their all.

The great American track and field Gold Medalist, Wilma Rudolph once said, "Believe me, the reward is not so great without the struggle."

And Flora, from your humble beginnings as a young girl to the reaching the highest heights of your career with winning the Gold Medal at the Tokyo Olympics, we can appreciate that you've gone through an incredible journey of hard work and dedication to reach this moment in your career.

Flora you have given us so many incredible moments over the years. And these are the moments we will remember for a lifetime. So today, against the backdrop of where our athletes become legends, we are here to honour you with the renaming the National Sports Centre's south field as the Flora Duffy Stadium.

This is a field where you've trained and worked so hard and we're pleased we are able to recognise you in this way. We hope this area will be an inspiration to all of our young up and coming athletes to reach the highest heights, just as you have done.

Flora, please know that we are so immensely proud of your achievement and, on behalf of the Ministry of Youth, Culture and Sport congratulations again and we wish you nothing but continued success.

Thank you.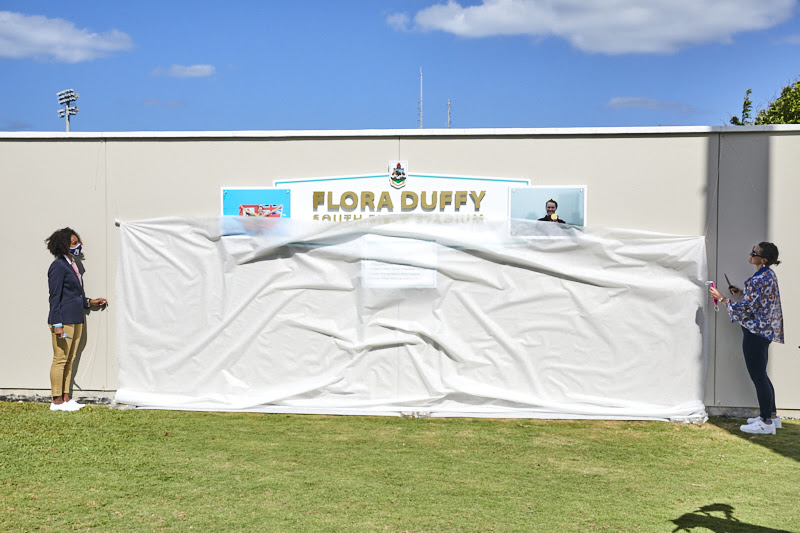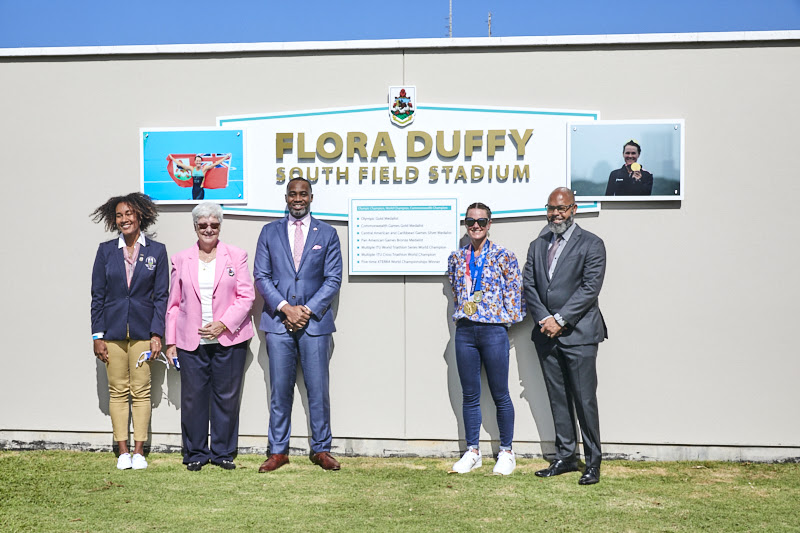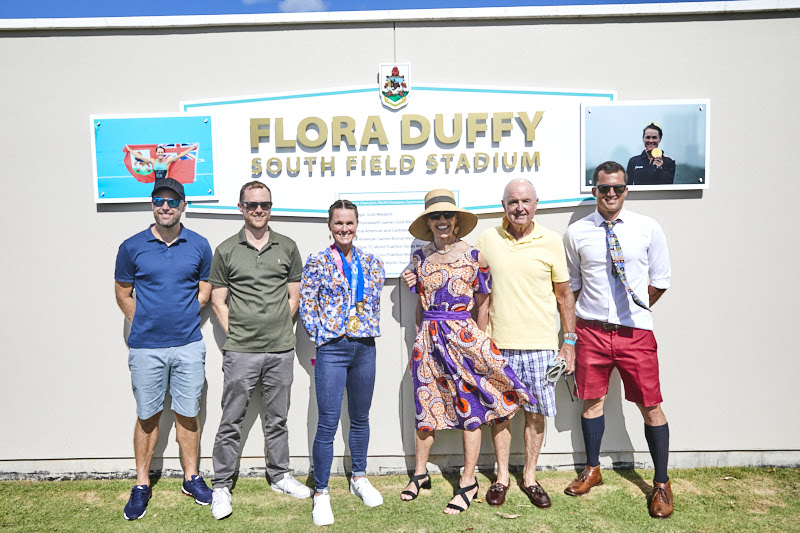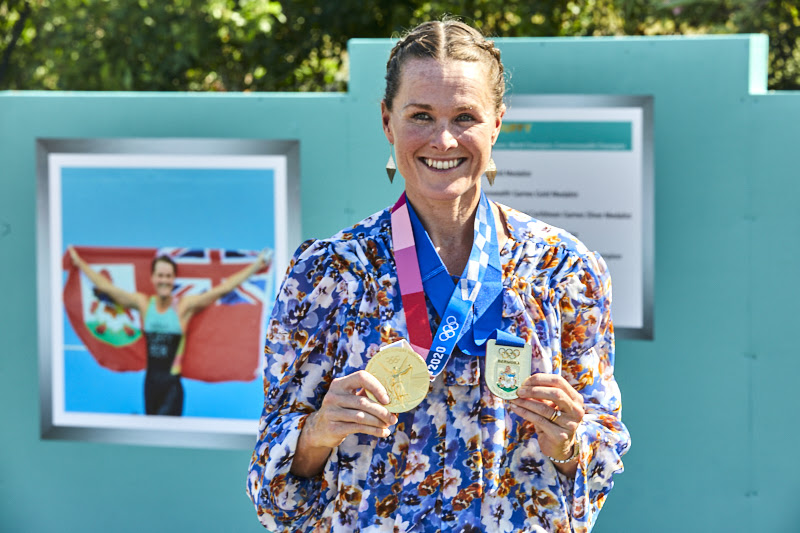 Read More About