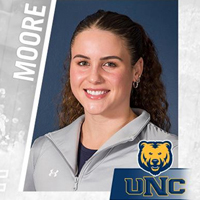 Bermuda's Madelyn Moore — who competes for the University of Northern Colorado  — continued her winning form during a recent swim meet.
The University's report said, "Northern Colorado Swim and Dive was back in action on Saturday, picking up right where they left off a week ago at the Intermountain Shootout. Facing fellow WAC opponent New Mexico State, the Bears rattled off its third consecutive duel win over the Aggies, 167-131.
"UNC relays have had a dominant start to the 2021-22 campaign. Following a perfect run in Grand Junction, Northern Colorado maintained its winning ways against New Mexico State. The foursome of AJ Popp, Emina Pasukan, Katelyn Bergin and Madelyn Moore came in at 1:44.62 in the 200 medley relay to kick off the meet in style.
"Speaking of winning, UNC made a habit of it Saturday. Of the 14 swimming events, the Bears hit the wall first in 13 of them.
"After the opening relay win, two-time WAC Swimmer of the Week Anna Austin cranked up the heat in the distance events, touching the wall first in both the 1,000 and 500 free. The Arvada, Colorado native also outswam everyone in the 200 fly with a 2:08.79.
"Natalie Kayfes wasn't too far behind Austin, coming in second in both long-distance swims as well.
"Freshman Giulia Pavanello earned her first win in the Blue and Gold, clocking a 1:54.78 in the 200 free.
"Reigning WAC Swimmer of the Week Madelyn Moore remained the queen of the sprints. Moore clocked the fastest 50 free of the day and her 51.34 in the 100 free was almost a full second faster than second place."

Read More About