BE Solar has partnered with the Bermuda National Trust to offer a solar panel installation as the grand prize for the annual Bermuda National Trust raffle.
A spokesperson said, "In 2020, BE Solar provided an 8 panel solar installation as the grand prize for the raffle. The funds raised through the raffle helped BNT to continue their valuable work to protect and promote Bermuda's natural and cultural heritage, for everyone forever, and to educate the stewards of the future. This year BNT and BE Solar are offering the same solar panel installation as a grand prize which is set to be drawn on December 6, 2021.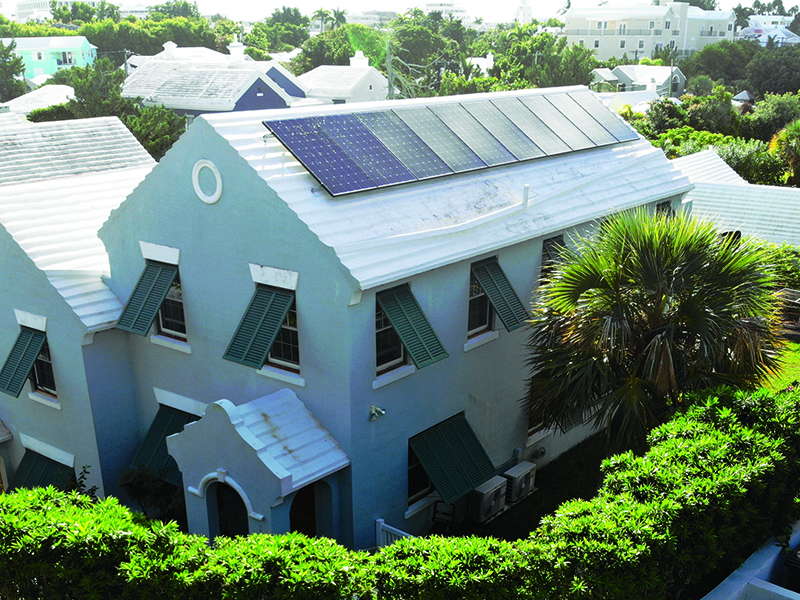 "The solar system is designed to provide an average of $97 a month in savings and the grand prize includes the cost of the solar panels, Enphase microinverters, roof attachments, mounting rail, wiring and all Department of Planning requirements.
"BE Solar has a vision of an efficient Bermuda powered by affordable renewable energy and the company is continuing to make solar more accessible by fostering partnerships with non profit organisations that are helping people and places in Bermuda.
"In 2020, Mary Wachuka purchased one of the raffle tickets and won the grand prize of a solar panel system from BE Solar. Even though she is a tenant on a rental property, her landlord agreed to let BE Solar install the system and it was recently commissioned in June.
"Her landlord also agreed to purchase two additional panels to provide her with a 10 panel system. Since June the solar system has reduced her BELCO bill by 50%."
Ms. Wachuka explained that she "bought the Bermuda National Trust raffle ticket in support of their mission to protect and promote Bermuda's unique natural and cultural heritage."
She stated, "Buying raffle tickets is one of the more popular ways of supporting local charities." Ms. Wachuka has previously supported BNT in a volunteer capacity through the island clean-up events they organize.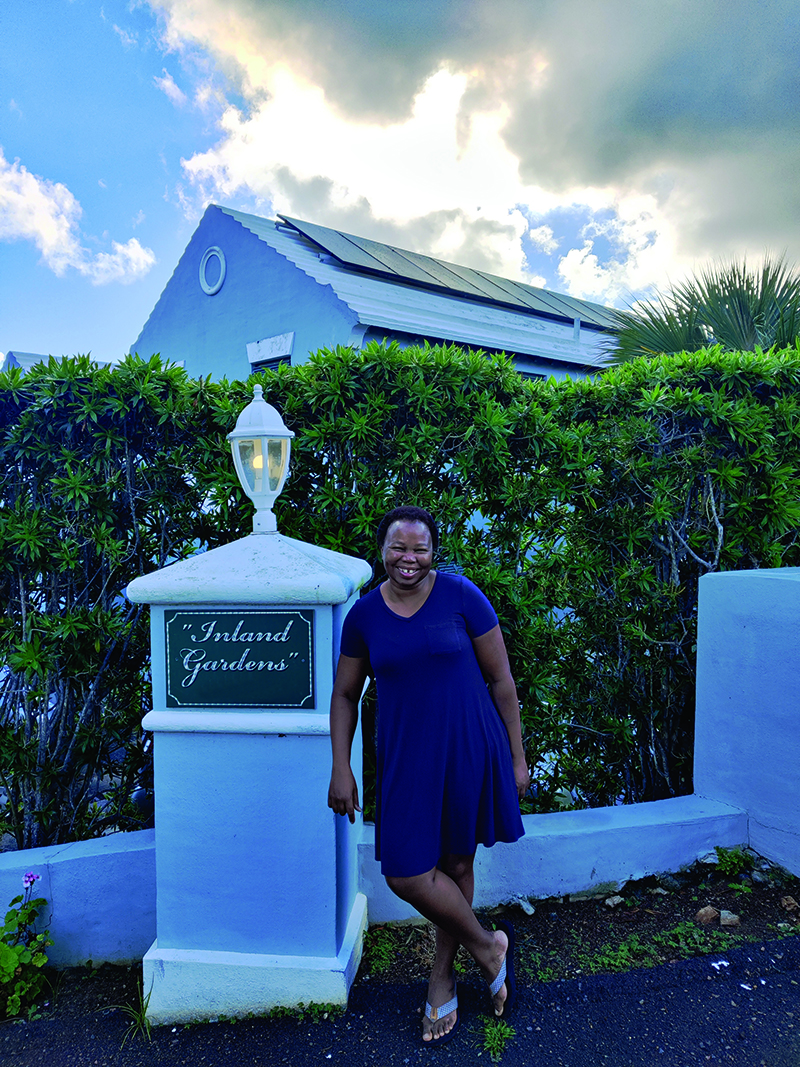 BNT Head of Development and Engagement, Dr. Dörte Horsfield stated "The Bermuda National Trust is very grateful to BE Solar for partnering with us on our raffle again.
"This is an important fundraiser for the Trust and the money is put towards caring for our 13 nature reserves across the island. These green spaces help to keep our island cool, act as carbon sinks, and provide havens for biodiversity. Just as important, they offer people quiet refuges in nature away from our busy, modern lives, which is critical for our physical and mental wellbeing."
Ms. Wachuka expressed that "the installation experience was seamless and that BE Solar handled the entire process from the planning stage to final sign-off. The team at BE Solar is very professional. The whole experience was positive."
Director of Development, Stratton Hatfield said, "Our experienced team is honoured to have partnered with the Bermuda National Trust to provide this compelling cost saving and fossil fuel fighting prize for a second year in a row."
2020 raffle prize winner Ms. Wachuka said, "Besides the cost savings, using solar panels has a direct impact on the environment. At a time when much attention is being turned to climate change and what can be done to reduce the carbon emissions from fossil fuels, it feels great to be a part of the solution. And all for the low price of a raffle ticket!"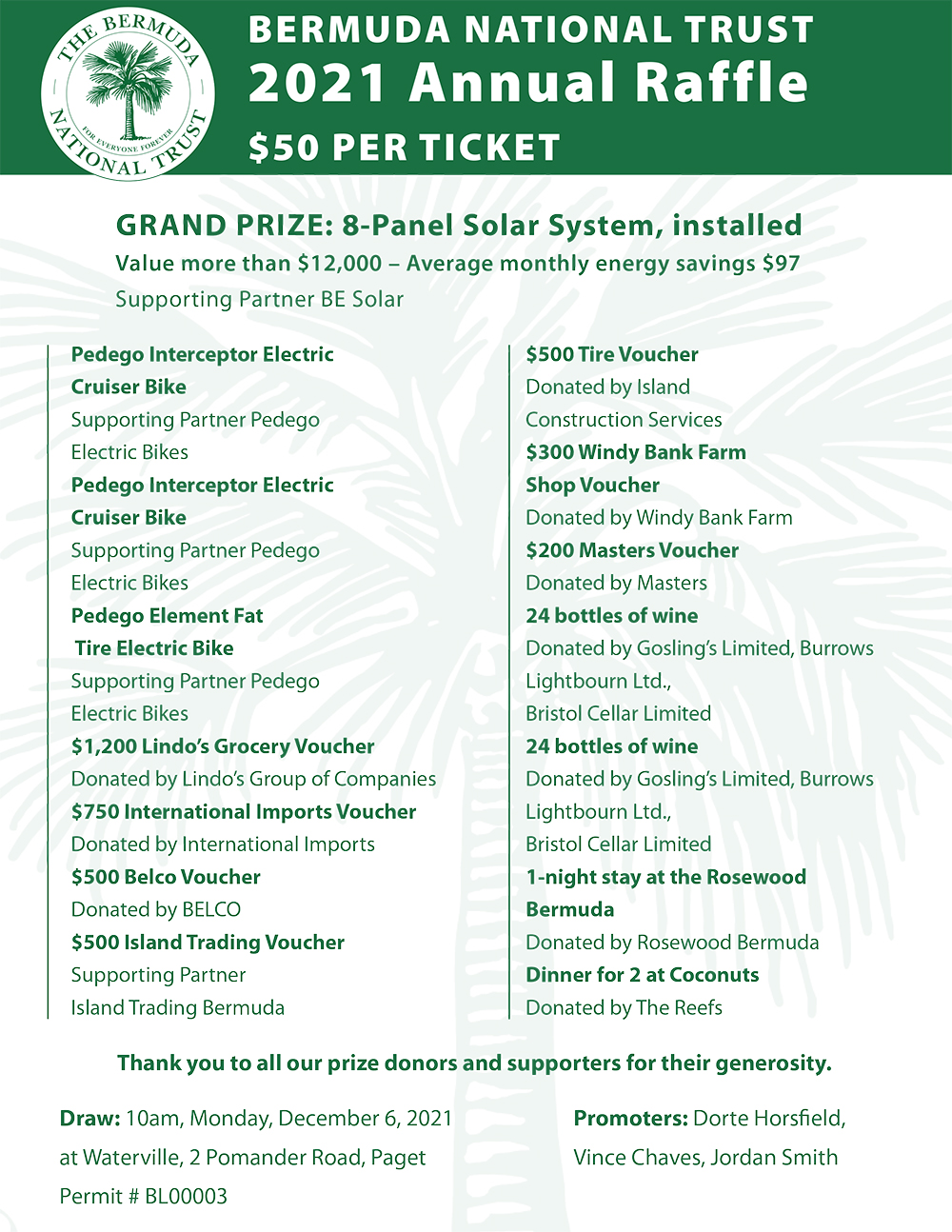 A spokesperson added, "The 2021 Bermuda National raffle tickets are available for purchase online, from the BNT headquarters at 2 Pomander Road in Paget and from various retail locations including BE Solar, Frameworks and WindyBank Farm for $50 each.
"Support the Bermuda National Trust's Annual Raffle for your chance to win an 8-panel solar system installed by BE Solar or other environmentally friendly prizes such as Pedego Electric bicycles in addition to grocery vouchers, hotel stays and dinner vouchers."

Read More About
Category: All, Business, Environment, News