The Ministry received 2,974 test results – spanning two days — and only 1 was positive, so active cases have now declined to 30, of which two people are in hospital, with 1 in ICU.
A Government spokesperson said, "Since the last update, the Ministry of Health received 2,974 test results, and 1 was positive for the coronavirus, giving a test positivity rate of 0.1%.
"These results are from testing done on:
Tuesday: 1 positive out of 1,378 results [0.1% positivity]
Wednesday: 0 positive out of 1,596 results [0.0% positivity]
"The one [1] new case is classified as imported with history of travel in the previous 14 days. Additionally, since the last update, there have been 9 recoveries and 0 deaths.
"There are 30 active cases, of which:
28 are under public health monitoring and
2 are in hospital, with 1 in intensive care
"Since March 2020, Bermuda has recorded 5715 confirmed coronavirus cases, out of which 5579 have recovered, and sadly 106 COVID related deaths.
"The source of all active cases is as follows:
7 are Imported
18 are classified as local transmission
5 are Under Investigation
"Active cases by vaccination status, transmission, and type:
Imported cases: 86% are fully vaccinated, and 14% are not vaccinated
Local/Under Investigation cases: 17% are fully vaccinated, and 83% are not vaccinated
Of the active cases where typing is available, 100% are Delta.
"The source of all confirmed cases is as follows:
683 are Imported
5020 are classified as local transmission of which:

3075 are Local transmission with known contact/source and
1945 are Local transmission with an unknown contact/source

12 are Under Investigation
"As investigations proceed, transmission categories may change. For information regarding age distributions and overall transmission categories, please refer to https://www.gov.bm/coronavirus-covid19-update.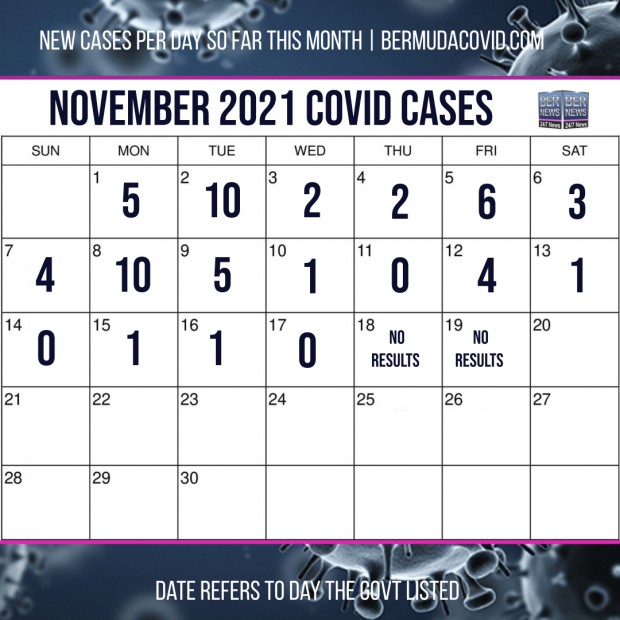 "The seven-day average of our real-time reproduction number is 0.40. Bermuda's current country status is Community Transmission. Community transmission is characterised by an increased incidence of locally acquired, widely dispersed cases, with many cases not linked to specific clusters."
Minister of Health Kim Wilson said, "Bermuda is making progress and our active coronavirus cases continue to fall. But remember, we're still in a pandemic, and we must continue to take precautions to stop any further spread.
"I am also renewing my call for all those who are eligible for the booster vaccine, to please book an appointment on gov.bm. It's an easy process, by selecting 'Book a Booster Vaccine Appointment'. Alternatively, individuals can call the Vaccination Hotline at 444 2498 [option #2] or email vaccine@gov.bm.
"For those who are 65 and older, they can simply walk into Pier 6 for a booster. If you're not currently eligible, please don't book an appointment as you run the risk of being turned away at the vaccination location."
The spokesperson said, "The Minister concluded by reminding, as always, to decrease the odds of getting the coronavirus, persons should avoid the three Cs: closed spaces, crowded places and close contact settings.
"Lastly, each of us has a role to play in stopping the spread of the coronavirus. Follow Public Health guidelines, wear a mask indoors, practice good hand hygiene, maintain physical distance and download the WeHealth Bermuda app."

You can find more information on the links below from our dedicated website BermudaCovid.com, which is the most comprehensive resource and historic record available of Bermuda's handling of the pandemic.
Read More About