[Updated] The Bermuda cricket team is taking part in their second match of ICC Men's T20 World Cup Americas Regional Qualifiers in Antigua, with the team currently playing the Bahamas. The match is being streamed online here on the ICC website, you have to register to watch, however it only takes one minute to register and the stream is free. We will update with the match report once it concludes.
Screenshot from the online broadcast: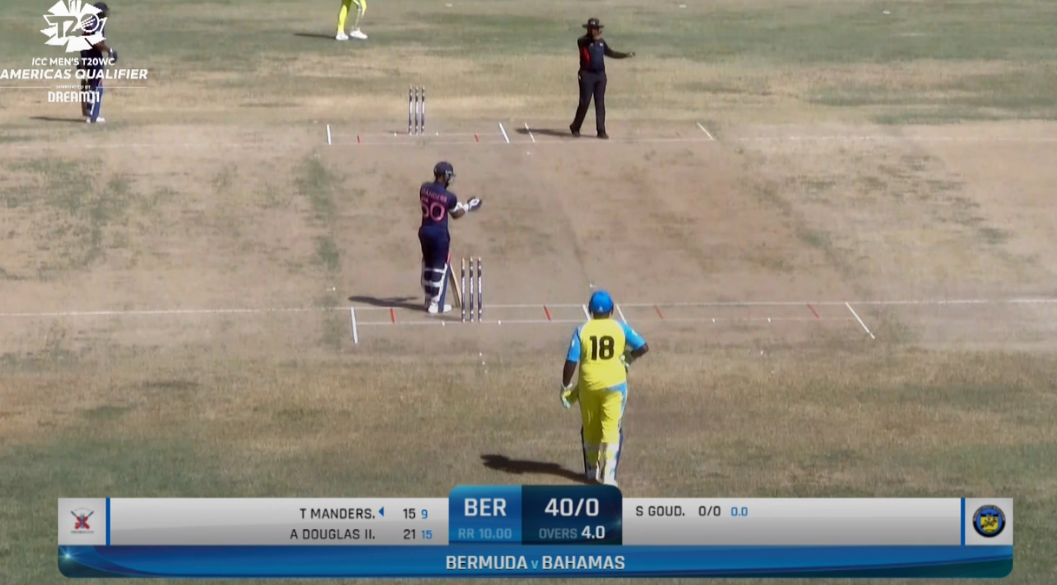 Update 1.20pm: Bermuda has defeated the Bahamas by 140 runs!
The Bahamas won the toss and elected to bowl. Bermuda scored 239/6 in their allotted 20 overs, with Tre Manders the top scorer with 84, his runs came off 52 balls hitting 10 fours and 2 sixes, Allan Douglas II added 74 off 39 balls, he hit 8 fours and 5 sixes, and Delray Rawlins scored 50 off 20, hitting 2 fours and 6 sixes. Gregory Taylor II was the pick of the Bahamas bowlers returning figures of 3-0-27-3.
In reply the Bahamas could only manage 99/8, Kervon Hinds was their top scorer with 40, while Malachi Jones was the pick of the Bermuda bowlers returning figures of 4-0-9-2, Kyle Hodsoll bowled 3-0-19-2, and Rodney Trott bowled 4-0-21-2.
Bermuda moved onto 2 points in the standings and are in third place with a win and a loss, they have a Net Run Rate of 2.925.
Bermuda Inning
..74 [39] Allan Douglas II b Kervon Hinds
..84 [52] Tre Manders c Marc Taylor b Gregory Taylor II
..50 [20] Delray Rawlins c Bhumeshswar Jagroo b Roderick Mitchell
..00 [01] Kamau Leverock b Gregory Taylor II
..09 [06] Onias Bascome b Roderick Mitchell
..01 [01] Malachi Jones Not Out
..04 [05] Zeko Burgess b Gregory Taylor II
..00 [01] Dion Stovell Not Out
..17 Extras [5b-1lb-6w-5nb]
239 Total for 6 Wickets after 20 overs
Fall of Wickets: 1-135 [Douglas II], 2-220 [Manders], 3-220 [Leverock], 4-222 [Rawlins], 5-230 [Onias Bascome], 6-235 [Burgess]

Bahamas Bowlers
4.0-0-48-2 Roderick Mitchell
1.0-0-39-0 Marlon Graham
2.0-0-33-1 Kervon Hinds
1.0-0-16-0 Sandeep Goud
2.0-0-31-0 Jagnauth Jagroo
1.0-0-17-0 Marc Taylor
1.0-0-22-0 Jonathan Barry
3.0-0-27-3 Gregory Taylor II
Bahamas Inning
..01 [07] Marc Taylor c Dion Stovell b Kyle Hodsoll
..07 [06] Jagnauth Jagroo c Kyle Hodsoll b Malachi Jones
..06 [13] Marlon Graham c Okera Bascome b Zeko Burgess
..08 [13] Gregory Taylor II b Kamau Leverock
..07 [16] Janathan Berry LBW Rodney Trott
..40 [30] Kervon Hinds c Delray Rawlins b Kyle Hodsoll
..12 [07] Orlando Stewart c Okera Bascome b Rodney Trott
..06 [19] Everette Haven c Allan Douglas II b Malachi Jones
..08 [03] Sandeep Goud Not Out
..00 [00] Roderick Mitchell Not Out
..04 Extras [3b-1w]
..99 Total for 8 wickets after 20 overs
Fall of Wickets: 1-1 [Marc Taylor], 2-8 [Jagnauth Jagroo], 3-22 [Gregory Taylor], 4-25 [Graham], 5-36 [Barry], 6-56 [Stewart], 7-89 [Haven]
Bermuda Bowlers
4.0-0-09-2 Malachi Jones
3.0-0-19-1 Kyle Hodsoll
3.0-0-15-1 Kamau Leverock
3.0-0-12-1 Zeko Burgess
3.0-0-20-0 Delray Rawlins
4.0-0-21-2 Rodney Trott

Read More About