[Written by Dale Butler]
It is hard to believe that there are 16 restaurants in what I call 'The Heartbeat of Hamilton.'
North: The Wok going west to Cedar Avenue
Cedar Avenue, going south to Victoria Street, then going East on the side of Sensational Delights to the top of
King Street going North back to The Wok . Filled with culture and history it is also visited by the African Diaspora Trail and Town Crier.
Offering a variety of ethic food from Bermudian, Jamaican, Chinese, French, Indian, Filipino, Arabic and Italian, this area has always produced outstanding chefs/restaurants of the past like Mama Stella's, "Puffy's" [Alfred Tavares], Lorraine/Checkerboard, Leroy and Sylvia Simmons, The Fish Hut and Turkey Barnes/Rancho Grande. But by far the longest survivor is the iconic Jamaican Grill on Court Street.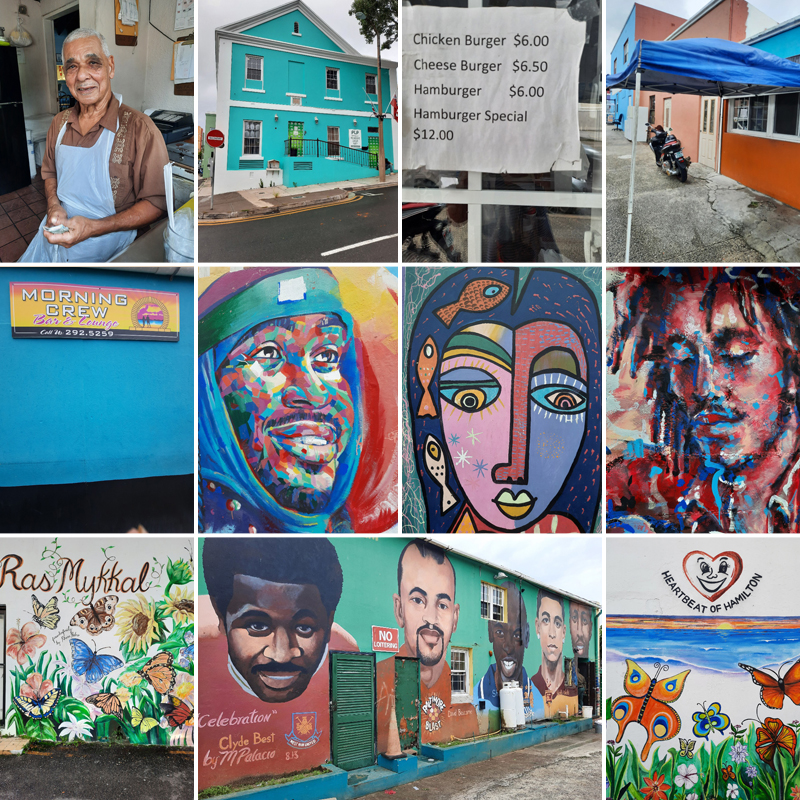 One of the still active chefs of this by-gone era is Raymond Burgess, who gained his training at home and later in the industry at Shalom opposite The Dellwood Middle School where Bermuda's first arcade – W.E.R. Joell's Arcade – was located, and later The Cardinal Nightclub on Reid Street and Spinning Wheel on Court Street.
Now comfortably located for five years in the Morning Crew Bar & Lounge with indoor service or take-out under a blue umbrella on Court Street, Uncle Ray is a hidden secret of taste. In more ways than one this is a simple gem of local food prepared fresh daily without fancy garnishes. It has a come back factor.
It is not located on the internet, an APP or in Fodor's and is probably off the tourism scene, but it is one of those restaurants that tourists often hope to find while wandering around. Make no mistake about it, Uncle Ray, as he is called, is a seasoned veteran with all of the culinary tricks. Aware that people are not eating pork like they used to or salt, many a chef has floundered to make peas and rice or split pea soup [the ham-hock gave the taste].
But Uncle Ray learned his craft well and makes both without pork but the combination of other flavourings has given the food the original taste. The prices are very reasonable and so are the helpings.
I live close by so I can say I have eaten there several times. My favourites are:
The BLT, toasted with mayo
The beef and/or chicken pies. Tasty and the pastry is like grandmother made it. Often sold out.
Order of Bermuda fish or fish dinner lightly seasoned so you can taste the fish
I have never had a hamburger but the constant orders for them and fries indicate their popularity along with the fried chicken legs. He also makes a good fishcake. But last week I sampled two of his signature dishes.
If you want a four star stamp for local food you have to go beyond peas and rice and macaroni and even codfish and potatoes which has become rather standard. If you can nail barley soup [not my favourite], split pea soup and or paw paw casserole you deserve "Chef of the Year.".
Uncle Ray has mastered the soups with an excellent combination of vegetables and broth and I had a feast with the delicious roll. And for the first time in my life I enjoyed barley soup. No doubt, if requested, the pawpaw casserole would also be award winning.
While waiting, feel free to see the historic Girls Arts and Crafts Institute which is to the north and is the headquarters of Bermuda's oldest political party, the P.L.P. [1965]; the fencing directly opposite is creatively unique with funeral tags of many people who enjoyed the area and also close by are the butterfly mural, the football mural and the iconic Omg Juicery now offering seating outside.
Directly adjacent is a second hand furniture store whose owner, Vorhees Lightbourne, is a luminary of the area, better still, the unofficial Mayor "helpful, friendly and knowledgeable."
Uncle Ray's is one of those places you might walk right by without realizing it is popular with locals who are the world's best critics of food, politics and cleanliness. When they frequent a place you know the food has to be good with value for your money. Open Monday to Saturdays from 12 to 5 p.m. strict Covid Rules apply and Safe Key compulsory if eating and drinking inside.
- Dale Butler is a former educator and Minister of Culture. He also writes music reviews. He is not paid to write these reviews and does not accept complimentary food when he returns. Restaurants are chosen depending on his taste for the day. Eventually he hopes to cover all 16 restaurants in the area he has designated as "The Heartbeat of Hamilton".

Read More About
Category: All, Business, Entertainment