Minister of Health Kim Wilson reminded the public that the new U.S. policy which requires foreign national air travellers to the U.S. to be fully vaccinated — with only limited exceptions — starts next week on Monday, November 8th.
The U.S. Consulate in Bermuda recently released a statement noting there will be exceptions for children — the official website states "children under 18 are exempted from the vaccination requirement for foreign national travelers" — and the Consulate also said there will be exceptions for people "with rare medical contraindications to the vaccines."
However, outside of those with exceptions, the policy will apply to Bermudians and as everyone knows, many Bermudians frequently travel to the United States for various reasons, including vacation, business, shopping, medical treatment, education, to compete in sports events and more, with the U.S. also used as a transit point, as we often fly through to their gateway cities get to other nations such as those in the Caribbean.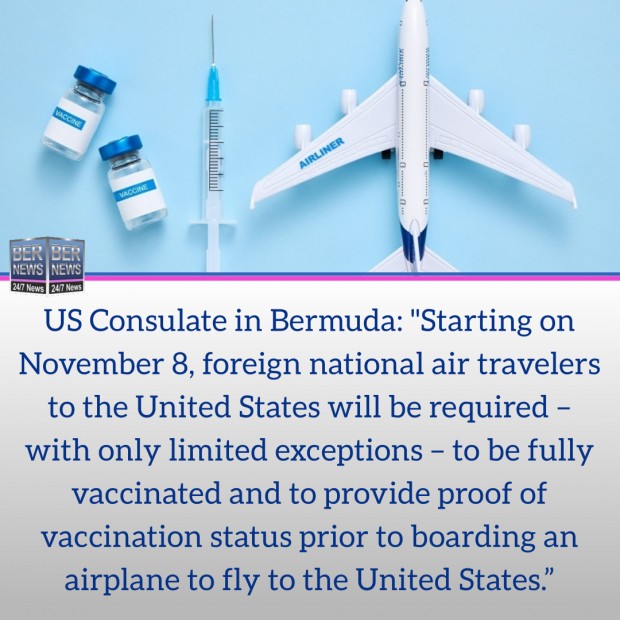 In releasing the most recent Covid test results, Minister Wilson said, "As a reminder, starting on 8 November, foreign national air travellers to the United States will be required – with only limited exceptions – to be fully vaccinated and to provide proof of vaccination status prior to boarding an airplane to fly to the United States.
"Unvaccinated persons contemplating travelling to the U.S. will not be allowed entry. The U.S. travel restrictions may also impact persons needing to travel for medical reasons such as newborn babies whose parents may be unable to accompany them if unvaccinated.
"Gaining CDC approval to travel in an urgent situation may be extremely challenging. Right now the transfer of medical emergencies is dealt with just between the hospital, the insurer and, sometimes LCCA as well."
As of the most recent vaccination statistics, 68.1% of Bermuda's population has received two doses of the vaccine.

You can find more information on the links below from our dedicated website BermudaCovid.com, which is the most comprehensive resource and historic record available of Bermuda's handling of the pandemic.
Read More About