The City of Hamilton will be launching its Three For Free holiday parking initiative again this year, following the success of last year's programme.
A spokesperson said, "The initiative will allow for holiday shoppers to park in City Hall Car Park and Number 1 Car Park for free for the first three hours from December 13th to 24th [8am to 6pm, Monday to Friday] and serves to incentivize holiday shoppers to support local retailers and restaurants in the City."
City of Hamilton Chief Executive Officer, Dwayne Caines, said, "We're thankful to have a way that we can support our business ratepayers in the form of free parking for their customers. The holiday shopping season is here. We're hoping that this token of free parking will further entice shoppers to the City, especially as so many businesses have suffered financially this year due to the pandemic climate."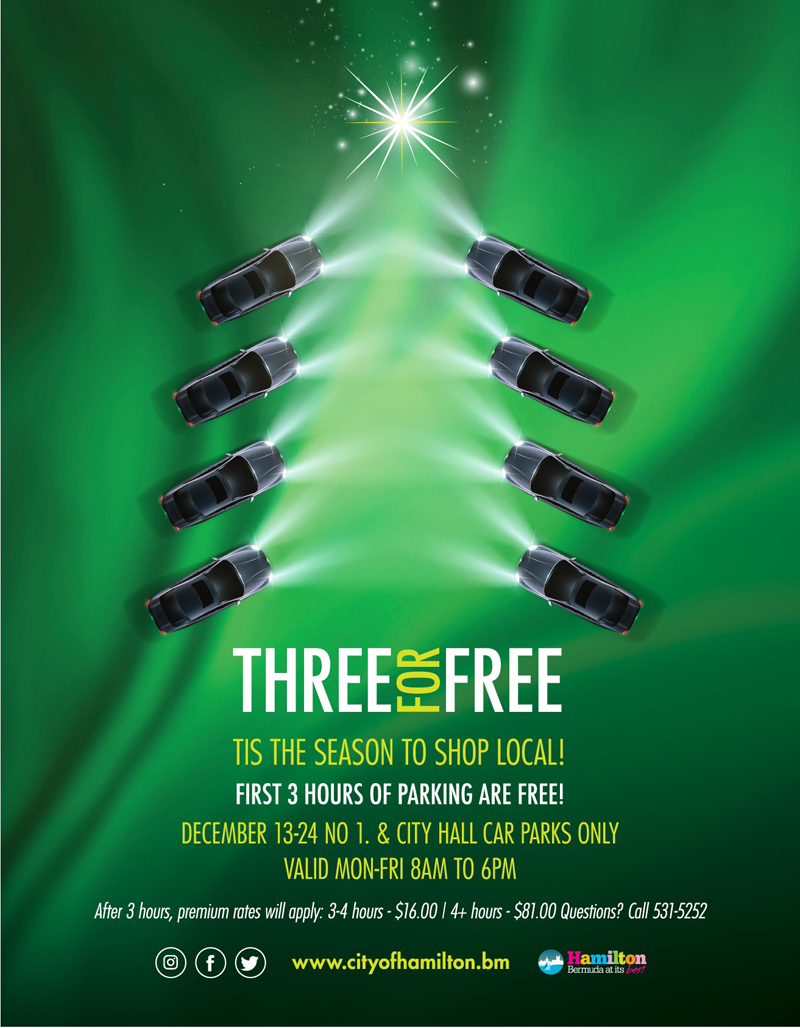 Mayor Charles Gosling added, "As a Council, we knew savings on parking would help to drive consumers into the City businesses, especially in the lead up to the holidays and with the added economic effects that COVID-19 has had. I'm pleased that as a voting body we were able to create and implement an initiative that could help everyone from the businesses to the consumers."
A spokesperson added, "When entering City Hall or Number 1 Car Parks, motorists will need to take a ticket as per usual. The current grace period to exit the lot without paying is currently fifteen minutes. This will be adjusted from December 13th to 24th to three hours. If departing the car park within the three hours, there is no charge but the entry ticket must still be validated at a pay station and then scanned at the exit to raise the barrier.
"Should a car be parked for more than three hours, the usual premium rate fees will be incurred – $16.00 between three and four hours and anything over four hours will be $81.00. Lost tickets will incur the usual $75.00 fee.
"There will be signage placed around the car parks and City staff will be monitoring the car park to ensure the parking giveaway event runs smoothly. If motorists run into any parking difficulties during this time, they can call the City's parking helpline at 531 5252."
Read More About
Category: All