Bermudian golfer Brian Morris had the opportunity to showcase some of his golf skills on Boston Celtics' parquet floor before the NBA game on December 13th in Boston, Massachusetts.
The Boston Herald website said, "As evidenced by the shamrock tattoo on the right side of his neck, Brian Morris has the Celtics infused into his being. The seahorse tattoo on the left side of his neck signifies the 53-year-old professional golfer's home, Bermuda.
"The faint scar on the back of his neck points to a far grimmer reality, for that is where doctors at Dana-Farber Cancer Institute removed an inoperable tumor. He was diagnosed with stage IV brain cancer on Christmas Eve 2019.
"Steve Bulpett, the Herald's longtime NBA columnist and Celtics beat reporter, somehow spotted the tattoo, and promptly emailed Morris' club with the intent of inviting the golfer to a Celtics game.
"Bulpett put Morris in touch with Twiss, who on Monday night greeted Morris with a left handed putter and three monogrammed Celtics golf balls. He later headed out to putt on the parquet floor."
You can read the full story here on Boston Herald.
Brian Morris putts on the Celtics' parquet floor before the game on December 13, 2021 in Boston, Massachusetts. Photo ny Matt Stone/MediaNews Group/Boston Herald]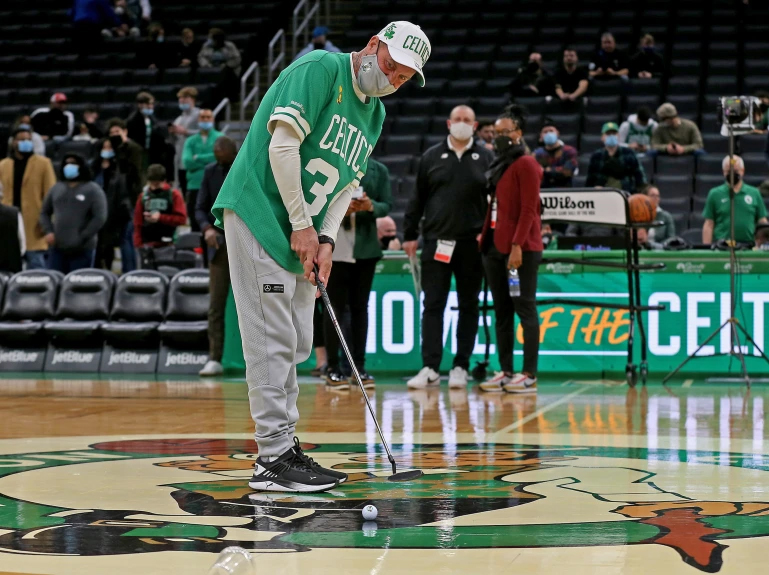 Read More About