After adjusting for the retail sales rate of inflation – measured at 3.2% in September – the overall volume of retail sales decreased 3.8% when compared to September 2020, according to the recently released Retail Sales Index.
A Government spokesperson said, "Today, the Cabinet Office released the September 2021 Retail Sales Index [RSI]. September's retail sales fell 3.8% compared to last year. In value terms that represented an estimated $95.5 million compared to last year [September 2020].
"September's retail sales activity saw increases in motor vehicle sales, which grew by 18.7% due to a higher number of cars being sold.
Chart extracted from the report: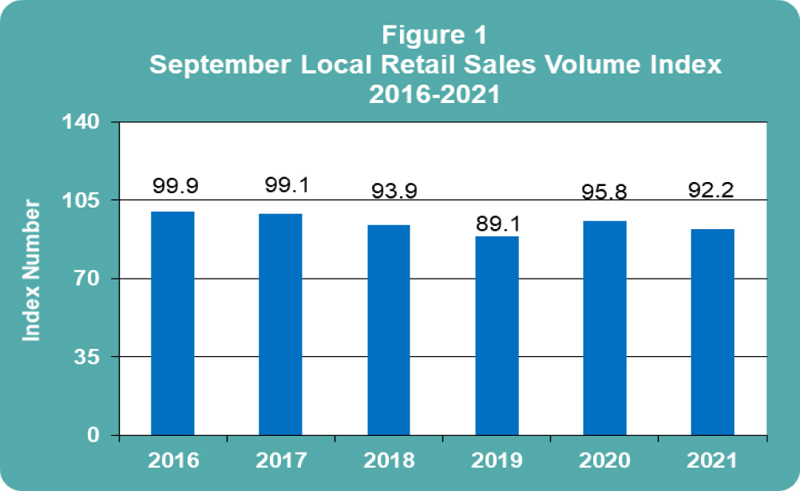 "Also during September 2021, overseas declarations increased 15.3% compared September 2020. The rise in overseas declarations was impacted by higher imports of clothing, furnishings and electrical machinery and equipment.
"There were some declines in various sectors in September 2021.
"Building material stores' sales decreased 23.7% due to lower demand for home improvement products. Sales for service stations decreased by 13.2%, apparel stores' sales declined by 11.9%, and liquor stores sales and food store sales decreased by 5.4% and 2.2% respectively in September 2021.
"The All Other Store Types sector comprises a variety of stores selling household items, furniture, appliances, electronics, pharmaceuticals, marine supplies and tourist-related goods.
"This sector registered a 4.0% decrease due mostly to lower sales of furniture, appliances and electronics which offset increased sales of jewelry and marine supplies.
"September's retail sales marked the third decrease in 15 months."
The full September 2021 Retail Sales Index publication follows below [PDF here]:
Read More About