Raleigh Bermuda's 2022 Venturers' Scholarship Programme is now open for young people aged 17 – 24 years old to apply.
A spokesperson said, "If accepted into the programme, the Venturer Scholarship-Based Programme will subsidize training and local/overseas expedition costs with a value of up to $12,000.
"This is an enriched personal development programme for young people aged 17 – 24 years old, which includes local training camps and an overseas/local expedition component. Environment, Community, and Adventure; these are the Raleigh Pillars that our programme is focused on.
"Raleigh Bermuda's vision is of a Bermuda where Young People work together, regardless of social background and culture. They are challenged to raise their aspirations, supported to believe in themselves and inspired to be part of a global community active in making their world a better place. To accomplish this, our programme is robust and comprehensive.
"Prior to expedition, residential training camps and other group activities ensure participants gain skills in teamwork, communication, planning and outdoor survival. Plus, individualised coaching helps the participants to address their situation in life, discover what is holding them back and set goals for the future.
"The expedition component of our programme challenges participants both emotionally, mentally and physically. After expedition, Raleigh Bermuda helps Participants to transition into young adulthood and set goals and plan for their future. Raleigh Bermuda programme will help equip them for the future and give them skills that employers are looking for.
"We will provide them with life skills which includes survival training, financial/budgeting, communication, problem solving and emotional/mental coping skills. We will help build their confidence, resiliency, and leadership skills as they transition into young adulthood.
"The 2022 Venturers' Scholarship Programme is open to all young people ages 17 – 24 years old. The programme consists of local training camps which will occurred from February – June 2022 followed by a choice of:
Participating in a 2-week local expedition in Bermuda in August 2022 [open to Bermudians and Non-Bermudian residents] or,
A 10-week overseas expedition in Costa Rica or Nepal in July 2022 [open to only Bermudians].
"To register online for the programme, please click here. For the information session or for more information, please contact info@raleigh.bm or call 333-5678. Visit www.raleigh.bm."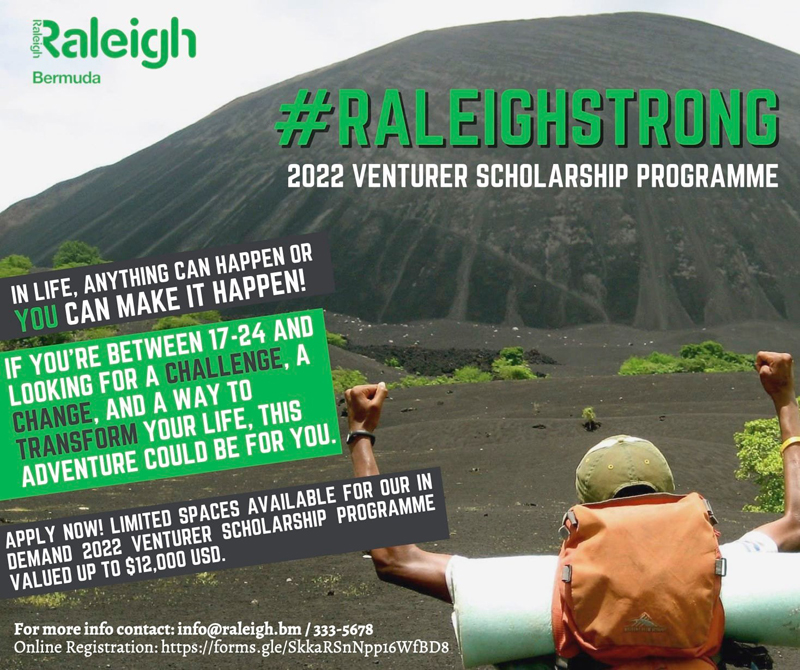 Read More About
Category: All