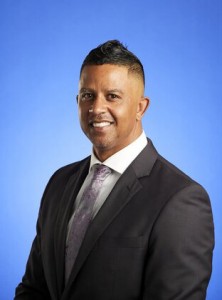 [Updated with Mr Richardson's comments] Curtis Richardson has "submitted his resignation to the President of the Senate," the Government has just confirmed.
A Government spokesperson said, "The Cabinet Office advised today that in accordance with Section 31[1] [b] of the Bermuda Constitution Order 1968, Mr. Curtis Richardson has submitted his resignation to the President of the Senate with effect from 31st January 2022. An appointment to the vacant seat will be made in the coming weeks."
Premier David Burt said: "Let me first say that I truly feel for the Harveys as senior citizens, people who have worked hard and simply seek what they are owed – just as I feel for many landlords who have had similar experiences. The pandemic has impacted families across the Island and the experiences of some of our seniors during these times are heart-wrenching and make our work in growing this economy even more important.
"Curtis Richardson is a father of 2 young children and someone, who like many, has fallen on difficult times. Upon Curtis' appointment, I was aware of the debt and gave instructions that it must be addressed. However, the fact remains that this ordeal has been trying for all involved especially for the Harvey family and I have accepted Curtis' decision to resign from the Senate and as a Junior Minister.
"Curtis offered himself to public service and that service often includes greater public scrutiny and standards of accountability.
"We must understand that many people in this country are hurting, often in silence, displaying little of what they are truly enduring. We must work together as a community, with more compassion and less condemnation, if we are to get through what will be a challenging year."
Update 7.50pm: Following his resignation, Curtis Richardson — who owes $19,000 unpaid rent to an elderly woman –  said, "To the people of Bermuda and Constituency 22,
"It is with a heavy heart that I pen this letter under the most unfortunate circumstances. I believe that my recent resignation from the role of Government Senator and Junior Minister for Transportation and National Security is necessary to enable the Government to carry out its mandate without the distraction of what is a private matter for me.
"I wish to express wholeheartedly to the people of Bermuda, that every effort was made to mitigate the consequences of this private matter. I accept that I am a public servant and take my role very seriously. Unfortunately, like many other Bermudians, I have been a victim of the economic impact of COVID-19.
"I would like to publicly reiterate my pledge that was given to the Harvey family and the courts, I will do all within my ability to rectify the matter at hand and as always, seek an amicable resolve with all parties involved. Like so many other Bermudians, this Pandemic has placed great strain on the way that I fulfill my financial obligations, many of which have yet to be satisfied. It has become public knowledge, not that I ever denied owing anyone money, but that I have been unable to earn what is required to satisfy my cost of living.
"To the leaders, I can assure you that I have never used my Party affiliation as a means for personal gain, image nor advancement or intimidation.
"To those whose doorsteps I've visited and living rooms that I've been invited into since 2016, the person who you've come to know stands true to the character and integrity that you know of. Allegations of disrespect are truly an unsubstantiated allegation and one that goes against the foundations of my ethos. I have two young children, for whom I do my best each day to guide and represent.
"I continue to apologize to those to whom I am in arrears for the strain that this debt has placed on their business and their personal finances. I will continue to be as transparent as possible and communicate as much as I can to ensure that these debts, accumulated due to my inability to work, will all be paid off in full. I will also continue to pay what I can with all that I am able to earn when I am able to make payments.
"I had made efforts to protect the Government and the Progressive Labour Party from the unfortunate distractions that have been caused by what is private but have been made public due to unexpected recent development by ensuring that all communications were documented and not spoken verbally.
"Though I am not attempting to receive any public sympathy, the hard truth is that, even as a senator, and while I am not exempt, I have found the economic hardships of this Global Pandemic unbearable. However, I will not allow this unfortunate situation to alter my moral standards which each day I attempt to uphold.
"In closing, the details of my private matter are to be dealt with in the courts. Therefore, I will not speak any further to the specific allegations made although used as a political football to my peril.
"Thank you, to those who truly know me and continue to believe in me. This too shall pass as there is a real story behind all of this despite attempts to demoralize my character and the character of those who have associated themselves with me; in the newspaper, online, in the pulpit nor on social media.
"I am grateful for the opportunity given to me through my appointments and look forward to continuing to support the people and the PLP Government as a citizen of these great islands."
Read More About