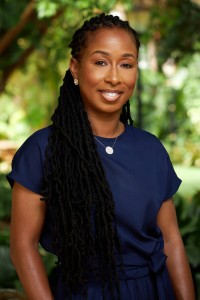 LOM Financial Group announced that Makeba DeShields has been promoted to Senior Investment Advisor.
The company said, "Makeba's investment career spans over two decades of client relationship management, investment advisory, private banking and trade monitoring and execution. Prior to joining LOM in 2015, Makeba worked for Barrington Investments Limited and Bermuda Commercial Bank."
Michael Greaves, Global Head of Sales at LOM, said: "Makeba has a genuine passion for helping her clients achieve their financial goals with an excellent track record of client service to prove it. Makeba embodies the very fiber of LOM's being – putting the client first."
When asked what inspires her in her job, Ms DeShields said, "Nothing is more satisfying than seeing your clients achieve their financial goals with your help.
"Their success is your success. Managing investments can be an overwhelming process for a lot of people, I am here to guide them through every step along their journey."
"I've learned a lot in my time here at LOM and I'm happy to work for a company that is so client focused, from the Advisors through to Settlements."
"We have every confidence Makeba will continue to make a positive and personal impact for each and every one of her clients," Mr Greaves said.

Read More About