Teenagers D'Mori Harvey, Ajahni Lema-Bascome, Zeshawn Williams, Sivaja Perinchief, and Danté Sousa recently gave back to Bermuda charities as a part of their Youth Leadership Academy summer project at Family Centre.
A spokesperson said, "It would be an unforgettable summer for D'Mori Harvey, Ajahni Lema-Bascome, Zeshawn Williams, Sivaja Perinchief, and Danté Sousa, who are all 14-years-old. As five young black males, they bravely stepped forward to publicly address the issue of poverty through Family Centre's Youth Leadership Academy [YLA] Community Change Projects.
"Family Centre's Youth Leadership Academy is a five-year programme that begins at Dellwood in M3 and continues through the high school years. Youth are recommended for this programme due to their leadership potential. Through exposure to opportunities, young people learn that leadership is not just a position, it is about taking action. They learn the importance of their voices and that they must initiate actions that will bring about the change they seek."
Deneca Zuill, YLA Programme Coordinator, said, "YLA is a programme that is offered by Family Centre to youth who are selected by Dellwood teachers, school counsellors, and the Principal in partnership with YLA staff. Youth are mentored, guided, and supported by Family Centre Community Support Workers to achieve their short and long-term goals throughout their high school years. We are very proud that the students who worked on the 'Help Reduce Poverty in Paradise' initiative are students from CedarBridge Academy and The Berkeley Institute in their S1 year.
On the step, left to right: Clare Mello-Robinson, David Thompson, Beverly Daniels, and Reverend Alistair Bennett. In front of sign, left to right: D'Mori Harvey, Sivaja Perinchief, Zeshawn Williams, Danté Sousa, Ajahni Lema-Bascome, Family Centre Director of Community Services Leila Wadson, Executive Director Dr. Sandy De Silva, and Senior Community Support Worker and Lead Coordinator for the Youth Leadership Academy Programme, Deneca Zuill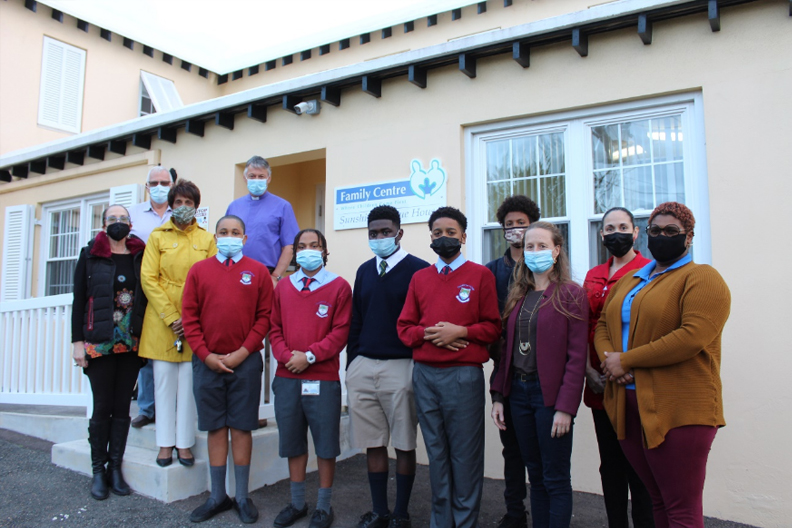 "Annually, our YLA Summer Workshops explore and discuss issues such as social justice, poverty and the negative effects of discrimination and inequality. The programme participants are introduced to statistics and census information to discuss fact-based social injustices. During the workshop, students learned that 23% of Bermuda's population lived in poverty according to the last Bermuda Census taken in 2016.
"The students were given the opportunity to witness first-hand poverty experienced in Bermuda. This was an eye-opener for many of the students in the programme who were not aware of the extent to which poverty exists in Bermuda."
The spokesperson said, "The five young men, having witnessed the impacts of poverty around the island, immediately began to ask questions such as 'how is this possible on an island known to be one of the wealthiest around the world? How can this be happening while we are so blind to it?'"
Zeshawn Williams, YLA Student, said, "Poverty exists for individuals whose needs are not being prioritized by those that should be helping them. Poverty is being put into a predicament that nobody could imagine and feeling hopeless like there is no way out."
The spokesperson said, "The young men brainstormed ways to be agents of change within their community. They decided to raise funds to assist Bermuda charities that directly aid the poor, and to use their voices to highlight this serious social issue at a governmental level."
D'Mori Harvey, YLA Student, said, "When you look around Bermuda, yes, you might see homelessness, but OUR problem is much deeper. There are people struggling to keep their houses intact. Individuals are being forced to decide between which bill they can and cannot pay each month; rent or groceries, electricity or WiFi."
The spokesperson said, "The teenagers developed their campaign 'Help Reduce Poverty in Paradise,' which ran from August 2021 to December 2021. The campaign involved appeal letters to businesses with calls. They created a video about poverty, and they ran the campaign on social media platforms.
D'Mori Harvey presents a cheque to Clare Mello-Robinson of The Eliza DoLittle Society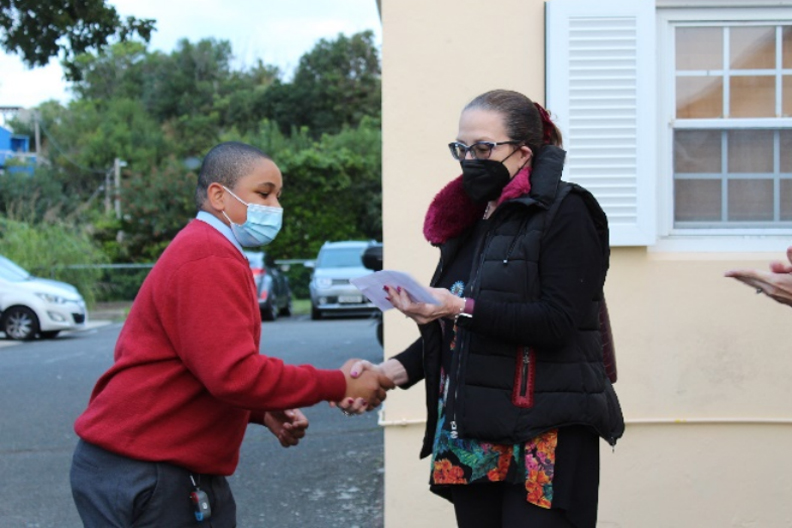 "The young men successfully raised $3,500 with their campaign and the funds were split equally between three charities: Salvation Army Community Services, The Eliza DoLittle Society, and Christ Church Warwick's Loads of Love Programme."
Ajahni Lema-Bascome, YLA Student, said, "We chose these agencies because of their known reputation of working tirelessly to ensure those in our community that experience poverty are both SEEN and VALUED. Because of the work of these amazing organizations, members of our community are provided with groceries and/or a hot meal at night, shelter to safely rest their head, showers to bathe, a store front to purchase clothing at majorly reduced prices, and free laundry facilities."
The spokesperson said, "D'Mori, Ajahni, Zeshawn, Sivaja and Danté presented the funds to charity representatives just before Christmas. The representatives expressed gratitude for the donations provided because of the young men's efforts."
Beverly Daniels, Executive Director for Community Services, Salvation Army, said, "On behalf of the men of Harbour Light, and the many lives we are privileged to serve, I want to say thank you. We have hope!"
Clare Mello-Robinson, Executive Director, The Eliza DoLittle Society, said, "Thank you on behalf of Eliza Doolittle and our 350 families we will serve this year. This will go towards our food pantry."
Ajahni Lema-Bascome presents a cheque to Reverend Alistair Bennett and David Thompson of Christ Church Warwick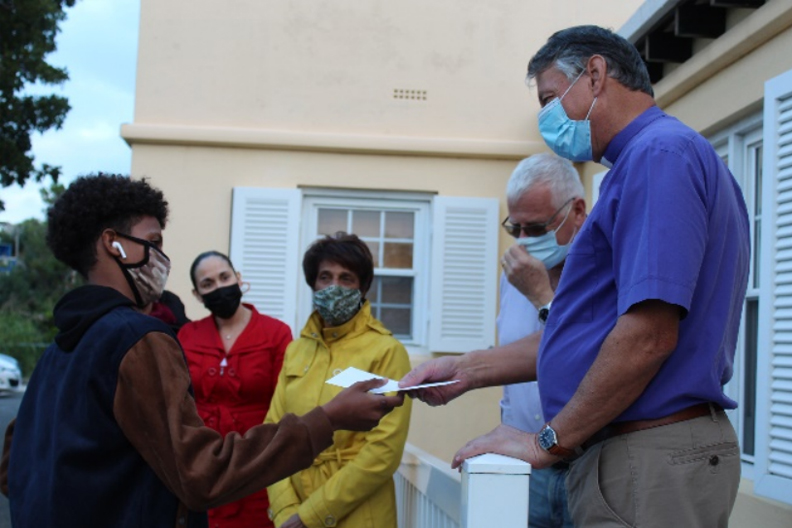 Reverend Alistair Bennett, Christ Church Warwick, said, "Thank you very much indeed. On behalf of Christ Church's Loads of Love project, this will help us to continue our work."
YLA student Sivaja Perinchief said, "The direct impact we will have on the lives of people currently experiencing poverty is great, but getting to the root cause is where long term change occurs."
The spokesperson said, "Fifteen students participated in the annual YLA summer programme and they shared their findings on the topics of poverty, racism, and social justice with Minister of Social Development and Seniors, Tinee Furbert in August 2021."
Danté Sousa said, "This project has helped me to recognize that there is always something underlying that we don't see. Now that my eyes are open to the realities of what people are facing in Bermuda, it has made me want to continue being a part of the solution."
The spokesperson said, "The young men intend to continue their community impact by volunteering with the recipient charities of their 'Help Reduce Poverty in Paradise' campaign.
"To learn more about Family Centre's Youth Leadership Academy programme and future community change initiatives, please visit www.tfc.bm."
Read More About