Bermuda College recently welcomed Glenn Fubler and Christopher Maybury as Honorary Fellows.
A spokesperson said, "The Company of Honorary Fellows at Bermuda College inducted Mr. Glenn Fubler and Mr. Christopher Maybury as its newest Fellows in ceremonies held recently in the new Athene Lecture Theatre at Bermuda College.
"Honoured for their far-reaching social activism, and extensive business and philanthropic endeavours, respectively, both gentlemen accepted the traditional stoles and pins from Chair of the Company of Honorary Fellows, Mr. Randolph Horton, JP who served as Master of Ceremonies.
Mr. Peter Sousa, Chairman of the Board of Governors, Bermuda College; Dr. Duranda Greene, President; Mr. Glenn Fubler, Honorary Fellow [2021]; Mr. Christopher Maybury, Honorary Fellow [2021]; Mr. Randolph K. Horton, Chairman of The Company of Honorary Fellows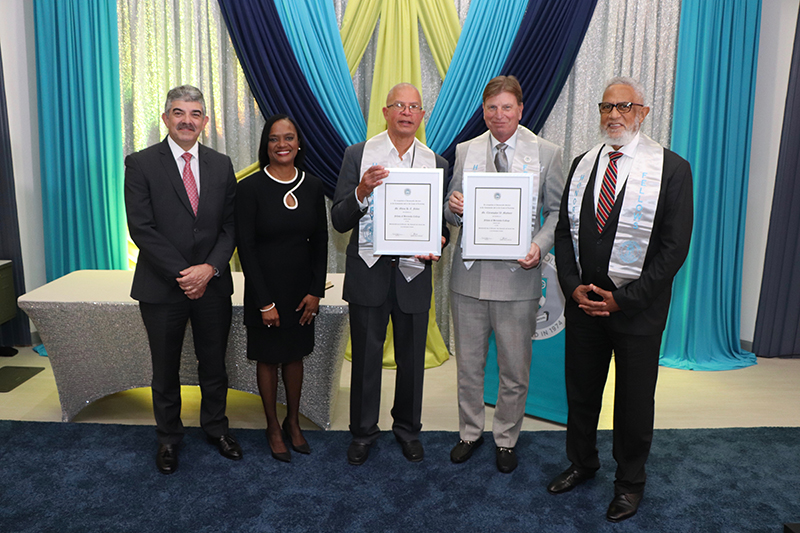 "The Company of Honorary Fellows was first established in 1980 by the first president of the College, the late Dr. Archibald Hollis Hallett to recognise the outstanding achievements of notable persons in the community who were nominated and selected by committee for their accomplishments.
"To date, 103 Fellows have been duly recognised in the College's nearly 50-year history, comprising former premiers, politicians, educators, businessmen and philanthropists among others."
Bio of Mr. Glenn Fubler
The well-used African proverb, 'it takes a village to raise a child', is most appropriate in describing the incredible life of Mr. Glenn Fubler. It was North Village – the neighbourhood areas encompassing North Shore, Government Gate, and Glebe Road in Pembroke – that became Glenn's extended family and incubator, nurturing and mentoring him during the transformative years of the 1950s and 60s. The 'Village' served as the bedrock of what would underpin a lifelong passion and pursuit of human solidarity in myriad causes and crusades that impacted Bermuda and beyond. His very first such stirrings prompting him to donate five shillings, the total of his Christmas job, to the Sunshine League Children's Home, to support those on the 'margins'.

Glenn attended Elliott Primary, the Bermuda Technical Institute, The Berkeley Institute, The Academic Sixth Form Centre, and in 1968 the University of Miami, becoming the Chair of the United Black Students organisation in 1969. The following year, he became a member of the Black Beret Cadre in Bermuda
– another solidarity movement to protest British arms sales to apartheid South Africa.

He transferred to Howard University and completed his undergraduate degree in 1972. He was subsequently awarded a Teacher Assistantship in the University's graduate programme. Although completing the coursework, he was moved again to return to Bermuda, teaching at The Berkeley Institute and addressing local challenges.

During the turbulent decade of the 1970s, Glenn was extremely active in social causes. He was instrumental in co-founding a Defence Fund for Erskine 'Buck' Burrows and Larry Tacklyn, and the ensuing Anti-Hanging Campaign with lobby efforts in London supported by twelve Lords at Westminster, all while studying at King's College there.

In 1978, he returned to teaching at The Berkeley Institute, and began a petition against the expatriate vote, supporting lobbying efforts for Constitutional change. In 1979, he co-founded the Bermuda Workers Socialist Party. Two years later, he was an integral part of the iconic General Strike on May 5, 1981, in solidarity with the Bermuda Industrial Union.

In 1989 he completed his graduate degree in Education at the University of Maryland.

Glenn's causal activism continued in various forms throughout the 80s and beyond. In 1995, Glenn formed Beyond Barriers, a proactive initiative to promote local transformation. In 2003, Beyond Barriers was rebranded Imagine Bermuda based on envisioning a better community and promoting civic involvement.

This included coordinating action against the Bank of Bermuda's apartheid connections; contributing to the formation of the Anti-Apartheid Coalition; serving as president and union organiser of the then Amalgamated Bermuda Union of Teachers [ABUT]; facilitating a diversity programme at Bermuda College's former Academic Resource Centre; raising famine relief funds for Child Aid; and serving as one of Bermuda's distinguished Labour Relations Officers for nearly two decades.

Presently Glenn participates in the Westgate project where he is one of several facilitators of monthly dialogue with prisoners aiming at inspiring self-reflection and promoting transformation in the prisoners.

Glenn has a presence as an optimistic change agent who works to 'build bridges' and unify, and he does so with a thoughtful and gentle manner that engenders respect.

Glenn's other passions include music, spirituality, walking and swimming with his wife of 38 years, Deonn. They have two adult children – Mandela and Naeemah – and three grandchildren.
Bio of Mr. Christopher Maybury
Mr. Christopher Maybury has an extensive business and philanthropic background. Among his extraordinary career highlights, Chris served on the Board of Marks & Spencer as its Property Director until he was recruited by Rupert Murdoch's News Corporation to ultimately serve as CEO of The Times of London and the Sunday Times.

Lord Irvine Laidlaw then tapped Chris to serve as CEO, and significant shareholder of the Institute for International Research. Under his leadership, IIR grew into the world's largest conference and performance improvement company, and Chris was instrumental in its billion-dollar sale to Informa in 2004.

Chris is Founder and Chairman of Beacon Events Hong Kong, a company that helps businesses chart their course to success with insightful and industry-focused events. He continues to serve as a Trustee of the Laidlaw Foundation, one of Britain's most active charitable trusts supporting higher education on a global basis, investing in the education of the underprivileged and underrepresented to break the cycle of poverty, reduce inequality, and develop a new generation of leaders. He has aptly been described as Lord Laidlaw's 'right hand man' for the critical role he has played in organising and overseeing the selection and funding of Laidlaw Scholars at numerous universities around the world.

Chris is Vice Chairman of the Bermuda Economic Development Corporation where he has been actively involved for the past five years working to support Bermuda's entrepreneurs and small businesses.

He is Vice Chairman of the Bermuda Commercial Bank and a key investor who helped guide the group that recapitalised the bank over the past two years.

Chris is a substantial investor in supporting Bermuda's hospitality sector with active involvement in restoring Tucker's Point and the Fairmont Southampton Princess hotels.

He is a respected adviser to the Premier and the Cabinet, and has shown an admirable willingness to take on complex issues in support of Bermuda.

He and his family sponsor and fund their own fully comprehensive, four-year scholarship for Bermudians to attend the UK's top ranked University of St Andrew in Scotland, inclusive of travel expenses.

It is mystifying how Chris finds the time to be an avid sailor in Bermuda's waters for the past 25 years at RBYC, even more so after learning that he has won the MaxiWorld Championship and the America's Cup Super-Yacht class.

Chris and his wife Stella are long-time residents of Bermuda, living in Tucker's Town.

Read More About