The Carifta Swimming Championships will take place this April in Barbados, marking the first time they will be held since 2020, and Bermuda will be fielding a team.
"Over that period of time unfortunately several swimmers have missed their opportunity to be selected for Carifta," a spokesperson said. "Some of them have aged out and will never get that opportunity while others will now be making their first team after qualifying in 2020.
"Through all the delays and interruptions that have happened in the two Covid years we still saw swimmers working hard, staying focused and preparing for their opportunity.
"Bermuda Swimming is excited to announce the team that met the qualifying time and were selected for 2022. The team will have 12 swimmers participate and be accompanied by Coaches Ben Smith, Shona Palmer and team manager Rebecca White.
"The team will travel on April 14th and return on April 20th after training and preparation over the next 3 weeks. Bermuda will compete in the 15-17 Boys and Girls relays along with the individual events by each athlete."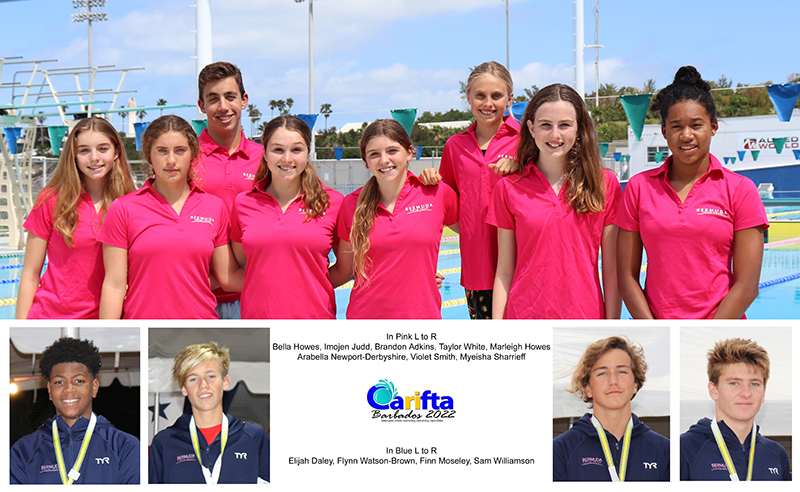 Bermuda Carifta Team
Bella Howes [15] BERAG – Women 15-17
50 Backstroke 32.93L
200 Freestyle 2:15.72L
50 Butterfly 31.45L
50 Breaststroke 36.26L
100 Freestyle 1:00.39L
50 Freestyle 27.90L
Marleigh Howes [13] BERAG – Women 13-14
50 Backstroke 32.49L
100 Butterfly 1:11.11L
200 Freestyle 2:18.67L
50 Butterfly 31.29L
100 Freestyle 1:00.94L
400 Freestyle 4:56.62L
50 Freestyle 27.83L
Imojen Judd [14] BER – Women 13-14
50 Backstroke 32.08L
100 Butterfly 1:09.09L
50 Butterfly 30.20L
100 Backstroke 1:10.35L
100 Freestyle 1:02.84L
50 Freestyle 28.64L
200 Backstroke 2:31.78L
Arabella Newport Derbyshire [12] BERAG – Women 11-12
50 Backstroke 35.28L
100 Butterfly 1:13.64L
200 Freestyle 2:25.95L
50 Butterfly 32.53L
100 Backstroke 1:16.35L
100 Freestyle 1:09.33L
200 Butterfly 2:44.23L
400 Freestyle 5:16.30L
50 Freestyle 31.17L
200 Backstroke 2:37.91L
Myeisha Sharrieff [16] BER – Women 15-17
50 Backstroke 30.37L
100 Butterfly 1:09.56L
50 Butterfly 30.00L
100 Backstroke 1:06.73L
200 IM 2:34.72L
100 Freestyle 1:01.63L
50 Freestyle 28.67L
Violet Smith [12] BER – Women 11-12
50 Backstroke 34.07L
100 Backstroke 1:14.68L
200 IM 3:00.92L
100 Freestyle 1:11.54L
50 Freestyle 32.77L
200 Backstroke 2:39.96L
Taylor White [17] BERAG – Women 15-17
50 Backstroke 31.56L
100 Butterfly 1:07.34L
200 Freestyle 2:10.65L
100 Backstroke 1:07.21L
200 Butterfly 2:29.45L
400 Freestyle 4:39.75L
200 Backstroke 2:25.73L
Brandon Adkins [15] BER – Men 15-17
50 Backstroke 31.11L
200 Freestyle 1:58.97L
100 Backstroke 1:02.41L
200 Butterfly 2:36.88L
400 Freestyle 4:17.71L
200 Backstroke 2:17.00L
Elijah Daley [15] BER – Men 15-17
50 Backstroke 28.39L
100 Butterfly 58.71L
50 Butterfly 26.54L
400 IM 4:52.29L
200 IM 2:13.82L
200 Butterfly 2:09.12L
50 Freestyle 25.19L
100 Breaststroke 1:09.16L
Finn Moseley [17] BER – Men 15-17
50 Backstroke 28.79L
100 Butterfly 1:00.30L
50 Butterfly 26.96L
100 Backstroke 1:01.46L
100 Freestyle 52.84L
50 Freestyle 24.34L
Flynn Watson-Brown [15] BERAG – Men 15-17
50 Butterfly 33.54L
100 Freestyle 54.17L
50 Freestyle 26.06L
Sam Williamson [17] BERAG – Men 15-17
200 Breaststroke 2:21.74L
200 Freestyle 1:56.06L
400 IM 4:34.35L
200 IM 2:07.86L
50 Breaststroke 30.49L
400 Freestyle 4:05.63L
100 Breaststroke 1:05.72L

Read More About