The Family Centre is launching their "Pot O' Gold" fundraising initiative to benefit vulnerable children, teens and their families.
A spokesperson said, "St. Patrick's Day, March 17th is just around the corner. The Family Centre Special Events Committee are once again launching their "Pot O' Gold" fundraising initiative to benefit vulnerable children, teens and their families that require the therapeutic services and programmes offered by Family Centre.
Maribeth Anderson, one of the organizers of the fundraiser describes why this initiative is very close to the hearts of the Special Events Committee, saying, "Two years ago, this would have been our last 'normal' week, and no one knew it at the time. In March 2020, we launched the first "Pot O' Gold" virtual fundraiser for Family Centre.
"The original plan was to host a coffee social morning to raise critical funds and awareness of the services Family Centre provides to children, teens and families in the community. However, as St. Patrick's Day approached, a new normal was forming and suddenly the world had to cancel in-person gatherings and instead find a new way of doing things and being together.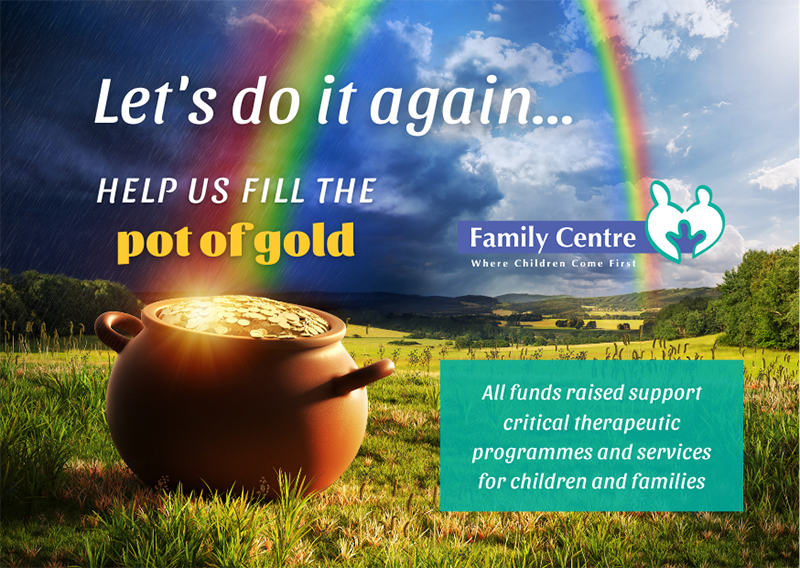 "Last year, Bermuda headed into another surge of the virus around St. Patrick's Day. Once again, having to adhere to restrictions that kept the community safe. To support Family Centre's essential work in the community, the committee quickly decided to host our second "Pot O' Gold" virtual fundraising initiative.
"This year, as St. Patrick's Day neared, we wanted to continue with the theme of 'Filling the Pot O' Gold.' For us it celebrates Bermuda's resilience despite setbacks caused by the pandemic. It also gives us hope for better days ahead. This is what Family Centre does each day for children, teens and the families they serve. They provide healing and tools to build resilience, and hope for a brighter future."
Dr. Sandy De Silva, Family Centre Executive Director explains, "We are excited that the fundraising initiative 'Pot O' Gold' has become a fun way for the community and Corporate Bermuda to support the work of Family Centre.
"The funds raised by this initiative helps our most vulnerable; children, teens and families to have a safe space to receive therapeutic services that allows healing and empowerment to successfully navigate social, emotional and behavioural challenges. Your support of this fundraiser allows us to continue to provide our therapeutic programmes and services free of charge and removes any financial burden that may hinder any child, teen or family that needs our help."
According to Special Events Committee member, Megan Boyle, "If additional support is possible through your job corporate matching programme, please include 'Pot O' Gold' in your donation notations. We will be happy to provide you with verification of your donation to facilitate a corporate match.
"Help us make this fundraiser an even bigger success this year. Please help us fill the 'Pot' once again. With your generous support and the help of corporate matching we can help Family Centre reach those who desperately need their support.
"To participate in this fundraiser and make a donation visit https://www.tfc.bm/pot-of-gold. There will be a special Irish message awaiting you. Let's give Bermuda's most vulnerable children and families the best possible chance to thrive!"
Read More About