The International Women's Day [IWD] Bermuda Committee will host a celebration on the City Hall grounds on March 8 between 10.00am and 3.00pm, with a number of activities planned.
A spokesperson said, "On Tuesday, March 8th 2022, the International Women's Day Bermuda Committee will host an in-person IWD celebration at City Hall grounds between 10:00 a.m. and 3:00 p.m. Participants can take a selfie at the purple 'Flower Wall', the symbolic colour of women's suffrage and International Women's Day, and post to their social media channels in solidarity of IWD and the 2022 theme '#BreakTheBias' and forging a gender equal world.
"With Patrina 'Power Girl' O'Connor-Paynter as emcee, this year's celebration will be highlighted by the announcement of our 'Woman of the Year' at 1:00 p.m., along with opening words by Mayor Gosling, in the presence of the Premier, Deputy Governor and other dignitaries. Coral Beats Drummers provide entertainment at 12:30 p.m. and J&B's Wood Fire Pizza and Ashley's Lemonade will be on sale for the duration of the celebration."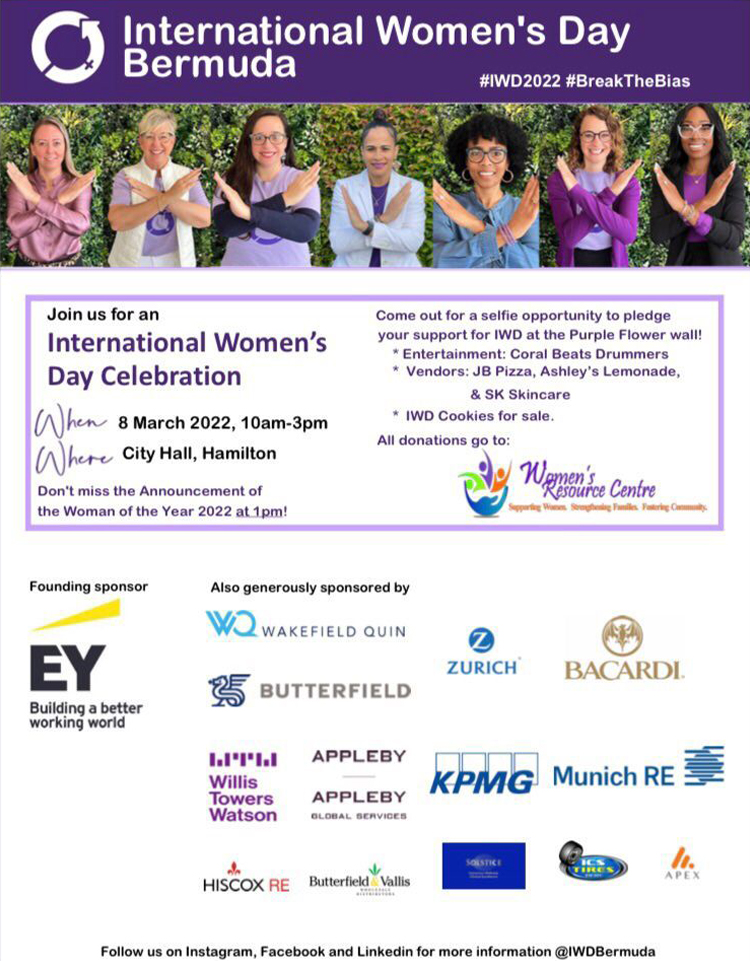 Founder and co-chairperson Katarina Hoskins said, "This is the seventh year that we will be publicly celebrating International Women's Day. Last year, due to the pandemic, we decided to take a new approach to the celebrations by hosting a virtual event which afforded us the opportunity to both go global and to reach a broader cross-section of the community."
The spokesperson said, "With the growing number of sponsors that wanted to be involved and organizations that are celebrating IWD, we have decided to return to an in-person event that solely focuses on celebratory festivities for the day. Not only do we want #BreakTheBias, but we also want to acknowledge all of the women in our community who have worked tirelessly throughout the pandemic and encourage them to take time for self-care and personal celebration, which they can do at City Hall on March 8th."
Cordelia Davis, EY Partner and Financial Accounting Advisory Services leader for the EY Region of The Bahamas, Bermuda, British Virgin Islands and Cayman Islands, said, "We are honored to be the founding sponsors of this imperative event that began seven years ago. EY believes that gender equality is not a problem to solve, rather gender equality is a solution to businesses and society's most complex challenges. By each of us committing to one small action we can collectively make a big difference to close the gender gap."
The spokesperson said, "If you wish to attend the IWD Bermuda 2022 celebration as a group or organization, please contact Lauren Stone at stoney38@hotmail.com, who can assist with booking you a timeslot in front of the selfie wall.
"IWD Bermuda would like to thank its Founding International Sponsor, EY, for its ongoing support of this event, and would also like to recognize and thank its supporting sponsors: Wakefield Quin [founding local sponsor], WTW, Butterfield, Appleby, KPMG, MunichRe, Bacardi, ZurichRe, Hiscox, Island Construction, Apex, and in-kind sponsor Butterfield & Vallis and Solstice.
"Part proceeds of funds raised will be donated to the IWD Bermuda partner, the Women's Resource Centre. As part of the fundraising efforts for the Women's Resource Centre, a limited number of IWD cookies will be on sale for a $8.00 donation.
"To learn more about the celebration, please follow us on Facebook and Instagram."
Read More About