The Department of Workforce Development is inviting applicants to apply for their 2022 local and overseas scholarships.
A Government spokesperson said, "The Department of Workforce Development is committed to supporting young people in their career and educational development, both locally and overseas. In the fiscal year 2021/22, the Department supported a total of 34 students for overseas studies. The Department has budgeted $350,000 for local and overseas scholarships for the fiscal year 2022/23.
"The Department of Workforce Development is pleased to invite applications for their 2022 Local and Overseas Scholarships. Interested persons are invited to apply online at www.bermudascholarships.com from Friday 1 April 2022 to Tuesday 31 May 2022.
"Please note the following guidance:
Only fully completed applications will be considered, and hard copy applications will not be accepted.
For more information, please visit www.bermudascholarships.com, and in the 'Scholarship Name Search' of the 'Search Scholarships page', key in and search for the word 'Department'.
Read the descriptions provided to see what supporting documents are needed and whether to apply for the local or overseas scholarship.
"In addition to providing scholarship opportunities, Bermuda's young people can receive support with career development by way of resume writing and interviewing skills. Students are also able to apply for the summer internship and summer employment programmes which give young people the opportunity to gain on-the-job experience."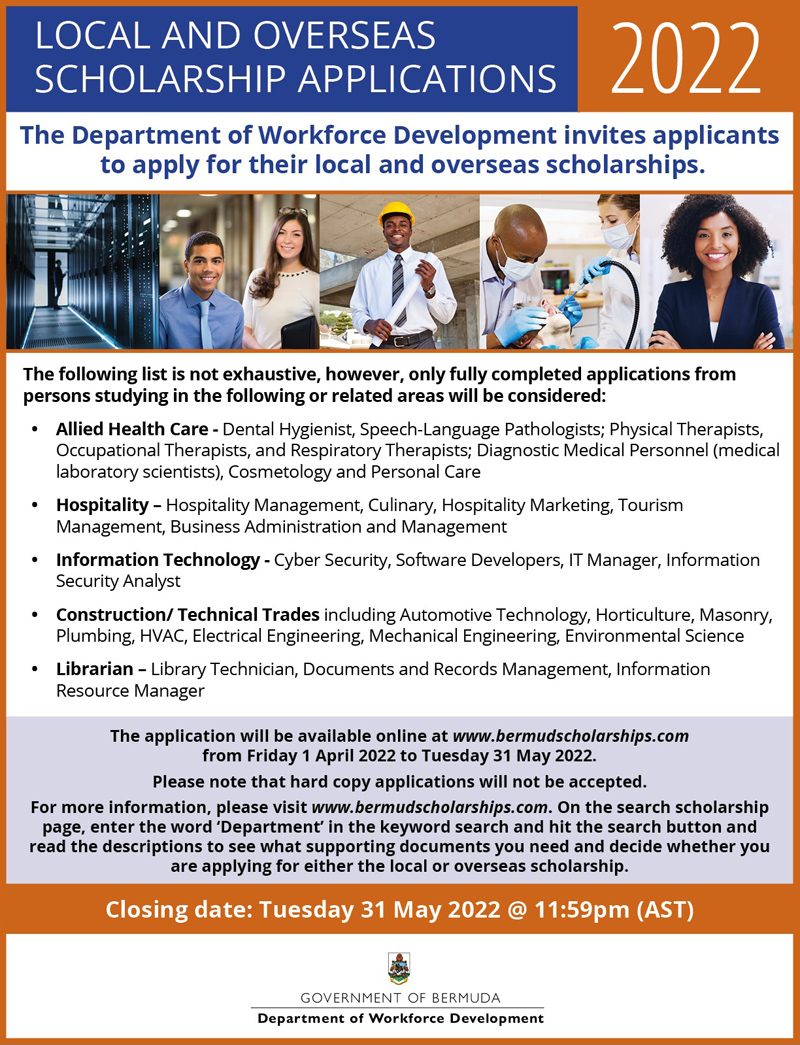 Read More About