Safer Internet Day for Bermuda's Seniors will take place on Tuesday [March 29] at St. Paul's Centennial Hall from 10 am to 2 pm.
A spokesperson said, "On Tuesday, March 29th, the Island's seniors will once again be provided with an opportunity to learn important skills like posting, liking, tweeting, and commenting during our annual Safer Internet Day. This event is free and will take place at St. Paul's Centennial Hall from 10 am to 2 pm.
"Every year, the Government of Bermuda invites the Island's seniors to this event so that it can engage with them and inform them in an interactive and fun way about the many benefits – but also pitfalls – of Internet use. Through workshops and activities, the message stays clear: embrace the Internet but stay mindful.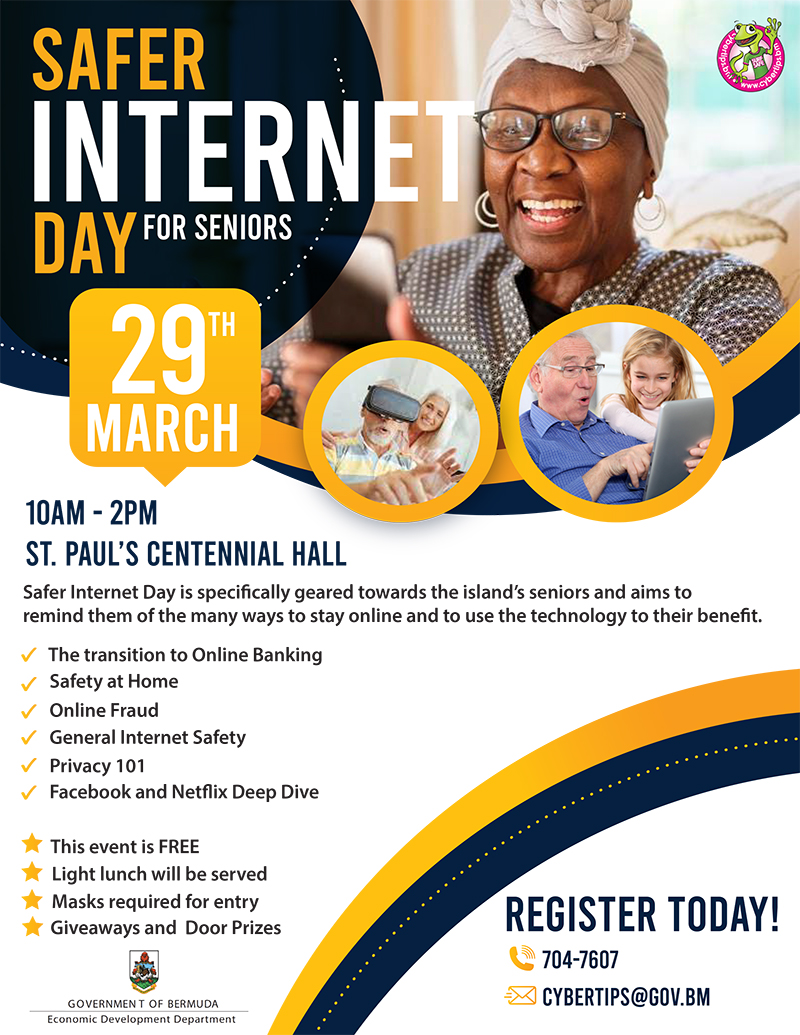 Ray Jones, Economic Development Director, said, "We're all using the Internet more than ever, including our seniors, who are undeniably a key component of our society. Therefore, we must engage with them in a conversation about how to safely and securely use the Internet so that they can benefit from this technology and understand the risk involved."
A spokesperson said, "This year's event will be opened by the Hon. Tinee Furbert, JP, MP and will include the following organisation and speakers:
Medical House will educate the audience about safety at home;
Marley Simons from Clarien Bank will speak on safe online banking;
Stephanie Lee of SocialLee will once again guide the audience through a deep dive into Facebook and others;
Alex White, Bermuda's Privacy Commissioner, will speak on the importance of protecting one's personal information in a talk titled "Privacy 101;"
Kenisha Shakir from the Bermuda National Library will speak about digital books on offer locally, and
Krishna Singh of the Bermuda Police Service will discuss online fraud and general Internet safety.
"Every year, this event is free, and as usual, a light lunch will be served. The event's health-related precautions will include temperature checks at the door. Masks will be required for entry and when moving about the venue.
"For more information and to register for the event, email cybertips@gov.bm or call 704-7607."

Read More About
Category: All, technology