[Written by Glenn Fubler]
One aspect of the gathering at DRC on Good Friday will be the presentation of a Peace Tree, which has been donated by iconic local football coach, Donald 'Dick' Dane, who is doing so in honour of the late Edward de Jean, the transformational Principal of Howard Academy. The school was located on the southern boundary of DRC grounds for a decade and half and the two important organizations collaborated very closely.
Eddie de Jean was an innovative leader of a team, who – in spite of little or no resources – was able to provide the few hundred young people with a nurturing educational culture. Former student Cecil Durham pointed out that "Mr. de Jean demonstrated a concern for each and every student at Howard Academy – he just cared."
1957 August – Principal Ed deJean & howard Academy students Del Trott, Raymond Morgan, Dick Dane – Ont Teachers Co, Gerald Tuzo, Ed deJ, Cecil Durham, Kenneth Richardson, Johnathan Benjamin@ Bda Airport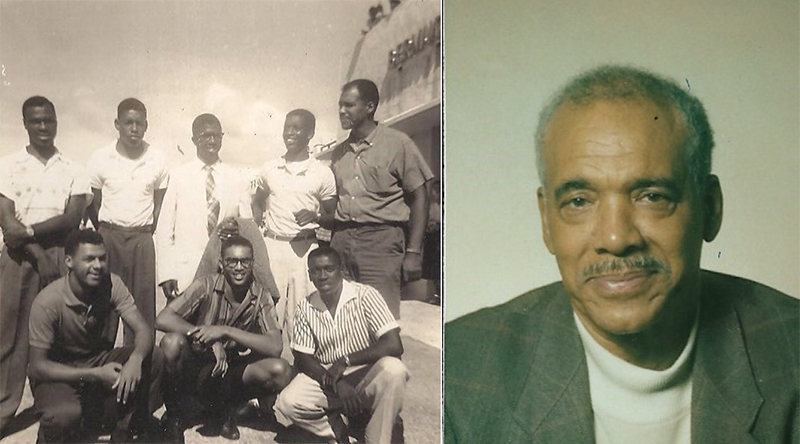 Added to that, de Jean shared his insights and skill with his neighbours at the DRC. William 'Billy' Richardson, who led his Devonshire Lions Football Team to join Devonshire Recreation Club en mass in the late 50s, offered a perspective.
The 93-year-old said, "Eddie de Jean leveraged his background in engineering, by playing the key role in supervising the groundbreaking project of mostly volunteers, building floodlights around the club's grounds. This with very limited funds and technical support, making them, for years, only the second floodlit field in the island."
Donald 'Dick' Dane, who hadn't always towed the line as a youngster, had experienced that caring from Eddie de Jean first hand for those years at Howard Academy, thus developed well beyond the expectations of many. The picture above shows Dick in the middle of a group of his mates, along with Eddie de Jean on the right, from his football team. They were seeing him off at the airport in 1957 to travel to Canada for his first year of university.
A picture says a thousand words. One thing it's saying is let's demonstrate care for everyone, thus making a peaceful community.
Read More About
Category: All