[Written by Glenn Fubler]
Does Anyone Know Who Their Father Is?
This question posed in the Greek Myth, The Odyssey, is asked by a son who grew up while his father spent many years 'fighting battles in distant lands'.
The answer wouldn't pertain to DNA, but something deeper. During his father's absence, the son experienced his own challenging odyssey, receiving guidance from his mother, others and a family-friend named Mentor.
The term 'Father' speaks to guidance and protection. The son's question relates to how one is assisted in their evolution into mature adulthood.
Donald 'Dick' Dane at the Airport before leaving for college in Canada, with his friends[all footballers] from Howard Academy. Standing: Del Trott; Ray Morgan; Dick; Gerald Tuzo & Eddie DeJean [Principal]. Front row: Cecil Durham; Ken Richardson; Johnny Benjamin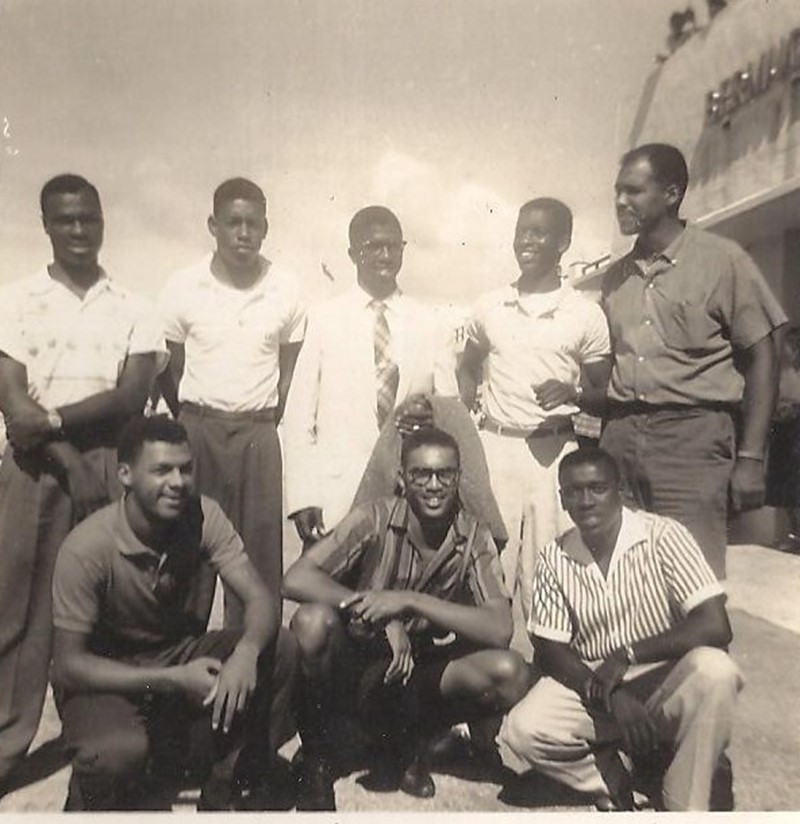 This Fathers' Day, let's consider offering some assistance, were appropriate, to that evolution, as members of the 'Village'. Our gifts may help some young person, leveraging their journey to become 'authors of their life story'.
The story of Howard Academy captures this theme. The regime of segregation blocked access for children of colour for secondary education up to the early 20th Century, until pioneers created the Berkeley and Sandy's Secondary. When Edwin Skinner retired as the principal of 'Cavendish' in 1946, he honoured the spirit of Mentor, helping children with no access to secondary school; first at his home and eventually at the one-room school-house, 'Elliott'.
In those few years, right up until his death, Skinner assisted numerous students, with his limited resources. Amongst that group were; Roosevelt Brown, Ottiwell Simmons and [Sir] John Swan – a trio renowned for having forwarded gifts they received, to upcoming generations- passing the baton.
Following Skinner's death, Edward DeJean picked up that baton, taking over Howard Academy at 28 yrs-old, with two infant children of his own. As the numbers of students increased, DeJean used ingenuity and fostered collaboration, to sustain the effort.
One such student, Donald 'Dick' Dane testifies to the key role that his father, Skinner and DeJean played in his journey, when he almost 'veered over the edge'. Dick was able to transform an initial 'lifeline' from Skinner into a life-long relationship with DeJean.
The Durham family: Cole, Che, Bobby,  Hasan, Nkenge & Nadhira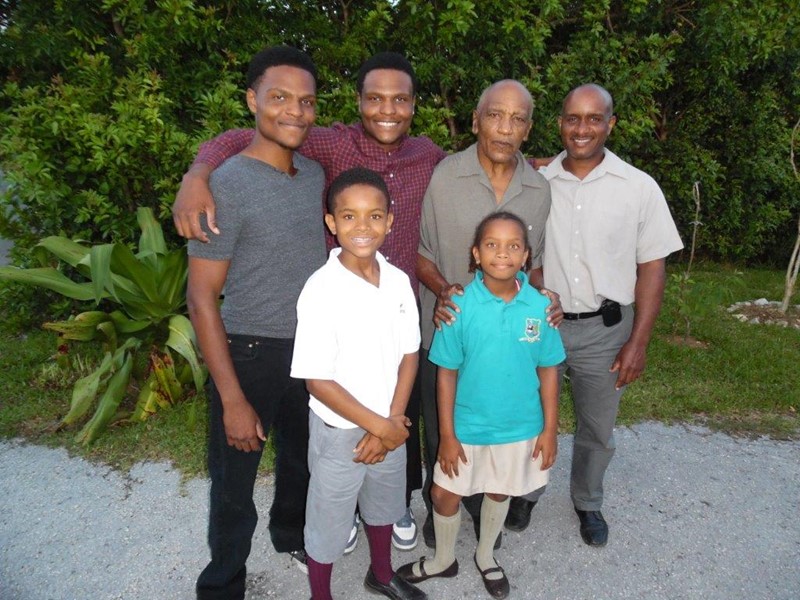 DeJean used the passion for football as an incentive for student academic development. Dick directly benefited, becoming integral in Howard's domination of inter-school football. With no Chemistry offered at Howard, the Principal of the neighbouring Bermuda Technical Institute –David Dearnly – volunteered, tutoring Dick.
Clifford Maxwell also from 'Tech' collaborated; tutoring Howard students in Math. With that support Dick became the first boy at Howard to successfully receive the full Cambridge Certificate and in the '50's went off to the Ottowa Teaching College.
When Dick returned, in 1960 he began teaching at his alma mater and amongst the students he mentored was Eugene 'Bobby' Durham, who like him was from a single-parent family. Bobby loved football and benefited from the strategy to strengthen his academic skills. Bobby subsequently won a football scholarship to Philadelphia University in 1968 – along with two other locals; Alfie Smith & Gordon Cholmondeley – through Dane's guidance.
Bobby returned after being the first in his family to graduate from college, to serve as a teacher. While Bobby never had a relationship with his own father, when his first son – Hasan Durham – was born, he chose to make a difference, although not married to the mother – Betty Grant. As a personal friend, I witnessed Bobby being fully engage in the life of his child. Hasan went on to complete a Masters program and currently serves in the Ministry of Finance. He has been active in cricket, including Cup Match.
Bobby was subsequently married and with his wife had twin boys. They subsequently divorced, and again Bobby has demonstrated his transformative capacity, maintaining significant involvement in the lives of Cole and Che. The twins have been attending the Bermuda College, involved in martial arts and serve as young mentors with Raleigh International.
Hasan has two children; a boy and a girl. While he and their mother are divorced, he carries the baton passed from his father; maintaining extensive involvement with his two children.
We see in this story, 'answers' to the question from The Odyssey. The source of the 'father' is diverse. The 'baton' can be passed across generations. The collaboration between 'Tech' and Howard demonstrated the power of getting beyond boundaries – there's no 'they', only 'we'.
Recognizing that life's challenges can be transformed; with that spirit of collaboration, anyone may assist the 'father- within' to evolve, so that each person can author their own story, carrying the baton forward.
- Glenn Fubler

20 Most Recent Opinion Columns

Opinion columns reflect the views of the writer, and not those of Bernews Ltd. To submit an Opinion Column/Letter to the Editor, please email info@bernews.com. Bernews welcomes submissions, and while there are no length restrictions, all columns must be signed by the writer's real name.
-
Read More About