The Bermuda Underwater Exploration Institute [BUEI] will focus on the topic of dolphins during this month's 'Kids Hour Saturday' on April 16.
A spokesperson said, "Kids Hours Saturdays take place every third Saturday of the month at 11am and 2pm respectively. Each hour features the screening of short films followed by a book reading for children aged 5-12 years.
"This month's Kids Hour will feature two short films entitled 'Searching for Language in Dolphins – Cracking the Code' and 'Sea Hunters' which will be followed by a reading of the book 'Dolphin Baby!' by Nicola Davies.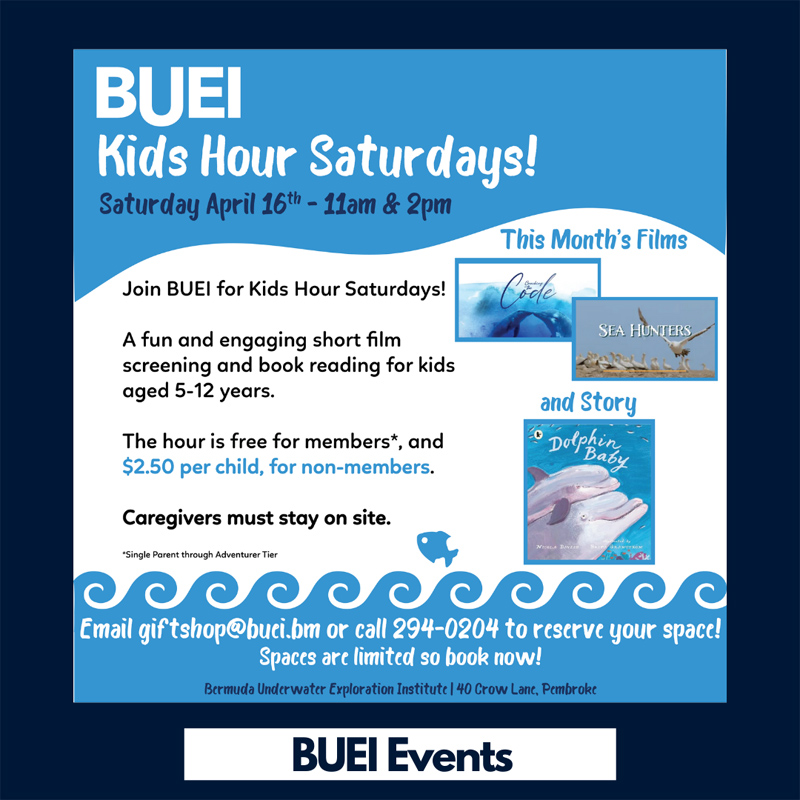 "The first film, 'Cracking the Code', explores the complexity of dolphins' communication system and juxtaposes it with that of humans. The second film, 'Sea Hunters', highlights the unusual symbiotic relationship between dolphins and cape gannets, a large sea bird.
"The book 'Dolphin Baby!' is a story where readers are invited to join the baby calf as he follows his mother and discovers all there is to know about life under the sea, from catching his first fish to learning how to say his name with his very own whistle. Nicola Davies's lyrical narrative and intriguing facts are accompanied by Brita Granström's colorful illustrations, pulsing with the energy and movement of dolphins in their natural habitat.
"Much like the fingerprint on a human, dolphins each have their own signature whistle which is unlike any other dolphin's and is akin to a name. There is so much we have yet to discover about the intelligence of dolphins, and we are excited to delve deeper into their world during this month's Kids Hour Saturdays.
"Kids Hour Saturdays are free for members [Single Parent through Adventurer Tier] and all care givers, and $2.50 per child for non-members. Please note, caregivers must stay on site for the hour.
"Mark your calendars for a subsequent selection of Kids Hour Saturdays taking place on Saturday May 21st and Saturday June 18th.
"Space is limited and advance registration is encouraged. To register for BUEI's Kids Hour Saturdays, please call 294-0204."

Read More About
Category: All