[Written by Stephen Wright]
Bermuda sprinter Caitlyn Bobb believes she can claim multiple medals at the Carifta Games in Kingston, Jamaica, this weekend.
Bobb is stepping up from the Under-17 to the Under-20 division and expects to challenge for the podium in all four of her events – the 200 and 400 metres and 4×100 and 4×400 relay races.
The 18-year-old made a thrilling start to her Carifta Games career, winning gold in the Under-17 400 and bronze in the 4×100 in Georgetown, the Cayman Islands, in 2019.
The region's most prestigious athletics meet was due to be held in Bermuda in 2020 and then 2021 but suffered back-to-back cancellations because of the Covid-19 pandemic.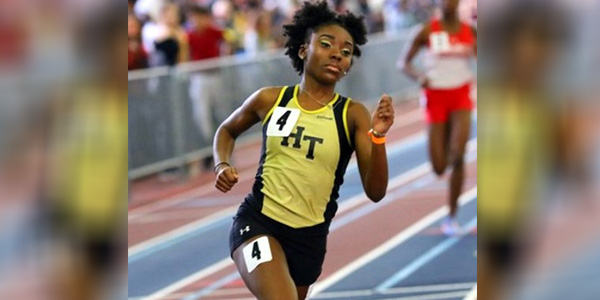 "This is not my first time representing Bermuda at an international meet and it surely won't be my last!" Bobb told Bernews.
"At this competition, I would like to win the Under-20 400 metres and medal in the 4×100 and 4×400."
Bobb has started the outdoor season in scintillating form for the University of Maryland, Baltimore County, breaking the school record in the 400 at the Mason Spring Invitational at the George Mason Stadium in Fairfax, Virginia, last weekend.
She won the race in 53.58sec, breaking the record set by Mercedes Tillman of 54.58 in 2015.
Bobb, the island's Junior Female Athlete of the Year, also enjoyed a phenomenal indoor season for her university.
She broke several Bermuda records and a school record with personal best times after winning the 200 [24.02] and 400 [53.50] at the America East Indoor Track and Field Championships at Boston University in February.
She also won a gold medal as part of her school's 4×100 relay team, setting a new American East Conference record.
Bobb hopes to compete at the World Athletics Championships in Eugene, Oregon, and the Commonwealth Games in Birmingham this summer and believes high-level competition brings out the best in her.
"My main goals for the season are to run 51 [seconds] in the 400 and 23 [seconds] in the 200," Bobb added.
"Both the Commonwealth Games and the World Athletics Championships would allow me to do just that!"
Dr Freddie Evans, the Bermuda National Athletics Association president, said the timing of the USATF Bermuda Games at the Flora Duffy Stadium last weekend could not have been better and would have inspired the Carifta Games squad.
"We have athletes getting ready to go to Carifta, and they got to see athletes like Dage [Minors, who finished third in the 1,500] and overseas athletes on their home track doing spectacular things," Evans told Bernews.
"That will inspire them to do great things. We're turning the corner, and I believe track and field can rival the other sports as the most popular sport."

Read More About